Declaring your shipments is a necessary step if you want to ship your overseas bought items back home to the Philippines. It will also help us process the shipment faster. Remember, once you receive your tracking number (NOT order number) from the online store you purchased from, which is usually provided a few days after when the shipment is on its way from seller to our warehouse, immediately declare your shipments with Buyandship Philippines. Here is a guide on how to declare your shipment.

Step 1: Once you have your delivery tracking number (not order number) from your online shopping website (ie. Amazon), or from Buyandship's email that your shipment has arrived at our Overseas Warehouse (in this email you will see the correct tracking number to declare with),  you will need to first Login into your account in Buyandship and access the dashboard.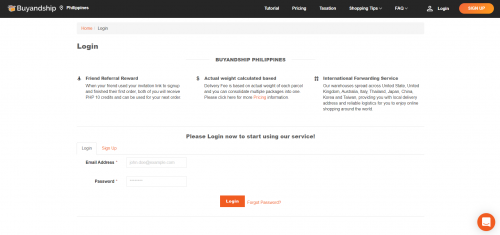 Step 2: When on your dashboard, go to "Parcel Management" section and click on the button "Click HERE to Add a new shipment".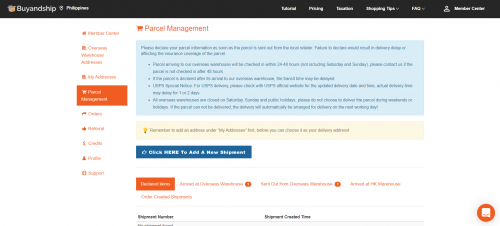 Step 3: Fill in the details of your shipment. Select which Buyandship warehouse location you shipped your item to, the Overseas Courier used for that shipment (if that is not available just select other courier), enter your tracking number (not order number), enter your product details for declaration purposes.
Please note it is PER UNIT PRICE – the price of the item per unit (in overseas warehouse currency it was received). And also enter the quantity amount of the same item field.
When you are doing the declaration the field "Unit Price" is the PRICE of the item for 1 UNIT. The declaration should also be in the home currency- if it is in the US warehouse it should be in USD, if Japan in Yen, if Hong Kong in HKD, etc.
Select "I agree" and click the "Submit" button when all is done.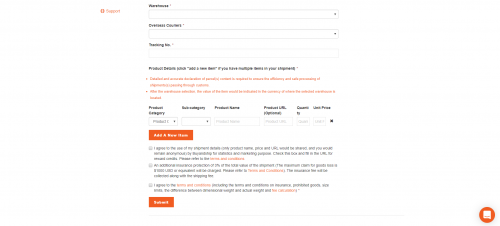 Check the Total Amount in your Declaration and make sure it is the same as your receipt or invoice!
Note: If you have made a wrong declaration the local courier may not be able to help you with any claim so please double check your declaration.
That is it, you are DONE! 3 easy steps to get your shipment faster from our warehouses straight to your doorstep in the Philippines!
Tip: If it has already checked in you should see the status of your shipment on "Arrived at Overseas Warehouse" in Parcel Management. If it is not there yet please wait until it checks in, it takes 1-2 working days after it is delivered to our Overseas Warehouse. If it doesn't please contact our website chat and provide your tracking number.
–
Is this your first time using our Buyandship service? Here are a few things you should know:
A flat fee of Php 300/lb will be charged for overseas shipment whether it is from our USA, UK, Japan, Korea, Australia, Italy, Thailand, Hong Kong, China, or Taiwan warehouses. All the same rate! With a few easy steps your product purchases will be delivered to you in no time.
SIGN UP NOW to gain access to our overseas warehouses, and get FREE PHP 50 credit to use for your next shipping fee!
Here is a video tutorial on How to Sign up with Buyandship.