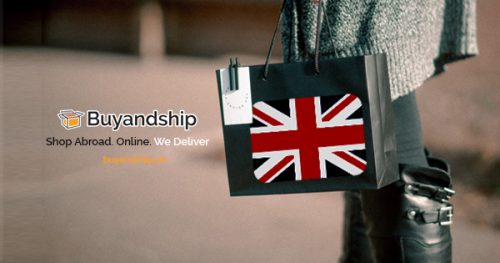 There are a lot of UK-based shopping websites and trust us, we know it can be a lot sometimes. Don't worry, we list out the Top 10 online shopping sites we love based in the UK!
London holds the 3rd ranking as a global fashion capital which is why the UK is one of the best choices for e-Commerce. Online shopping is really easy nowadays and with Buyandship you can now deliver your bought items from the UK, straight to your doorstep.
In the rise of the digital age,  a lot of people prefer more online shopping sites as compared to offline stores because you save more, you get amazing deals and promos, and it is now an easier shopping experience because you don't have to wait in traffic for hours.
Most of the online shopping sites in the UK are of clothing and fashion accessories. Some e-commerce sites provide same-day or one-day delivery at zero shipping charges on minimum order value. There are endless selling points in online shopping and that means you can use your Buyandship UK warehouse address and it will be in that location in no time. Add another couple of days to reach the Philippines and you get your favorite UK products!
Best Online Shops in the U.K.

Amazon is still the number one site for United Kingdom shoppers. It has almost 2,000,000 unique visitors each day, with revenue at $14.5 billion last 2018. Amazon is known in UK and all over the world for its best customer service. The most popular items on Amazon UK are Electronics and Books.
Tip – Amazon is a marketplace website where sellers sell their products and amazon deducts a commission. Before buying a product you can search that particular seller website and you can also buy from there directly. We don't mind just as long as you use your Buyandship shipping address for your delivery to your home in the Philippines.

Asos is an iconic online shopping site in the UK for fashion and clothing products. It holds the second rank in the top 10 sites in the UK and has around 300,000 unique visitors each day. Asos has more than 80,000 products in its catalog. Fast delivery makes Asos one of the best choices for online shopping and it also offers free delivery above cart value of £20. Targeted customers are young men and women.

eBay is the third largest online shopping website in the UK. It has more than 800,000 visitors per day. eBay is famous for its cheap and discounted products. It has very low profit margins because returns on eBay are much less. It is a great site for both buyers and sellers. We think its safer to buy from eBay because of Paypal's buyer protection. Whatever you need, eBay's got it.

Despite its bankruptcy announcement last year. Forever21 online remains to be one of the best online shopping sites for women's clothes and accessories in UK. They have men's wear as well but usually, the target audience is women of the younger generation. Forever21 has around 60,000 unique visitors each day. Even though they are struggling in their physical stores, it only means that they have great promos and deals online so stay tuned for that!

This British online site is known for its quality products. It has more than 50,000 unique users each day. Explore the website and you will find anything from home and garden products, furniture, baby clothes, to sports and leisure items.

Marks and Spencer is a famous shopping destination for clothes, home products, and luxury food products. It has more than 30,000 unique visitors per day. Marks and Spencer have many retail stores but all those products are available online as well where you can save more by buying in the UK.
Important reminder: Buyandship does not handle food items since it is air shipments.

Targeting adults between the age of 18 to 32 years. This UK based online fashion website has its core focus on fashion clothing. It has more than 36,000 products to offer. They offer next day delivery on selected pin codes and standard delivery charges are at £3.99. They have an ongoing sale right now up to 80% off, so make sure to check that out and deliver your bought items at Buyandship UK address so, it will be in your home in the Philippines anytime soon!

This website is focused only on women shoppers who love fashion clothing. This is also owned by the Boohoo Group at #7 and their usual target are women between the ages of 16 to 24 years. It has more than 14,000 unique visitors per day.

Who doesn't know Topman? Topman is a long term brand of the UK and it's very famous for young men and yuppies. As the name suggests itself, this UK website targets men customers, only. And has around 13,000 unique visitors each day.
Their women-targeted website is called TopShop.com where they offer free delivery on orders over £50. So, send them over to Buyandship's UK address and pay the lowest shipping fee of Php 350 / lb and it will arrive at your home in the Philippines in no time!

Missguided has around 10,000 unique visitors each day and offers free delivery of over £100.  Standard shipping charges to our warehouse are at around £2.99. This site is great for women between 16 to 35 years who offer plus size, lingerie, and nightwear clothing. So, if what you need is an online site who's innovative and fashion inclusive, Misguided is perfect for you!
---
See a pricing calculator and parcel restrictions below. No bulk shipments 10 units max per shipment.

Please note that if the total value of your shipments is above Php 10k there will be PH customs clearance fees, separate from our shipping fee that is paid to a local courier, either COD or bank transfer, and sent to your home. If Php 10k or below, then you will only pay our shipping fee 🙂
To enjoy no duty and tax, you need to checkout from HK under Php 10k total value of shipments regardless of how many shipments, then TRACK until it passes PH customs, then send the next batch.
It's also worth noting that each household member's name can create their own account to enjoy each Php 10k under
Step 1: Each of your household members can open an account and each can enjoy under Php 10k. Sign them up now in here. 
Step 2: When each household member signs up they also get Php 50 free credits. That means more savings for your household!
Step 3: You can also ask them to use your referral code when they sign up so both of you can earn more credits and have more savings 🙂
---
➡️ Learn how to purchase your favorite products from other sites using Buyandship
---
Looking for a community that can relate to your Buyandship Experience with great deals every day to inspire your next overseas shopping? Join our official Facebook Group now. See you there!

---
Is this your first time using our Buyandship service? Here are a few things you should know:
For US, UK, IT, AU, CA, TH, ID:
DDU pricing = Php 620 1st LB succeeding LBs is Php 380 / LB Delivery Duties Unpaid (DDU)
DDP pricing = Php 620 / LB Delivery Duties Paid (DDP)
DDU pricing = Php 580 1st LB succeding LBs is Php 360 / LB Delivery Duties Unpaid (DDU)
DDP pricing = Php 580 / LB Delivery Duties Paid (DDP)
*If you consolidate, the higher price will be applied to the consolidation fee. For example if US and KR consolidation, the higher DDP and DDU rate will be applied.
*If you consolidate KR and JP, then the DDP and DDU rate of KR and JP will be applied.
It is purely on weight, no hidden fees, or charges. Your parcels get shipped straight to your home.
Click HERE to learn more about DDP vs DDU pricing comparison table.
SIGN UP NOW to gain access to our overseas warehouses, and get FREE PHP 50 credit to use for your next shipping fee!
Here is a video tutorial on How to Sign up with Buyandship.