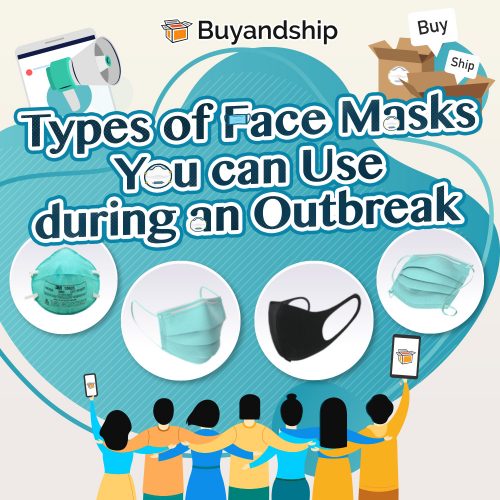 With the Novel Coronavirus outbreak, people in the Philippines have been crazily buying masks without enough knowledge of what is the proper type of mask to fight off the virus. Whether you go to the pharmacy to queue up or buy masks online, you must be wise on which mask to buy because it could either mean your protection or your demise.
Fret not, we are here to guide you. We listed down different types of graded face masks and what it's for.
Types of Graded Face Masks You can Use during an Outbreak
Basically, the use of surgical masks is enough to prevent the virus. We have a lot of inquiries regarding the N95 Mask but N95 is actually relatively sloppy. Under normal circumstances, you don't need the N95. It is good to take note that the cloth or sponge masks are used to filter pollen or dust while activated carbon masks can only absorb odors. Several models have no anti-epidemic effect at all so,  surgical masks are definitely your best choice.
As for selecting surgical masks, you can use the following types of face masks standards to help you choose:
1. BFE / PFE / VFE

Face masks need to pass various filtering tests before they are launched, and their efficiency must be clearly listed on the packaging. Most masks are tested through the Nelson Laboratory Standard, and the most common BFE, PFE, and VFE on Japanese mask packaging are the results of the filtration rate test used to mark particles of different sizes in this test.
standard
For particle size
BFE (
Bacteria Filtration Efficiency)
3 microns
PFE (
Particle Filtration Efficiency ) Particle Filtration Efficiency
0.1 micron
VFE (Virus Filtration Rate)
Virus Filtration Efficiency
0.1-5 microns
(average 2.8 microns)
What is the point of choosing between these masks? Generally, the filter rate of different masks for different particles is represented by a percentage. To effectively prevent the source of infection, it must pass the PFE test. If the mask is only BFE, it is not enough to stop the virus rack from flying, so it is recommended to buy masks if it only indicates the effectiveness of BFE. Simply speaking, when choosing a mask made in Japan, you must have at least BFE + PFE. If there are 3 tests, all the best!
2. ASTM Level

Most masks produced in the United States will have the ASTM Level. The protection strength of masks is divided into Level 1 to 3 (Level 1 being the lowest and Level 3 being the highest) Both BFE and PFE are also tested, in addition to three other criteria: Fluid Resistance to synthetic blood, Delta P (pressure difference), and Flammability.
BFE
PFE
Liquid resistance (mmHg)
Pressure difference
Flame retardant degree
Level 1
≥95%
≥95%
80
<4.0
Class 1
Level 2
≥98%
≥98%
120
<5.0
Class 1
Level 3
≥98%
≥98%
160
<5.0
Class 1
The biggest difference between Level masks is the liquid resistance to synthetic blood. If you are not a front-line medical staff, the effect is not great, and the efficacy of BFE and PFE at different levels is 3%. Of course, it is best to buy Level 3. However, the second-class style is not much worse, and it must be better than products that do not specify ASTM standards.
3. KF (Korean Filter)

"KF" is a mask grade designated by the Korean Health Bureau. The 3 types of these are "KF80", "KF94" and "KF99" which are all available in the market.
KF80: Effectively block about 80% of particles from the air with a size of 0.6 microns, can only prevent sand and air pollution particles, can not block the source of infection.
KF94: Effectively block about 94% from the air, with a size of 0.4 microns or less Fine particles and source of infection.
KF99: Effectively blocks about 99% of fine particles and source of infection from the air with a size of 0.4 microns or less.
Of course, the data will certainly want to choose the highest specification which is "KF99", but because the price is very expensive, the Korean people generally buy "KF94", in fact, it is enough to resist an imminent virus.
4. PM 2.5

If the mask is marked with "PM 2.5", it means that the mask can effectively block fine suspended particles with a diameter of 2.5 micrometers or more in the air. Generally, it is designed to protect against air pollution or sandstorms. It is actually not designed for the nCoV virus.
---
See a pricing calculator and parcel restrictions below. No bulk shipments 10 units max per shipment.

Please note that if the total value of your shipments is above Php 10k there will be PH customs clearance fees, separate from our shipping fee that is paid to a local courier, either COD or bank transfer, and sent to your home. If Php 10k or below, then you will only pay our shipping fee 🙂
To enjoy no duty and tax, you need to checkout from HK under Php 10k total value of shipments regardless of how many shipments, then TRACK until it passes PH customs, then send the next batch.
It's also worth noting that each household member's name can create their own account to enjoy each Php 10k under
Step 1: Each of your household members can open an account and each can enjoy under Php 10k. Sign them up now in here. 
Step 2: When each household member signs up they also get Php 50 free credits. That means more savings for your household!
Step 3: You can also ask them to use your referral code when they sign up so both of you can earn more credits and have more savings 🙂
---
➡️ Learn how to purchase your favorite products from other sites using Buyandship
---
Looking for a community that can relate to your Buyandship Experience with great deals every day to inspire your next overseas shopping? Join our official Facebook Group now. See you there!

---
Is this your first time using our Buyandship service? Here are a few things you should know:
For US, UK, IT, AU, CA, TH, ID:
DDU pricing = Php 620 1st LB succeeding LBs is Php 380 / LB Delivery Duties Unpaid (DDU)
DDP pricing = Php 620 / LB Delivery Duties Paid (DDP)
DDU pricing = Php 580 1st LB succeding LBs is Php 360 / LB Delivery Duties Unpaid (DDU)
DDP pricing = Php 580 / LB Delivery Duties Paid (DDP)
*If you consolidate, the higher price will be applied to the consolidation fee. For example if US and KR consolidation, the higher DDP and DDU rate will be applied.
*If you consolidate KR and JP, then the DDP and DDU rate of KR and JP will be applied.
It is purely on weight, no hidden fees, or charges. Your parcels get shipped straight to your home.
Click HERE to learn more about DDP vs DDU pricing comparison table.
SIGN UP NOW to gain access to our overseas warehouses, and get FREE PHP 50 credit to use for your next shipping fee!
Here is a video tutorial on How to Sign up with Buyandship.