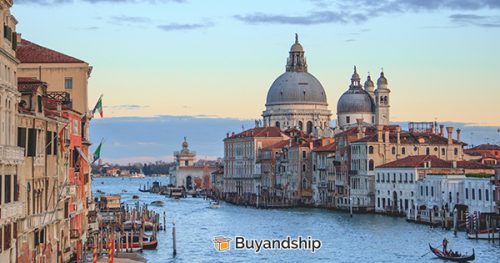 Step up your online shopping game and reach Italy and Europe right in the comfort of your own home. Get ready to say sì on what Bel paese has to offer.
Introducing our latest Euro-centric warehouse in Italy, you can now shop and receive orders from Italy and other EU-based brands or online stores like Germany, France, and the Netherlands, to name a few.
Make sure to take advantage of the online platforms and marketplaces that offer free shipping when you use Buyandship to deliver from our Italy Warehouse, right to your doorstep.
Now, we know online shopping can be a bit much so we pick out the best online stores in Italy and Europe for you to check out! Just don't forget to add the Google Translate Extension in case you're not yet fluent in their language.

If your hobby includes conquering mountains and going for hikes then, Telemark Pyrenees will be the perfect store for you. It's an EU-based outdoor gear store that carries more than 150 sporting and outdoor brands from across the globe including 22 designs, CAMP, Osprey, Salomon, and more. We don't want to brag but they actually have the best ski techs in all Europe, so make of that what you will.

Shop clothes in the city's high-end district? Yes, please! Located in the fashion capital of Italy, YOOX is an e-commerce platform specializing in luxury fashion, art, and design. It is home to more than 5,000 global fashion brands, as well as their in-house brand, 8 by YOOX.

We know you want what's best for your children and so did we! Mukako is an online specialist for mom and baby products. Founded by two Italian mothers, Martina Cusano and Elisa Tattoni, they design, develop, and distribute its innovative line that provides the family with a safe, fun, and efficient environment…

Ah, the emblem of Made in Italy- Alessi. It's an Italian homeware brand that was established in 1921. Over the decades, they have always stood out for high quality when it comes to housewares, kitchen utensils and more. So, if you're the kind of person who only wants the best in the house, Alessi is your guy.

Cappelletto started in 1948 as a family business and prides itself on offering a unique shopping experience in the world of women's and men's footwear and accessories. Its stores carry a variety of brands like Santoni, Stuart Weitzman, L'Autre Chose, Silvano Sassetti, See by Chloé, Jerome Dreyfuss and many others.

Leading fashion online outlet in Italy, created in 2006, where you can find the best fashion and lifestyle brands such as Toms、Under Armour、Daniel Wellington that provides the best price and discounted products. What a steal!

Each country's Zalando site runs its promotion and that's the reason why you should also keep eyes on Zalando Italy – those discount offers could be completely different (but still attractive!) Meanwhile, Zalando Italy also has an online outlet called "Prive", which updates daily deals up to 75% off! So, keep an eye on this one.
Amazon Italy

Enjoy the storefront products made by Italian companies, may it be for Home, Arts, or Fashion, this is your chance to take advantage of Amazon Italy's full breadth of products. Similar to other Amazon counterparts, domestic shipping is often free – talk about a great deal!
–
Let your Italian and European shopping dreams come true and don't forget to declare your shipment right after one of these stores sends you your tracking code. It is necessary to get your shipments faster from our warehouse, straight to your doorstep. Happy Shopping, Everyone!
–
Is this your first time using our Buyandship service? Here are a few things you should know:
For US, UK, IT, AU, CA, TH, ID:
DDU pricing = Php 620 1st LB succeeding LBs is Php 380 / LB Delivery Duties Unpaid (DDU)
DDP pricing = Php 620 / LB Delivery Duties Paid (DDP)
DDU pricing = Php 580 1st LB succeding LBs is Php 360 / LB Delivery Duties Unpaid (DDU)
DDP pricing = Php 580 / LB Delivery Duties Paid (DDP)
*If you consolidate, the higher price will be applied to the consolidation fee. For example if US and KR consolidation, the higher DDP and DDU rate will be applied.
*If you consolidate KR and JP, then the DDP and DDU rate of KR and JP will be applied.
It is purely on weight, no hidden fees, or charges. Your parcels get shipped straight to your home.
Click HERE to learn more about DDP vs DDU pricing comparison table.
SIGN UP NOW to gain access to our overseas warehouses, and get FREE PHP 50 credit to use for your next shipping fee!
Here is a video tutorial on How to Sign up with Buyandship.