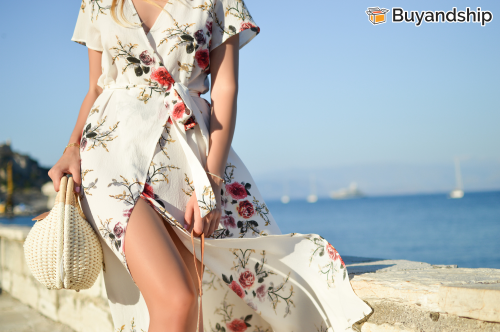 Update your wardrobe with these hot-weather-friendly picks. Tropical times are upon us and it's the perfect excuse to revamp your closet and go shopping. But if you're stumped at what to buy, we're here for you! We round up four easy to style and wearable trends this summer you won't be able to stop wearing.
Scroll down and let the shopping begin.
---
4 Fashion Staples To Wear This Summer
1. Bold and bright hues
Pomelo Fashion
Original Price: 790 ฿ or PHP 1,219.95
Discounted Price: 553 ฿ or PHP 853.96

Bold colors in the brightest and cheeriest shades are here for this weather. Mix pastel colors with bold hues to snap the perfect OOTD in your own home or in the beach right after this whole pandemic is over.
2. Tropical Prints
Pomelo Fashion
Original Price: 490 ฿ or PHP 756.68
Discounted Price: 343 ฿ or PHP 529.67

Tropical prints for this time of the year? That's new! Kidding aside, tropical print is a classic. This is the only time where we get to wear all the fun prints we are dying to wear for the whole season. Don't hold back and pile on the fruit-laden blouses, floral summer frocks, and Hawaiian shirts!
3. Bra Tops
Pomelo Fashion
Original Price: 690 ฿ or PHP 1,065.52
Discounted Price: 552 ฿ or PHP 852.42

With temperatures rising, we'll take any excuse to dress in as little clothing as possible. Consider making bra tops your daily season uniform. Just pair it with something high-waisted to balance your look, if you're looking to have a bit more coverage.
4. Short Suits
Pomelo Fashion
Original Price: 1,490 ฿ or PHP 2,300.91
Discounted Price: 1,192 ฿ or PHP 1,840.73

Short suits are your best pick if you're in need of something that's chic and breezy to wear to the office. Pair them with a slinky pair of heeled sandals to help elongate your frame better.
–
Note: We hope you loved the products we recommended! We just wanted to clarify that the prices are accurate and items in stock as stated in the time of publication. We do not own any of the products and images above, all credits are due to Pomelo Fashion alone.
Register here and have these Pomelo outfits shipped straight to your home in the Philippines.
Click here to learn a step-by-step guide on how to buy products from Pomelo using Buyandship.
---
Is this your first time using our Buyandship service? Here are a few things you should know:
A flat fee of Php 300/lb will be charged for overseas shipment whether it is from our USA, UK, Japan, Korea, Australia, Italy, Thailand, Hong Kong, China, or Taiwan warehouses. All the same rate! With a few easy steps, your product purchases will be delivered to you in no time.
SIGN UP NOW to gain access to our overseas warehouses, and get FREE PHP 50 credit to use for your next shipping fee!