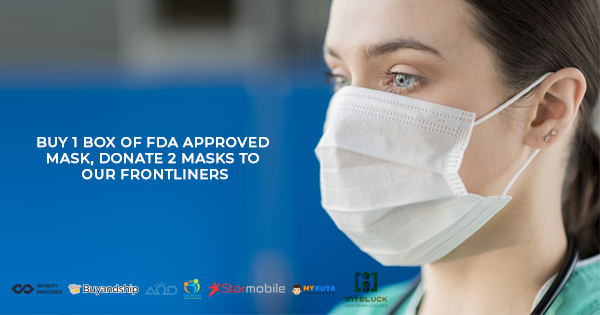 Buy and Donate: Buy 1 Box of FDA Approved Mask and We Will Donate 2 Masks To Our Frontliners
Buyandship Philippines in partnership with Starmobile, MyKuya, AOD, Ozzend Solutions, Inteluck, and Infinity Ventures launched a campaign that will not only protect us, people around us, but also our frontliners.
For every box purchased of FDA certified 3 ply-disposable-mask, we will also be donating 2 masks to our government hospital frontliners.
Promo Mechanics:
1. The promo period is from May 14 to July 14, 2020.
2. This promo is open to all users who will purchase the face masks on our Shopify Website. For donations, it will be required that users Sign Up with Buyandship, Enter their Buyandship member ID, and Select their Hospital of choice in the checkout section.
3. The donations will be delivered to selected Metro Manila hospitals within one month of purchase by the participant.
4. Buyandship reserves the right to refuse the awarding of the benefit to accounts that are suspected to be invalid or fraudulent.
---
There are tons of fake face masks in the Philippine Market and even though it seems super cheap, don't be fooled! Get your hands on authentic FDA-Approved Masks at our Shopify Website. Protect your family and yourself while showing support to our frontliners!
Step-By-Step Guide on How to Avail This Promotion
Step 01: Go to Our Shopify Website (masksph.com)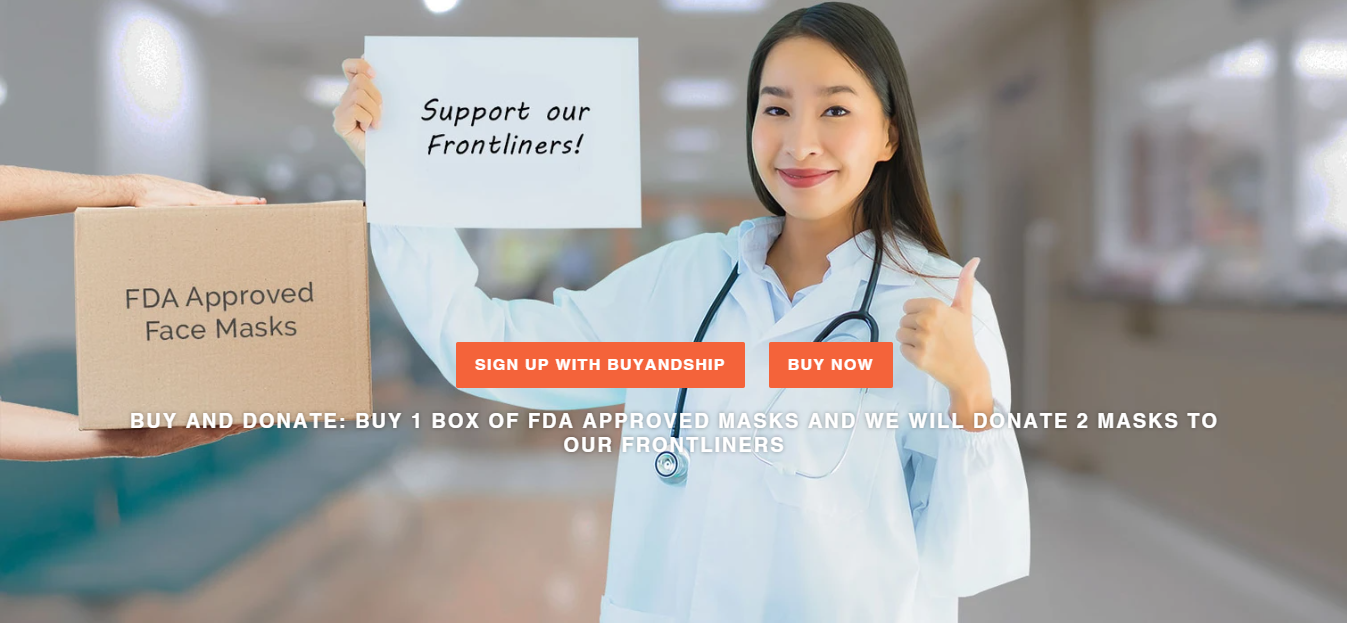 Want to purchase FDA-approved masks for your family and for our frontliners? Go to masksph.com
Step 02: Sign up with Buyandship or Log in to Your Existing Account

Once you're on the Shopify website, you will be needing a BNS Membership ID that you can get by signing up at Buyandship PH. If you already have an account, you can now proceed to step 3!
Step 03: Click "Buy Now" Button
If you click on the "Buy Now" Button at the site's landing page, you will be redirected to the product link as seen from the screenshot above. Simply click "Add to Cart." All of the details regarding the mask are in there, including its description and a scanned copy of the FDA document.
Step 04: View Cart and Fill In Necessary Details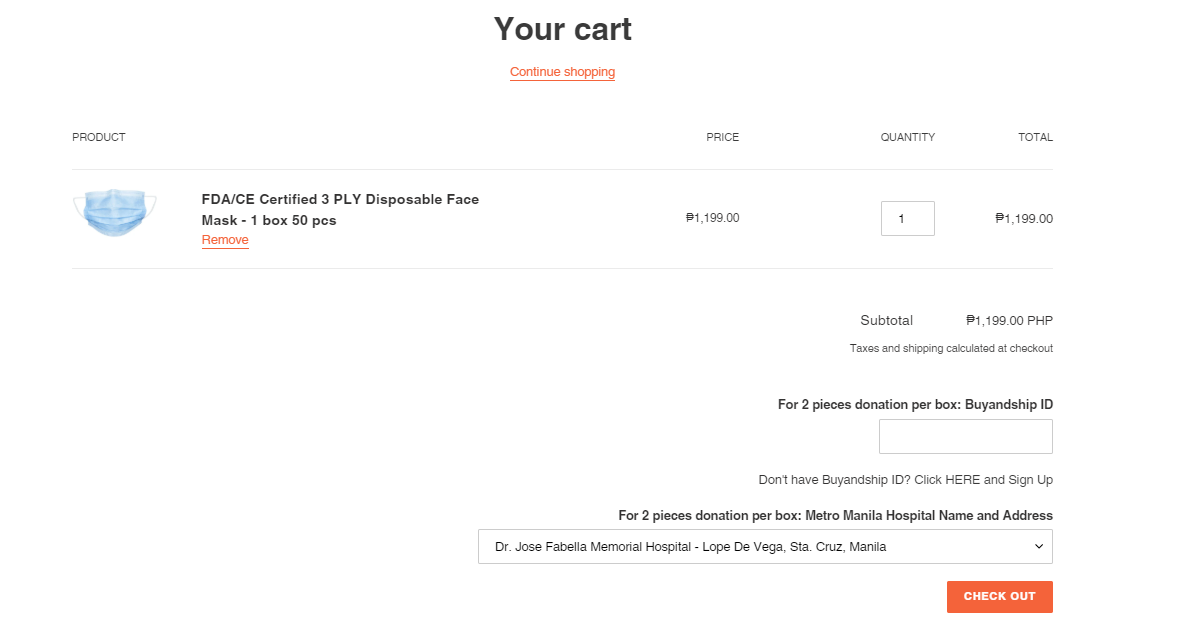 If you settled on how many boxes you'll purchase, view your cart and fill in the necessary details such as your Buyandship Member ID and a hospital of your choice for donation. Again, you can only get a Member ID if you have an account at Buyandship.
👉 Register here to get your Member ID
Step 05: Checkout | Fill In Your Shipping Details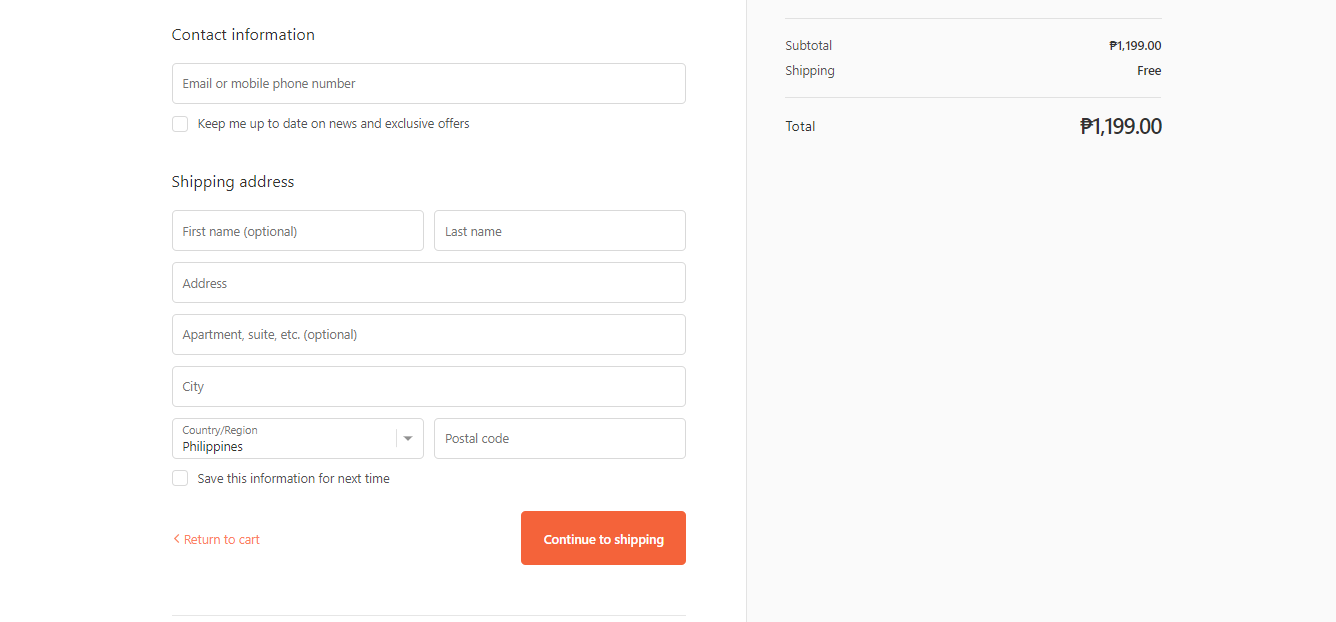 Once you're done reviewing your cart, let's move on to the Checkout page. Just simply enter your email address and shipping information (PH Address) and click "Continue to Shipping." You will be redirected to a page where you have to review all of the details you input, double-check everything before continuing to payment.
Step 06:
Checkout | Continue to Payment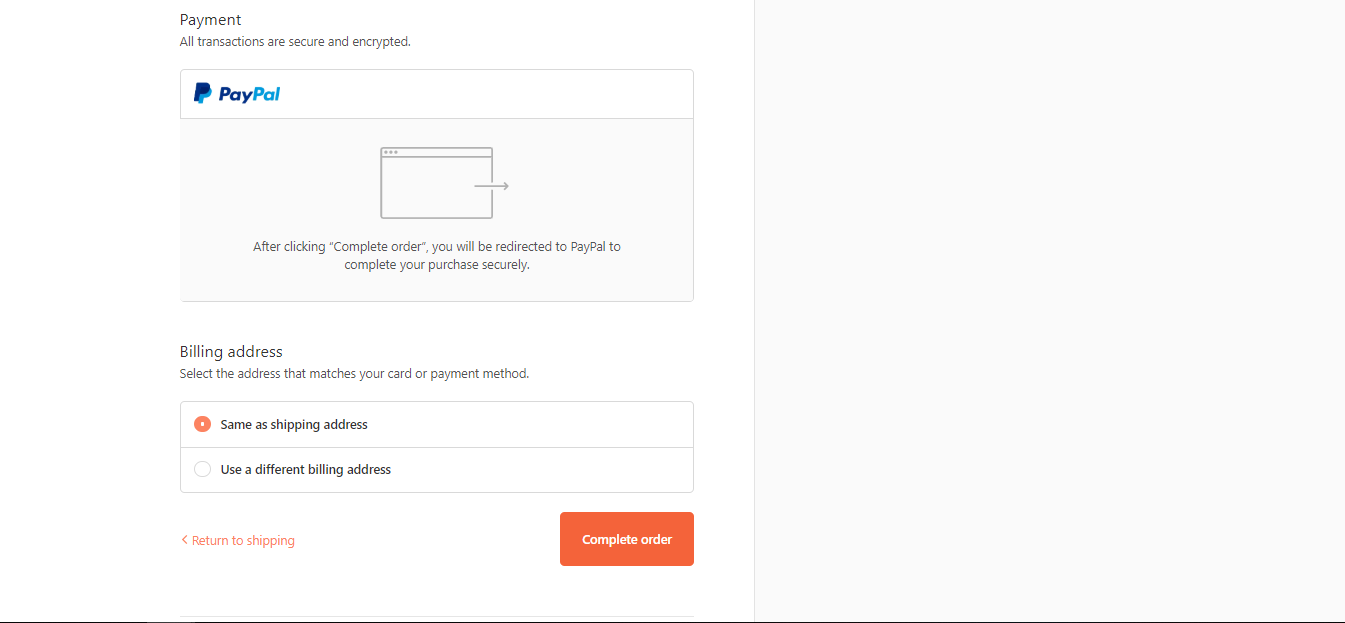 Once everything is settled, it's time for payment. You have 2 options: Credit Card and Paypal on purchasing this product. Choose whatever's most convenient for you, it's totally up to you, no pressure.
If the address in your credit card and Paypal account is similar to your shipping address, click on the box that says "Same as shipping address" But if it isn't, simply click "Use a Different Billing Address" and input the necessary details.
If you're satisfied with your order, click "Complete Order" and you're done!
Step 07:
Sit back, Relax, and Wait For Your FDA-Approved Masks to Arrive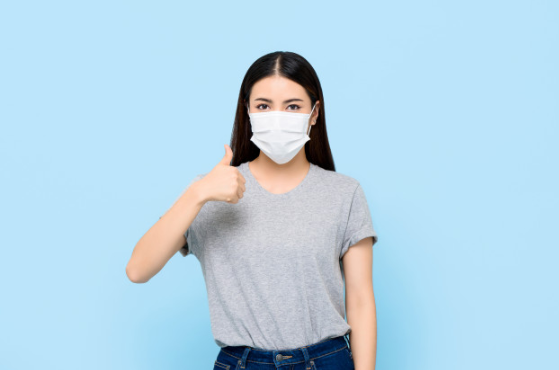 All you have to do is sit back, relax, and wait for your masks to arrive straight to your door in the Philippines, no shipping charge! Protect you and your family against the virus, and we'll deliver your donated mask to the hospital of your choosing.
---
Learn more about the Startup Companies Behind This Promotion

Michael Chen, Founder, Starmobile
"It is of great importance to us to continue to provide more solutions and adapt to these changing times by expanding into medically-compliant and high-grade masks that ensure the safety and security of the user."
Starmobile is the Philippines' most awarded smartphone brand, being at the forefront of significant innovations and offering a strong line-up of devices at the best possible value for the Filipino consumer. Founded in 2011 by industry veterans who were responsible for the growth of the telecommunications industry in the Philippines, Starmobile has partnered with some of the largest global consumer technology companies in the world to become the digital enabler of the Filipino people. With an already diverse portfolio of devices and services, Starmobile has added even more by expanding into medical technologies such as rapid screening drug test kits and face masks.


Geoff Chen, General Manager, Buyandship Philippines
"Buyandship has recently shipped more than 50 million masks globally. Buyandship Philippines is determined to provide every Filipino access to all types of goods around the world and ship them to their home at the lowest cost possible."
Buyandship Philippines is a cross-border e-commerce logistics company established in January 2020. The company enables Filipinos to shop abroad online in 10 locations around the world: United States, United Kingdom, Japan, Korea, Australia, Italy, Hong Kong, Taiwan, Thailand, and China, and ship their bought products to their doorstep in the Philippines. Buyandship Philippines prides itself on having great quality service at the lowest air shipment cost.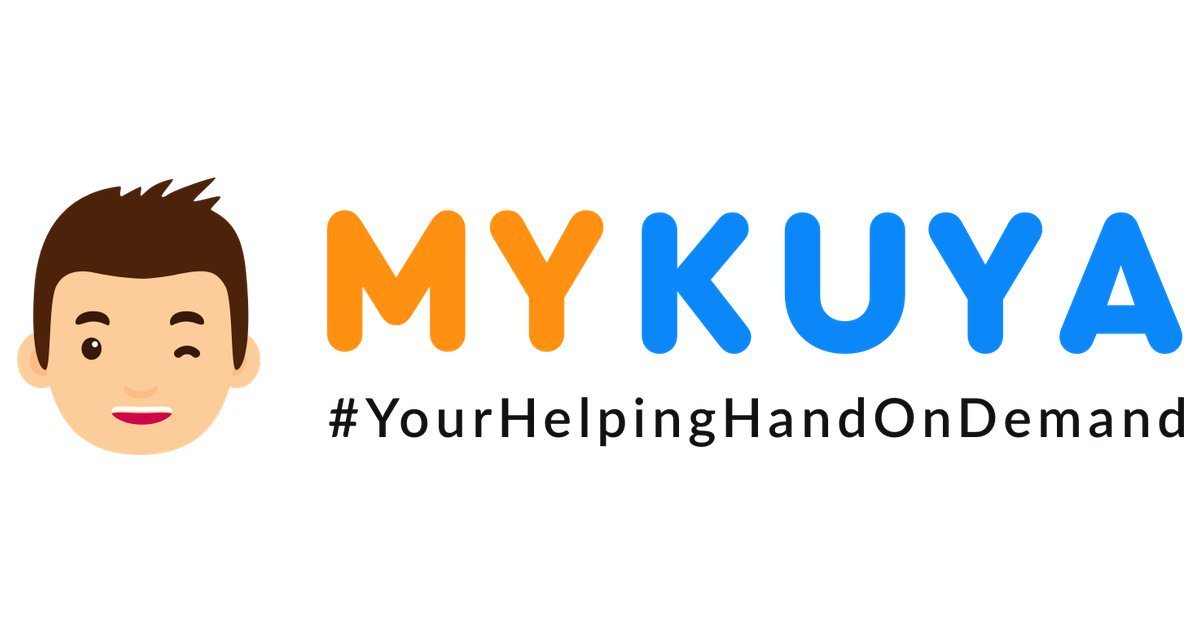 Shahab Shabibi, Co-Founder, MyKuya
"MyKuya has been delivering food, medicine & groceries to its customers during this quarantine. Many had asked us about PPEs especially masks that have been hard to find. We are glad that now through our partnership with Buyandship we can deliver on this need."
Founded in 2017, MyKuya is a labor & services platform with the goal of creating 1 million job opportunities. Consumers use MyKuya as a super app for hiring services on-demand while service providers use it as a digital marketplace & a mobile workforce management tool.

Jay Cordero, Project Coordinator, Advanced Optronic Devices Philippines
"With our continuous commitment to partner and support all government agencies, AOD is committed to joining the Government in its fight by bringing FDA approved medical devices and products."
AOD Philippines Inc. is a subsidiary of AOD Asia and was founded in 2013 with the intention of promoting unique professional LED lighting solutions to the Philippine market where the customer would benefit from various smart lighting solutions and financial advantage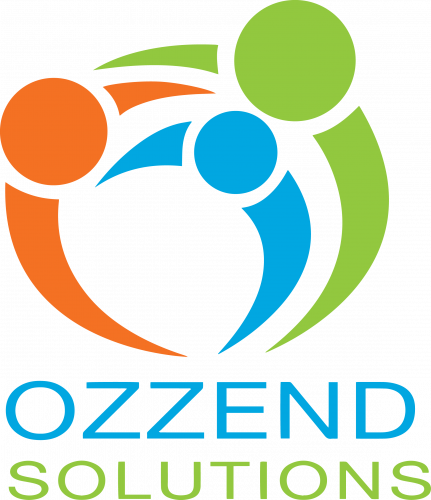 Ryan Sombilon, Director, Ozzend Solutions Inc.
"As an organization that values assistance and services to others, we are dedicated to helping the society in sourcing PPE products and medical devices that can help us fight this pandemic."
OZZEND SOLUTIONS INC. is an international consulting company headquartered at Seychelles with a subsidiary in the Philippines, OZZEND provides business management consulting, business processes consulting, investment consulting, government regulation assistance with various clients in Asia, Europe, and the Americas.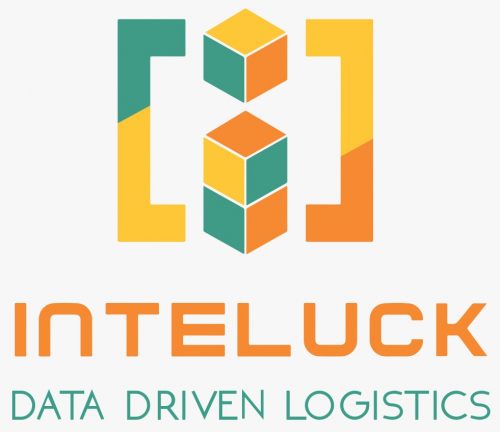 Kevin Zhang, CEO, Inteluck Data Driven Logistics
"We build the most efficient logistics world by connecting talented and responsible people driven by the data and technology."
Founded in 2014, Inteluck is a data-driven third-party logistics provider that focuses on first- and middle- mile delivery for mid to large-size enterprises in Southeast Asia. Inteluck is headquartered in Singapore and operates in other Southeast Asian countries including the Philippines and Thailand. Inteluck's mission is to offer highly efficient B2B logistics services via its advanced technology in emerging markets.