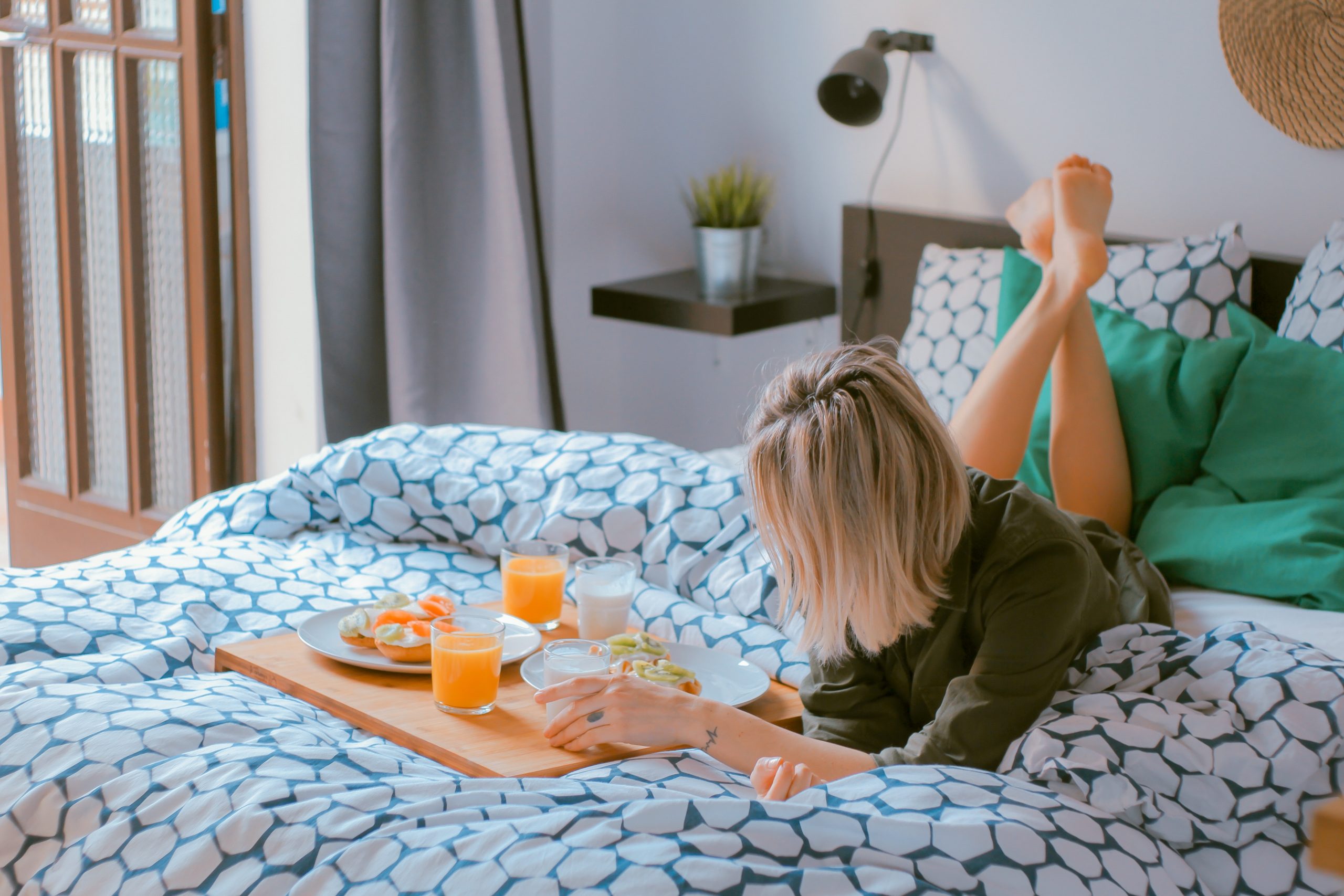 After two months of quarantine, we're finally starting to get the hang of sheltering in our place or what people call now the "New Normal." By now you may have found your best Zoom lighting, a healthier work-to-Netflix ratio, and the safest distance between you and your snacks. Check out these product reviewers swear by that help them function at the highest level during this trying time.
---
10 Products Reviewers Say Are Helping Them Through Quarantine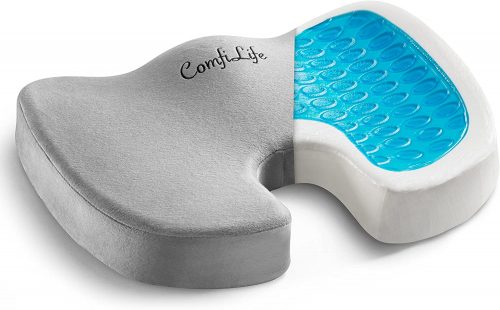 Amazon
This memory foam seat cushion from Comfi Life may be the best one in the market! It has a non-slip rubber bottom with a built-in handle for easy transport and in a machine-washable zippered velour cover for easy cleaning. Relieve pressure from your tailbone from long hours of sitting at home.
Promising review: "I've purchased similar items in the past that visually looked like this but were stiff and rigid. This is amazing. Totally eased my back pain from my quarantined at home desk job. Highly recommend." —Bellarosa555

---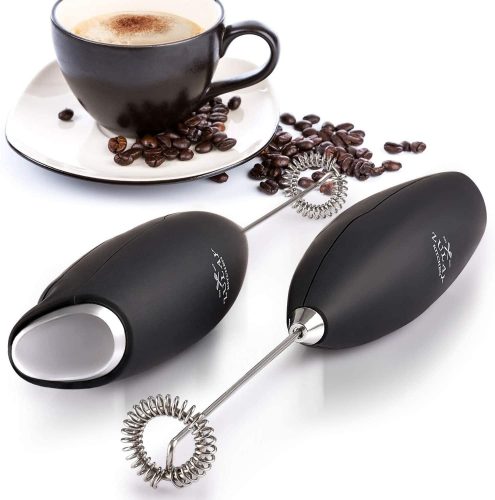 Amazon
If you're like us who takes coffee way too seriously, then try this tiny milk frother to sub out your beloved lattes. Make rich, creamy froth in seconds with this bad boy, it gives that professional and personalized touch to your beverage because if there's anything, you're the one who can make the ultimate coffee that suits your taste buds.
Promising review: "This is seriously my best quarantine purchase and I have made a lot! No need for Starbucks anymore. My craving has been fulfilled. I make at least one fancy drink every morning. To make the cold foam similar to Starbucks salted honey you use a little milk (I use almond), a sprinkle of salt, and some honey then use the frother. It makes so much from a small amount and the taste is delicious!! This will be your new morning best friend. I am so happy!" —Amazon Customer

---
Amazon
You probably had a lot of recipes to try out during the quarantine which means you must have encountered some tough dishes that make you wish you just didn't bake something. Don't worry, this set of three adorable, machine-washable Swedish dishcloths are here for you! They are super absorbent and designed with a cross-hatch pattern for easier scrubbing. Do you know that one of these can replace a DOZEN paper towel rolls? Yep.
Promising review: "I originally picked these up to use in lieu of nasty, nasty dishrags that invoke my inner THIS IS NOT CLEAN demon. Since then, I have used them for everything from cleaning the kitchen to wiping up spills. After use, just toss in the wash and they are ready to go again. They are the perfect size and do an excellent job on every task to which I have applied them. They come in a variety of fun prints and I have yet to wear one out. Paper towel usage has taken a real nosedive, which is a good thing given its relative scarcity at present." —sandra simpson-kraft

---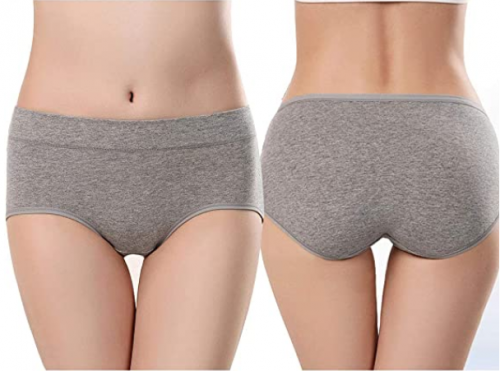 Amazon
Because all the comfy quarantine clothes in the world won't mean a darn thing if your undies are bugging you. You don't have to be very squirmy or change positions on the couch every eight minutes with this five-pack of wedgie-proof cotton underwear with a wide, stretchy waistband. These are also phenomenal for running and at-home workouts, they stay in place plus, the lining is thin enough that you can barely see them under leggings.
Promising review: "They look so huge and unattractive but my goodness are they comfortable. After I got over the fact I'm at the age now where I feel comfortable buying huge granny panties I put them on and all that changed sis. These are the most comfortable underwear my big booty has ever been in. They come up to the belly button and do not feel tight around the band or in between my legs. These are perfect for period panties or if you're just wanting comfort while sitting at home during COVID-19. Once you stop feeling bad about being in granny panties your mind and body will be freed. Just put them on and relax. 😂 They are really comfortable and freeing. The material is incredible." —breeze

---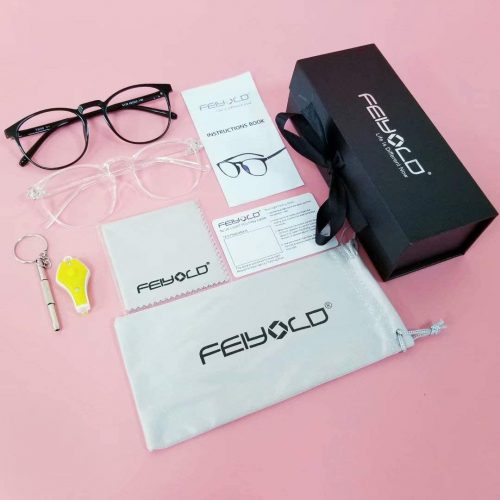 A pair of blue-light glasses to help defend your eyeballs against the strain of your transition from phone to laptop and vice versa. Say goodbye to migraines, blurred vision, and eye fatigue, prolonged exposure to blue light may cause
Promising review: "During quarantine, my girlfriend and I have both spent a lot of time on screens (she on her laptop for work, and me on the TV playing video games). We got them about two weeks ago, and we've both noticed a huge difference in our blue screen tolerance. It has helped our eyes feel less tired, and pretty much anytime we look at any screen now, we are wearing these glasses. This is a great, low-priced two-pack deal. Everything looks a little bit yellow while wearing them, but that is truly my only complaint! Once you've worn them for a while you hardly notice the yellow, until you take them off." —Taylor S.

---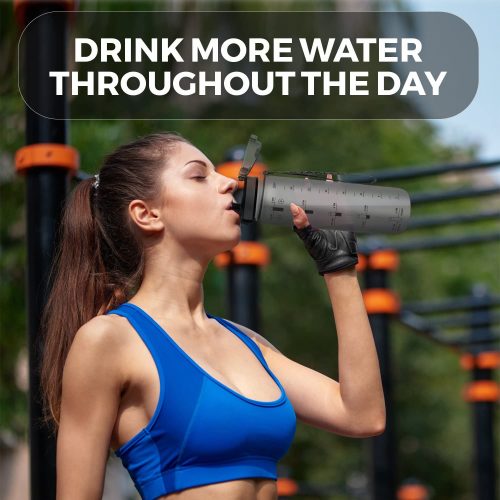 This time-marked water bottle has a latching lid that protects the spout so you don't have to touch it — especially handy for front line workers and anyone who's worried about disinfecting things as lockdown restrictions ease up. Let's be extra careful especially with the upcoming GCQ on June 01
Promising review: "Bought this water bottle for my dad since he's delivery personnel and has to work during this pandemic. Needed a water bottle that latched and unlatched so he doesn't have to touch the spout and get it dirty — he loves it and uses it all the time!" —Joselyn Sanchez

---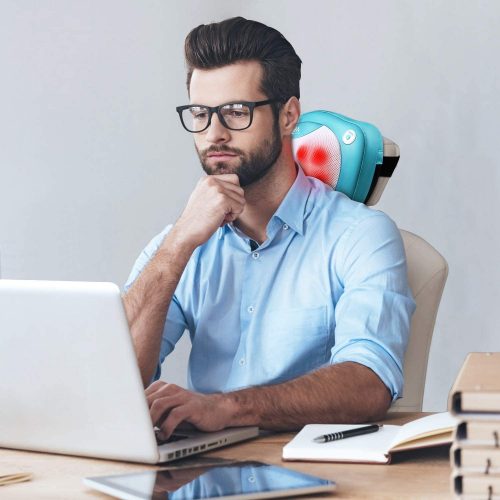 This back and neck massager will work it's magic to settle all the knots you might have from sitting in one position for too long or doing any kind of repetitive tasks that tensed your muscles. Whether you're working from home or just sitting at all home all day (no judgment) you can bet on this massager to take care of all your body pains.
Promising review: "I'm sitting all day at home during the COVID outbreak, and I was looking for something I could use now and in the future. It is intense! I like to use it on my shoulder and on my lower back. I am excited that it can be used in the car, as I expect to be moving cross-country in the new year or so." — Alli

---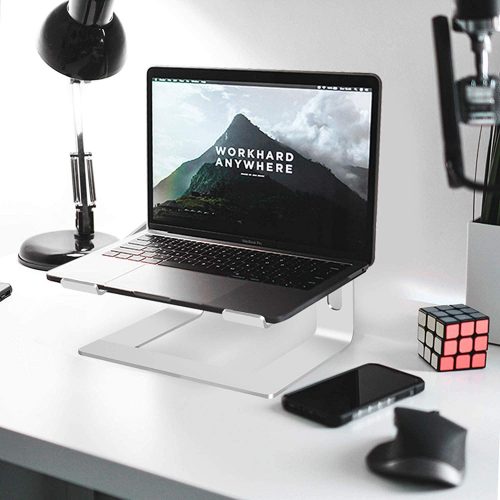 This ventilated laptop stand you can prop on a table or a desk for a WFH-friendly environment is the perfect product for people who's been experiencing tensed neck and strained eyes lately. This makes your laptop screen eye-level to reduce neck and shoulder strain and gives your laptop fan space to breathe so it doesn't overheat.
Promising review: "This was recommended in an article about handling working from home during this COVID-19 stay-at-home requirement — since workspaces at home aren't as ergonomic as at work when it comes to 8-hour work days. It is SO worth it! It's incredibly sturdy. The laptop is now placed at a perfect angle. I bought a wireless keyboard which I can use with my laptop when the laptop is in the stand — and then at the end of my workday, I just slide my wireless keyboard under the laptop in the space created by the stand, and I regain that bit of space on my table. I love it. Add in the brushed silvery tone, and it has been a great investment for me." —Joe Mama

---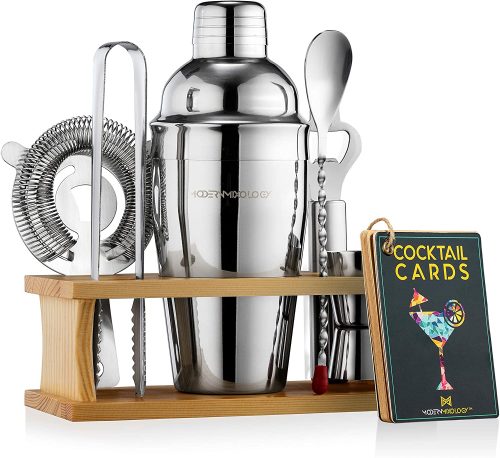 If you played Bartender in Y8 as a kid, you probably had a dream to learn how to mix a cocktail someday. Make your dream come true with this Mixology Bartender Kit — this has all the tools you need to get started, down to adorable, comprehensive cocktail recipe cards. This set has a cocktail shaker, ice tongs, a bottle opener, a mixing spoon, a double jigger, a strainer, recipe cards, and a stand to neatly display them all.
Promising review: "I needed a new hobby while I shelter in place with my husband and college daughter so I decided to start mixing drinks but I did not have the proper tools. This set by Modern Mixology is perfect for my needs. I can't wait to start." —Grace V

---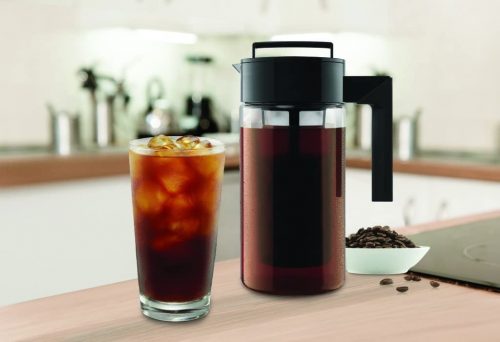 If you're living in the Philippines, chances are it is scorching hot right now- a perfect day for an iced coffee if you can't live without caffeine! This cold brew coffee maker is gloriously easy to use, all you have to do is stick your favorite ground coffee in the filter, seal the airtight lid on top, and pop it in the fridge overnight. Boom, four cups of cold brew. Now, you're ready to take on the day.
Promising review: "I love cold brew and iced coffee beverages. I cut back on caffeine when I found out I was pregnant, so I'm happy to be able to make my own decaf cold brew at home. I purchased this right before we went on lockdown with COVID-19, and I have gotten so much use out of it while in quarantine. I'm very happy with this purchase." —Alayne

---
Note: We hope you loved the products we recommended! We just wanted to clarify that the price and stocks are accurate as stated in the time of publication. We do not own any of the products and pictures above. All credits are due to Amazon and the respective online stores mentioned above.
Register here and have your items shipped straight to your home in the Philippines
👉 Register | Buyandship Philippines