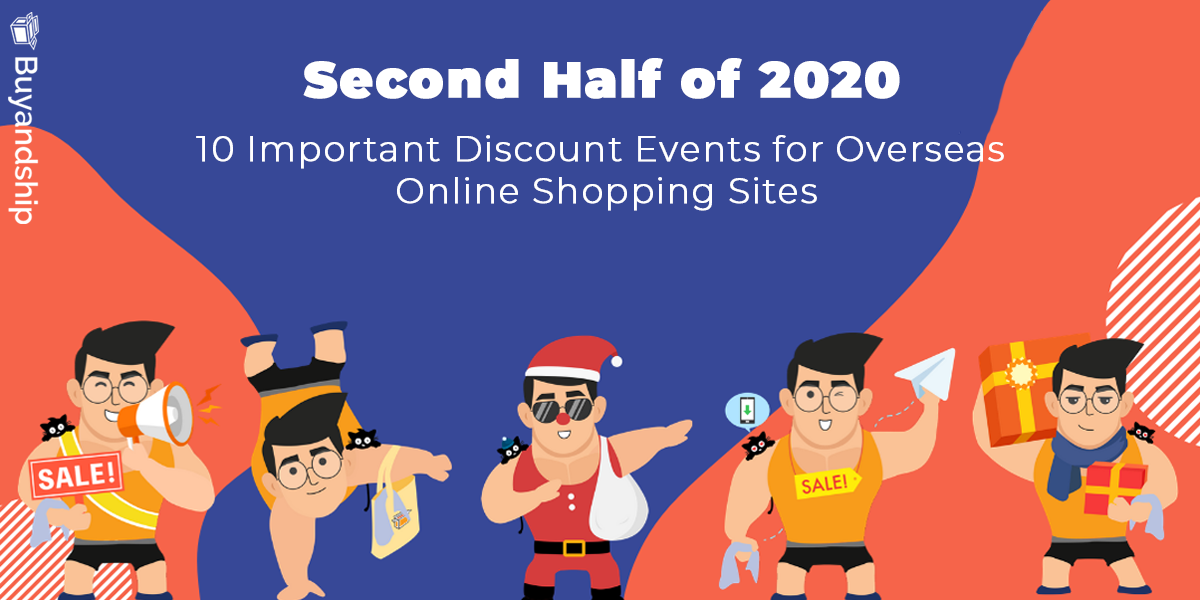 Calling all shopping enthusiasts! Many people nowadays love online shopping, it's practical and easier to find affordable yet stylish pieces at the comfort of your own home. Step up your online shopping game and access thousands of online shopping sites across 12 regions worldwide at the end of your fingertips.
Since this month marks the second half of 2020, we collated the biggest discount events all over the world like Black Friday, Amazon Prime, and more, so, you know what to look out, and prepare for. Don't forget to use Buyandship to have your favorite sale items shipped straight to your doorstep in the Philippines.
---
10 Important Discount Events for Overseas Online Shopping Sites
#1 Independence Day

July 4th is one of the most important holidays in the United States. It's a federal holiday in the United States commemorating their Declaration of Independence. Many online stores will take part in one of the biggest discount events that are similar to Black Friday's big sale. So, make sure to eye your favorite US web store and plan ahead to steal a great deal.
---
#2 Amazon Prime Day

Amazon Prime is temporarily delayed due to the pandemic this year and will be postponed until August. In the past, many of Amazon's own brands will have large discounts, like Echo, Kindle, Fire TV, and more! Amazon discounts usually last for 48 hours, but you have to take note of time zones because some Amazon online shopping platforms like Amazon Australia and Amazon Japan may start early so, make sure to compare the items first and double-check which country offers cheaper prices. Don't worry, Buyandship has 11 warehouse addresses worldwide so you can shop freely and without worry during this Huge Sale!
---
#3 Labor Day

September 2 is Labor Day in the United States, and many American online stores use this as the outpost of Black Friday, so the discounts are also very attractive, and maybe the most suitable time to buy great products for the season! Pay attention to the fact that different online stores may offer different discount times. If you don't want to miss it, tune in at Buyandship's website and social media platforms every time!
---
#4 Columbus Day

October 12 was the day Columbus landed in America. Many online shopping platforms will take advantage of the opportunity to reduce prices and discount offers are different for each merchant store. Take note, this is a tourist season in the United States, and even though this pandemic may slightly change the way we celebrate, discounts for outdoor brands will be relatively large! This is perfect if you have friends (or you're that friend) who love outdoor activities.
---
#5 Double 11

Since Taobao launched the Double 11, many overseas online stores take part in the discount campaign as well. Taking last year as an example, Taiwan's online shopping platforms, including PCHome, MOMO shopping network, and life market Tongcheng, have different size promotions, big coupons, and a super discount of 10%. This is the same day as American Veterans Day so make sure to look out for big discounts in the US, too!
---
#6 Click Frenzy Go Wild

Click Frenzy Go Wild will be on September 1st this year. It is a large online shopping discount platform in Australia that holds huge discount activities every year, it's basically the Australian version of Double 11! Make sure to sign up with Buyandship, compare prices, and grab the best deal for the products you're eyeing. Tune in our website and social media platforms, if you don't want to miss anything and/or if you want more overseas online shopping guides.
---
#7 Black Friday & Cyber ​​Monday

Every year immediately following Thanksgiving, the biggest day when many online shoppers are expecting to be bleeding-November- People of the Philippines, you can finally take part in Black Friday and Cyber Monday Sale. Many online shopping platforms will launch an Early Bird discount, so keep your eye on your favorite web stores for the entire month of November as to not miss anything. It's the best day for overseas online shopping so, if you planning to buy a specific product that's usually expensive, now's the best time to buy it. Don't forget to sign up and use Buyandship Philippines for all of your overseas online shopping purchases.
---
#8 Double 12

Double 12 was also the biggest discount day for Taobao. For the past years, major online shopping platforms such as ZALORA, Gmarket, and Rakuten will offer discounts on December 12, but the discount is generally not as good as Double 11. However, if you use a designated credit card discount, the price may be be cheaper.
---
#9 Free Shipping Day

On December 14th, more than 1,000 US online stores will provide free shipping! Take this time to shop gifts for your family, friends, loved ones, or even for yourself. Carter's, Reebok, Under Armour, TOMS, Overstock, etc. are a few of the participating merchants for the past years. This is the perfect time to take advantage of the opportunity to purchase goods while saving a lot on freight rates.
---
#10 Christmas Day

Don't forget the important holiday Christmas at the end of the year! Discounts are as strong as Black Friday, and friends who missed Black Friday will have a chance!
---
Notes To Keep In Mind When You're Using Buyandship's Warehouse Address For Your Online Shopping 
During major festivals, the delivery time is expected to be longer. However, the Buyandship team knows that everyone is in a hurry, and we will definitely work hard to deliver the goods to you as soon as possible. On that note, here are a few notes to keep in mind when shopping at these discount festivals and if you're going to use Buyandship at your purchase:
1. Address filling format
If an error message appears after filling in the online shopping address, or if the order is canceled after payment, you can try another format: Address Line 1 Enter 13822 NE Airport Way. you will have the opportunity to successfully buy it. In addition to this, make sure to fill in the Buyandship Membership ID in "Name" so, it would be easier for us to sort your parcel once it arrives at our warehouse.
2. Payment Method and Billing Address
Just like what we state in the earlier part of the blog, most US Web Stores either/both accept internationally-accepted credit/debit cards and Paypal as the mode of payment. Please take note to use your real name and Philippine Address and upon the billing section to ensure a hassle-free transaction.
3. Declare Your Shipments
If the shipment is not declared before arriving at the warehouse, the warehouse colleague may postpone processing your shipment, and may not be able to issue the "Notified Shipment Notification" immediately, so it will be delayed until the shipment is received. So, it's really important that once you receive the tracking number from the merchant store you shop from,  declare your shipment to your BNS Account. Click here to learn more about how to declare your shipment. 
4. Shipment Size Restrictions
If deemed necessary, our warehouse will repack and replace packaging without prior notice. Every single shipment (Per Tracking number) must not exceed 55 pounds if Metro Manila and 20 pounds if Non-Metro Manila. If the single parcel exceeds 20 pounds, please do not consolidate it with other parcels. After the parcel consolidation:
The sum of all 3 sides cannot exceed 150 CM
Each side must not exceed 100 CM
Volumetric Weight can not exceed 5 times the actual weight
Note: Calculation for Volumetric Weight: [Length (CM) x Width (CM) x Height (CM)] ÷ 6,000 x 2.2046
If the parcel exceeds any of the above limitations, additional charges may be required. The parcel may also be rejected by the overseas warehouse or the delivery fee may be calculated by Volumetric Weight
5. Prohibited Goods
Please read "Prohibited Items Catalog" before shopping. If you have doubts or unclear products, you can message us on Facebook, Instagram, or start a webchat on the site to confirm if we'll allow your item. It's better to be safe and sure, above all.
6. Where Can I Find More Information on Buyandship's Online Shopping and Shipping?
Other than our Website, Facebook Page, Instagram, we have a community in our FB group where we post all of the latest deals and updates regarding Buyandship. You can also share with our members your shopping experience and concerns regarding Buyandship or overseas shopping in general. Join us if you wanted a community to relate to or vent out to; we'll be waiting for you!
👉 Buyandship's Facebook Group
👉 Buyandship's Facebook Page
👉 Buyandship's Instagram