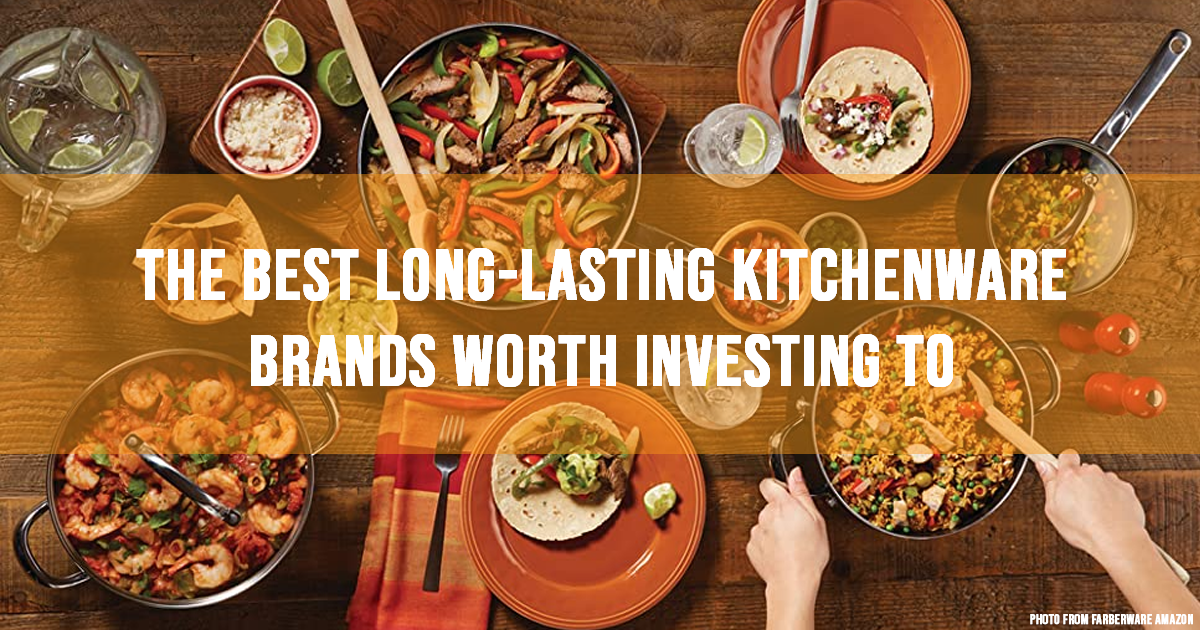 Used daily, choosing the right kitchen appliances and cookware is a fundamental part of the cooking process, but can often seem daunting.  The question is how you are going to know which brand is better in the market. To help you kit your kitchen with everything you need to create the most tantalizing dishes with, we've rounded up what we believe to be the best and long-lasting kitchen and cookware brands worth investing to. We will explain the fan base, product quality, service consistency, and other attributes of the few kitchenware giants of the industry.
---
The Best Long Lasting Kitchenware Brands Worth Investing To
If you are a trend freak and always in search of new upgrades, you are in the right place. We will lead you into a world of kitchenware brands that has the top ranking in the market. It will be a pleasure to pass correct information and ratio about some of the top-class kitchenware brands in the Trade.
At present, thousands of kitchenware brands competing for each other in commerce just to put their signature into the consumers' minds. But only a few of them are thriving like a king in the market. Le Creuset, KitchenAid, T-Fal, Cuisinart, and Farberware are the name of some few giants in the industry. Now we will explain their fan base, product quality, service consistency, and other attributes.
⓵ 🇺🇸 Le Creuset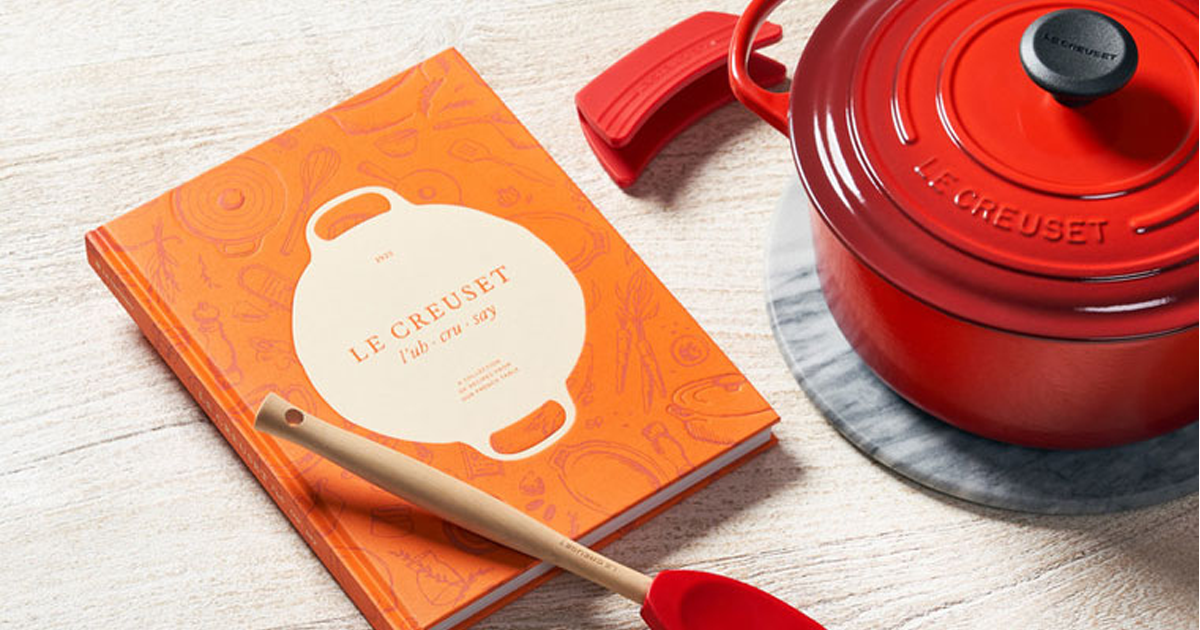 Le Creuset is an elite class French cookware manufacturer founded in 1925 in Northern France. Famed for their porcelain enameled cast iron pots, Le Creuset has become synonymous with enameled cast iron cookware, multi-ply stainless steel, toughened non-stick, and stoneware. The use of cast iron means that the pots and pans not only heat quickly but retain and spread that heat evenly. Their famous casserole dishes have been designed with a dome lid that ensures the pot stays moist, which are beloved by leading chefs and at-home connoisseurs alike.
Limited lifetime warranty.
Method: Sand casting
Exclusive design
Material: Cast Iron
Variation of color
Buyandship Recommends:

Why Should You Invest in This Skillet?
The enameled cast iron Signature Skillet is a versatile kitchen essential for searing, sauteing, stir-frying and more. The interior surface is finished with a black satin enamel that eliminates the need for the traditional seasoning and maintenance of raw cast iron. Specially formulated for higher surface temperature cooking, the enamel develops a natural patina over time making it virtually nonstick and easy to clean.
It's also available in the Philippines but as you can see in the graphic above, it's way more expensive here. Instead of paying for PHP 11,404.00 in Lazada Philippines, you only have to pay PHP 5,891.40 when you buy it directly in Le Creuset US! Yep, you just save PHP 5,512.60!
---
⓶ 🇺🇸 Cuisinart | Amazon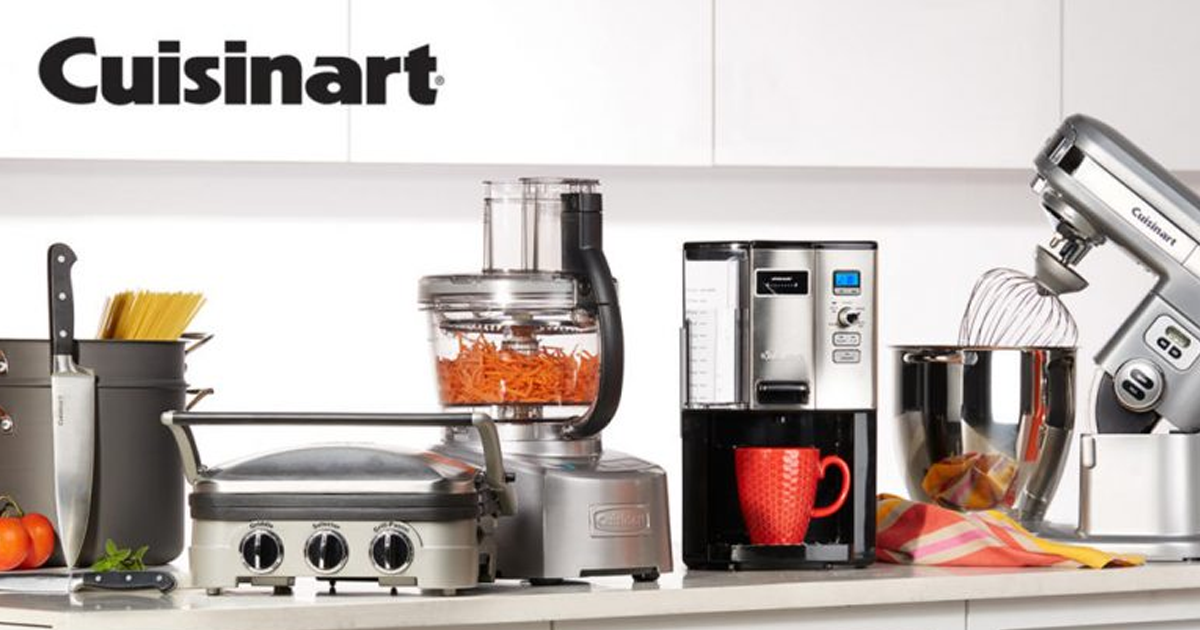 Cuisinart is an American company situated in Stamford, Connecticut. Carl Sontheimer founded the company in 1971. Initially, it specialized in manufacturing food processors before it expanded to other kitchenware. Since 1989, the company has been under the ownership of Conair Corporation. Apart from cookware, it also specializes in manufacturing a wide array of other products that are used by the top chefs in the world.
Cuisinart holds a special position in the cookware industry. It is recognized for producing the first eco-friendly anodized stainless nonstick cookware. The cookware from this brand is known for having unique and innovative designs. In fact, Cuisinart has won several design awards, including the coveted Good Design Award and more.
Limited lifetime warranty.
Thousands of product variations
High price but worth every penny
Exclusive Design
Perfect Finishing
Buyandship Recommends: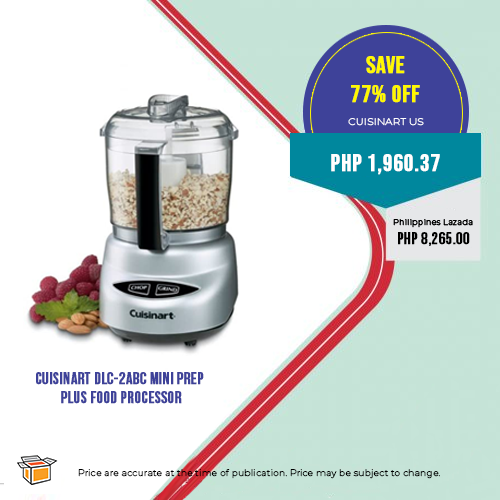 Why Should You Invest in This Food Processor?
The Mini-Prep Plus 24 Ounce Processor is the perfect little helper for small food preparation, from chopping herbs to finely grinding hard cheese. Its versatility lies in the special Auto Reversing Smart Blade making the Mini-Prep versatile, and it is easier to process both soft and hard foods in the 24-ounce work bowl. It saves you effort and less preparation time in the kitchen.  Designed in Italy, the Mini-Prep Plus is easy to clean as it is to look at, with a wipe-clean touchpad and dishwasher-safe removable parts.
As you can see in the graphic above, it costs PHP 8,265.00 when bought in Lazada PH but when you bought it Cuisinart's Official Store in Amazon it will only cost you PHP 1,960.37. That's PHP 6,304.63 Savings!
---
⓷ 🇺🇸 KitchenAid | Amazon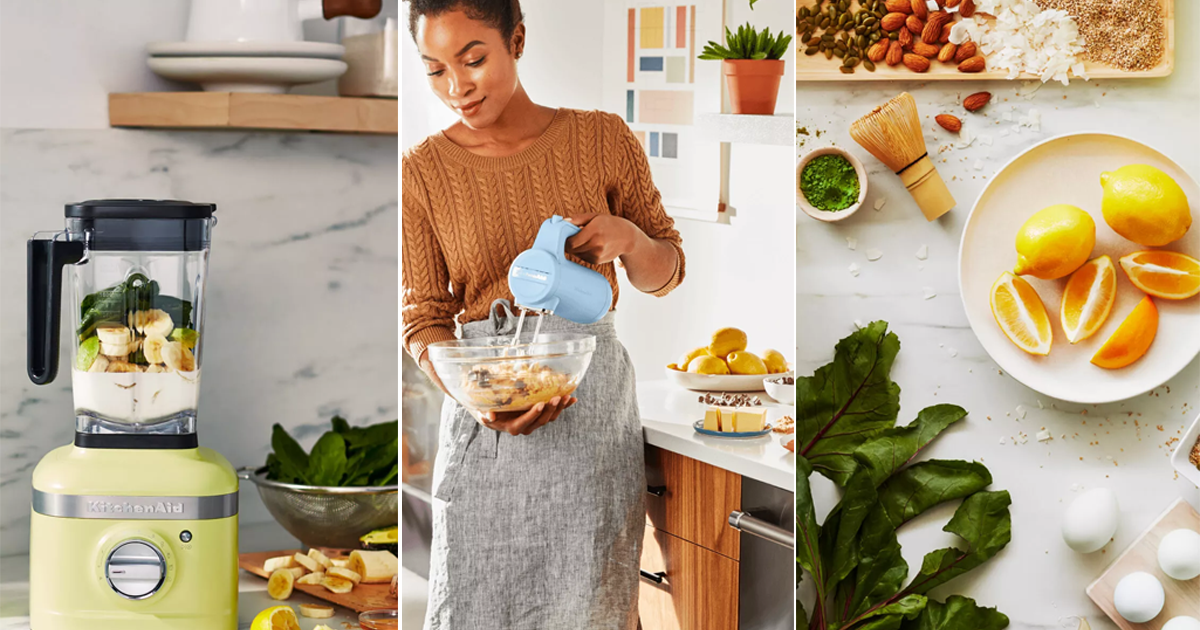 Motivated by their passion for delicious food, KitchenAid is the baking partner of choice for home cooks and professional chefs. For almost a century, KitchenAid products represent the perfect mix of professional performance, artisan quality, and iconic design- synonymous with durability and fine craftsmanship. With a selection of mini and mighty appliances, from a free-standing mixer to a toaster, they are the only tool you need to create a host of delicious treats and everyday favorites. Their iconic mixture was born in 1919, since then they never stopped producing modern wonders.
Quality craftsmanship
Versatile technology and unique design
High-Performance rate
Buyandship Recommends:
Why Should You Invest in This Cordless Hand Mixer?
Equipped with a powerful rechargeable lithium-ion battery, the new KitchenAid cordless hand mixer delivers optimal runtime and performance. It's easy to charge with a convenient charger included, which works on all products across the cordless suite. It's designed to stand all on its own, lifting the beaters up and out of the bowl and workspace. The Soft Start Feature gradually brings the beaters up to one of the 7 speeds selected to help prevent ingredients from splattering while you begin to stir, mix, and whip all of your favorite recipes.
Now, this is not available in KitchenAidPH and the only merchant store we found that sells it in the Philippines is Galleon PH for a super expensive amount of PHP 9,219.00! If you buy it at KitchenAid's official store at Amazon US, it will only PHP 4,906.56. You just save PHP 4,312.44!
---
⓸
🇺🇸 T-Fal
 | Amazon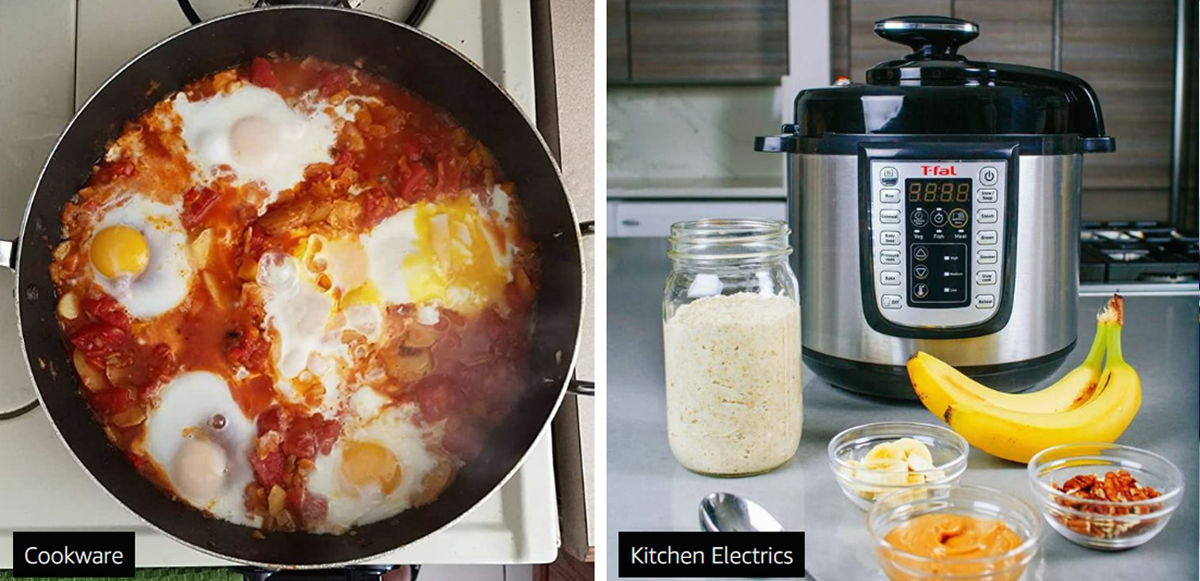 T-Fal is a French manufacturer of excellent kitchen cookware and kitchen accessories, which founded in 1956 by Marc Gregoir. If you want to enhance your performance in the kitchen, this is the kitchenware that you were looking for. Each product is sophisticated and safe.
Each product is stable for hard use
30-day refund policy
No warranty
Buyandship Recommends:

Why Should You Invest in This Expertise Fry Pan?
The cookware's innovative Thermo-Spot heat-indicator technology ensures properly pre-heated pans—a must when it comes to sealing in juices and flavor, whether sautéing or searing. When the pattern in the center turns to a solid red spot, the pan is hot and ready to cook. The cookware's heavy-gauge aluminum construction provides fast, even heating, while stainless-steel warp-resistant bases make the cookware compatible with any cooktop, including induction. The cookware's riveted silicone handles stay cool to the touch for a secure, comfortable grip, and its vented tempered-glass lids with cool-touch handles trap in heat and moisture and make it easy to monitor the cooking process. It's dishwasher-safe and oven safe up to 400 degrees F, T-Fal Professional nonstick cookware offers exceptional versatility and ultra-convenient everyday use.
It's also available at Lazada Philippines for a reasonable price PHP 3,350.00, but if you wanted to save more, you can always snag this worthy fry pan at T-Fal's Official Store at Amazon for only PHP 1,517.26. You just save PHP 1,832.74!
---
⓹ 🇺🇸 Farberware | Amazon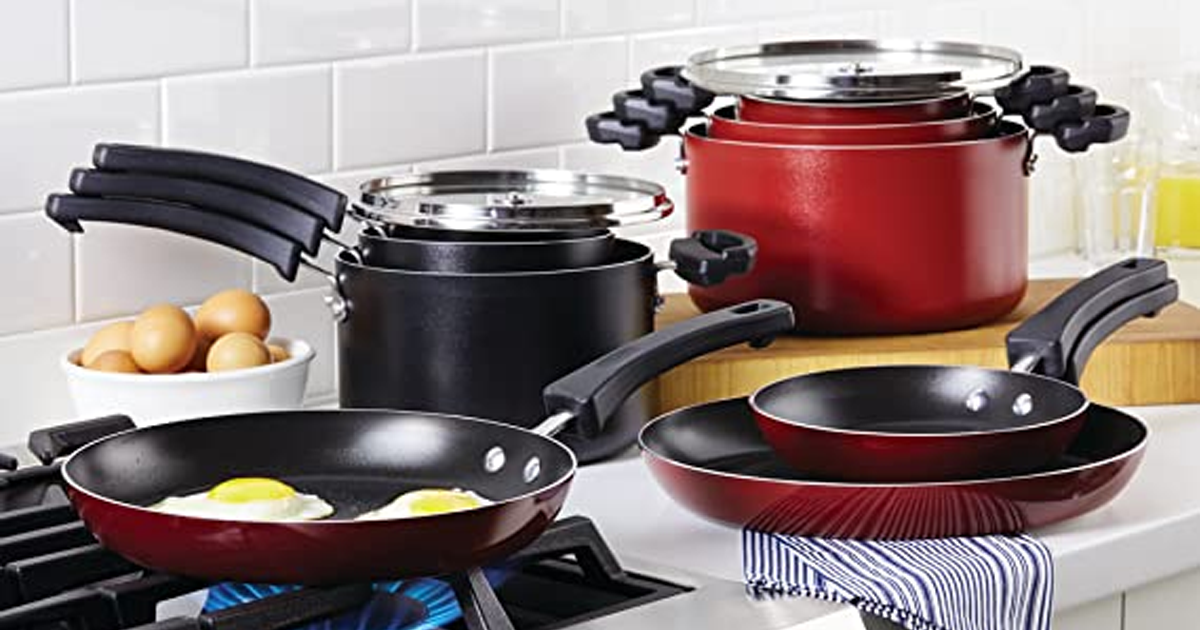 A 21-year-old immigrant Russian Simon Farber founded Farberware in 1899. Farberware introduced the product called "Coffee robot" in 1937, which can keep the coffee warm after making it because of a pre-set thermometer. This company is the pioneer of giving 20 years of guarantee to its no-stick surface products.
Durable products
Aluminum surface
Material: Stainless steel
Millennium guaranty to some products.
Buyandship Recommends: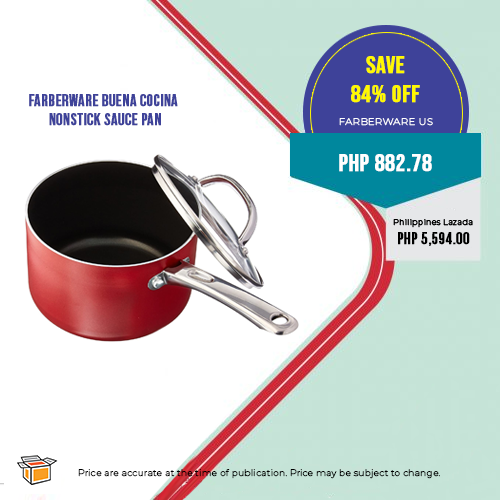 Why Should You Invest in This Non-Stick Saucepan?
Farberware Buena Cocina makes preparing and sharing favorite meals and family recipes fresh and easy. This sturdy nonstick saucepan features durable aluminum construction for quick and even heating while making sauces and soups. The colorful stain-resistant exterior gives the kitchen a touch of style, and the shatter-resistant glass lid keeps heat and moisture inside. And for efficient food release and speedy cleanup when and where it's needed most, the saucepan features a long-lasting nonstick interior. It's available at Lazada Philipines for PHP 5,594.00, at first, it may look reasonable but when we tried to buy the same model at Farberware's Official Site at Amazon, we were amazed when we found out that this only costs PHP 882.78 in the US! That's 4,711.22 Savings! 
---
Note: We hope you loved the products we recommended! We just wanted to clarify that the deals and prices are accurate as stated in the time of publication. We do not own nor sell any of the products above. All credits are due to the brands that we featured above.
---
See a pricing calculator and parcel restrictions below. No bulk shipments 10 units max per shipment.

Please note that if the total value of your shipments is above Php 10k there will be PH customs clearance fees, separate from our shipping fee that is paid to a local courier, either COD or bank transfer, and sent to your home. If Php 10k or below, then you will only pay our shipping fee 🙂
To enjoy no duty and tax, you need to checkout from HK under Php 10k total value of shipments regardless of how many shipments, then TRACK until it passes PH customs, then send the next batch.
It's also worth noting that each household member's name can create their own account to enjoy each Php 10k under
Step 1: Each of your household members can open an account and each can enjoy under Php 10k. Sign them up now in here. 
Step 2: When each household member signs up they also get Php 50 free credits. That means more savings for your household!
Step 3: You can also ask them to use your referral code when they sign up so both of you can earn more credits and have more savings 🙂
---
➡️ Learn how to purchase your favorite products from other sites using Buyandship
---
Looking for a community that can relate to your Buyandship Experience with great deals every day to inspire your next overseas shopping? Join our official Facebook Group now. See you there!

---
Is this your first time using our Buyandship service? Here are a few things you should know:
A flat fee of Php 350/lb will be charged for overseas shipment whether it is from our USA, UK, Japan, Korea, Australia, Indonesia, Italy, Thailand, Hong Kong, China, or Taiwan warehouses. All the same rate! With a few easy steps, your product purchases will be delivered to you in no time.
SIGN UP NOW to gain access to our overseas warehouses, and get FREE PHP 50 credit to use for your next shipping fee!
Here is a video tutorial on How to Sign up with Buyandship.