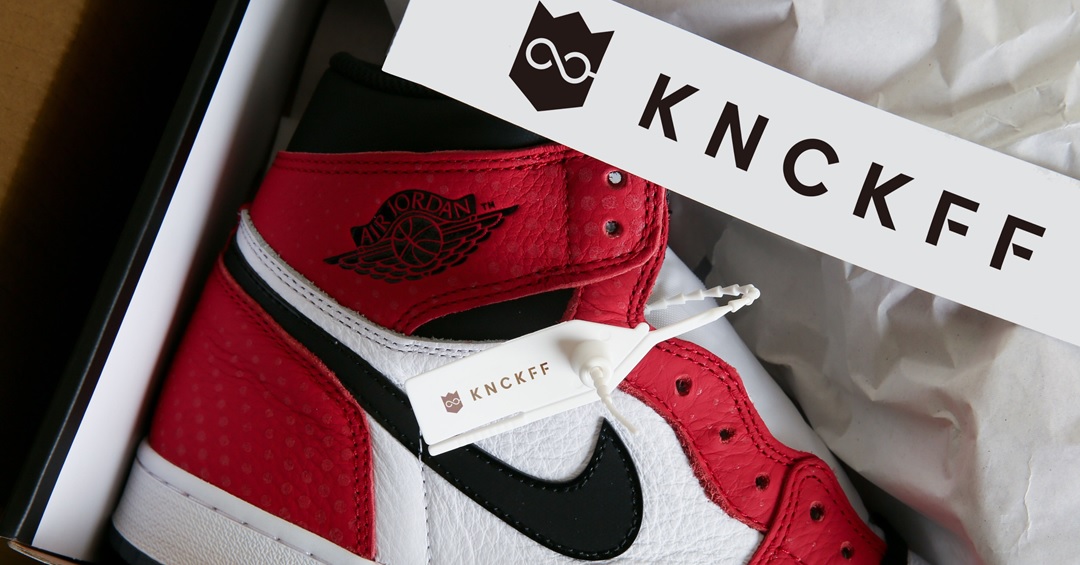 About KNCKFF Taiwan
KNCKFF is a popular sneaker sales platform based in Taiwan. They provide consumers with an opportunity to easily buy authentic hot-selling or limited-edition products for an affordable price. Making "trust" as the core value of KNCKFF is one of many reasons why it is the leading sneakers platform in Taiwan.  They do only primary retail, which means there is no marketplace like StockX.  All sales are by KNCKFF.
---
KNCKFF Key Selling Points
Lower listing prices than the US
Lower fees & other costs than comparable sites
Ships from Taiwan (faster fulfillment)
No need to search for all major platforms
Don't worry about the authenticity of the product. It's all Original!
Simple shopping process
---

We at Buyandship work hard every day to bring our members exclusive promo and deals. Now, Buyandship and KNCKFF Hong Kong teamed up to give you a free shipping promotion for Philippines KNCKFF buyers! Read on for the full Terms and Conditions:
Terms and Conditions for KNCKFF Campaign
This promotion is available only to registered Buyandship and KNCKFF members who ship items bought on KNCKFF from Taiwan via Buyandship's services, i.e. "Eligible Users". If you are an existing KNCKFF member, you need only to begin shipping to Buyandship's Taiwan warehouse address and use Buyandship's forwarding service to enjoy this benefit.

Each calendar month, Eligible Users will receive free shipping credits on their first "Qualifying Shipment." A Qualifying Shipment must be purchased on KNCKFF, shipped to Buyandship's Taiwan warehouse with valid tracking numbers, and correspond to a "Qualifying Transaction." A Qualifying Transaction must be worth at least 6,000 New Taiwan Dollars as listed on KNCKFF's site, exclusive of any shipping, handling, or other fees.

Eligible Users must declare their Qualifying Shipments on Buyandship's system, and once Qualifying Shipments are verified by KNCKFF and Buyandship, appropriate shipping credits will be rebated to relevant Buyandship accounts and ready for use** within approximately 5 days after the Qualifying Shipment arrives at our US warehouse.

**Please refer to our Buyandship tutorial for more information.

This promotion is available from 19th October 2020 12:00 AM HKT until 31st December 2020 11:59 PM HKT.  Any orders placed on KNCKFF outside of this period shall not be eligible to receive the benefit.
All rebated shipping credits can be used to pay for shipping fees on Buyandship's system and will be valid for 90 days from the day they are available in the relevant Buyandship account.
Any item that falls within Buyandship's list of prohibited items on the restrictions page are not eligible for this promotion.
Buyandship reserves the right to amend or cancel this promotion at any time.
Buyandship will not be held responsible for defective or products that violate intellectual property laws, as Buyandship is not the seller. Buyandship is not responsible for the quantity or quality of the products inside the parcel, or for any parcels lost or damaged by defective or inadequate packaging. Buyandship will not be responsible for anything that happens to the parcel before it arrives at our warehouse, including, but not limited to, any loss incurred due to undeliverable parcels, delays, or damage by other delivery agents. Buyandship will only be responsible for any lost or damaged parcels that are proven to have occurred after our overseas warehouse has received the parcel or during our delivery operations. Please refer to our terms and conditions for more information.
---
---
See a pricing calculator and parcel restrictions below. No bulk shipments 10 units max per shipment.

If you choose Php 380 / lb DDU option, Please note if above Php 10k there are PH customs clearance fees separate from our shipping fee that is paid to local courier either COD or bank transfer, and sent to your home. If Php 10k or below then just our shipping fee 🙂
To enjoy no duty and tax, you need to checkout from HK under Php 10k total value of shipments regardless of how many shipments, then TRACK until it passes PH customs, then send the next batch.
If you choose Php 620 / lb DDP pricing option it is inclusive of duty and tax. See below step by step 🙂
Buyandship's Pricing Option: Php 620 Per Pound Delivery Duties and Taxes Paid
It's also worth noting that each household member's name can create their own account to enjoy each Php 10k under
Step 1: Each of your household members can open an account and each can enjoy under Php 10k. Sign them up now in here.
Step 2: When each household member signs up they also get Php 50 free credits. That means more savings for your household!
Step 3: You can also ask them to use your referral code when they sign up so both of you can earn more credits and have more savings 🙂
---
➡️ Learn how to purchase your favorite products from other sites using Buyandship
---
Looking for a community that can relate to your Buyandship Experience with great deals every day to inspire your next overseas shopping? Join our official Facebook Group now. See you there!

---
Is this your first time using our Buyandship service? Here are a few things you should know:
A flat fee of Php 380/lb Delivered Duty Unpaid or Php 620 / lb Delivered Duty Paid will be charged for overseas shipment whether it is from our USA, Canada, UK, Japan, Korea, Australia, Indonesia, Italy, Thailand, Hong Kong, China, or Taiwan warehouses. All the same rate! With a few easy steps, your product purchases will be delivered to you in no time.
SIGN UP NOW to gain access to our overseas warehouses, and get FREE PHP 50 credit to use for your next shipping fee!
Here is a video tutorial on How to Sign up with Buyandship.