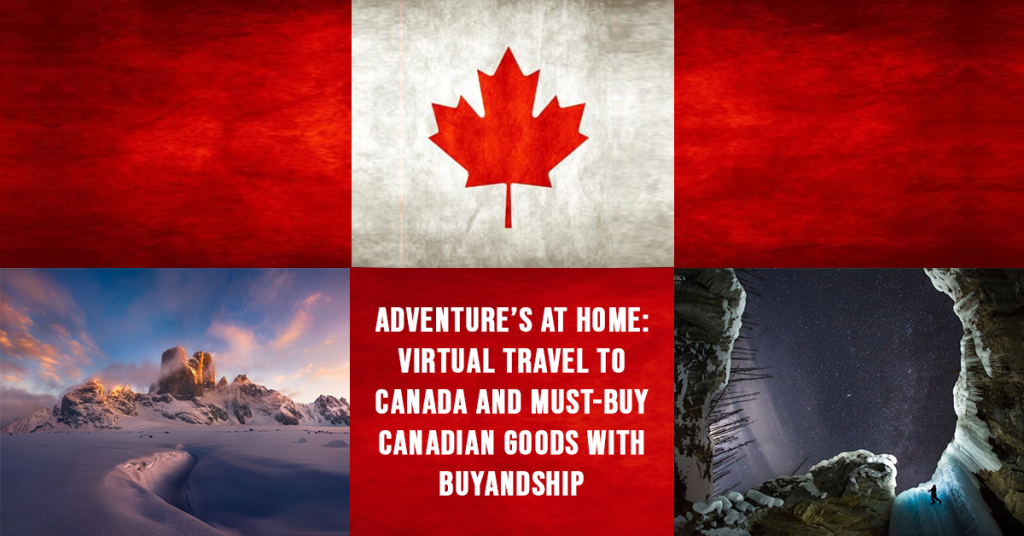 In need of a quick adventure fix while self-isolating? We got you covered! Immerse yourself in cultural experiences across Canada! Here are CA's popular landmarks where travelers can tour without actually leaving the couch. And since (virtual) tours cannot be completed without buying souvenirs, we also list down 5 Must-Buy Canadian Goods You Need to Score Online via BNS. Enjoy!
Virtual Travel to Canada's Landmark and Must-Buy Souvenirs
Buyandship provides consolidation services for a large number of overseas online shopping users to solve the problem of expensive international direct shipping costs. Shop your favorite Canada souvenirs with BNS!
Free PHP 50 Shipping Credits For Your First Shipment!Register now: http://bit.ly/2GGZhPX
---
🇨🇦 Virtual Travel: Canada's Popular Landmark 🇨🇦
Canada is famous for its unspoiled vast nature. An abundance of natural wonders attracts millions of tourists every year. However, the Canadian towns also have a distinctive vibe about them. We know we can't travel yet because of the pandemic but just in case you need to feed your inner wanderlust, may we interest you with some virtual travel? Check out these five great and most recognizable landmarks in Canada at home with Buyandship PH!
---
1. Banff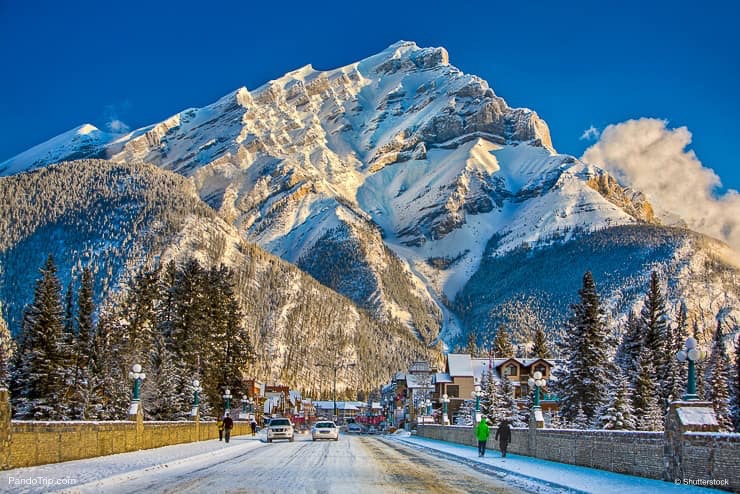 Embedded in the middle of National Park and surrounded by a mountainous landscape. The town is a popular tourist attraction, providing plenty of picturesque sites and activities, that include climbing, skiing, cycling, and more. Meanwhile, Banff Avenue is at the heart of the town. It features numerous cafes, restaurants, shops, and museums. The main street features historic architecture, which is interesting to explore.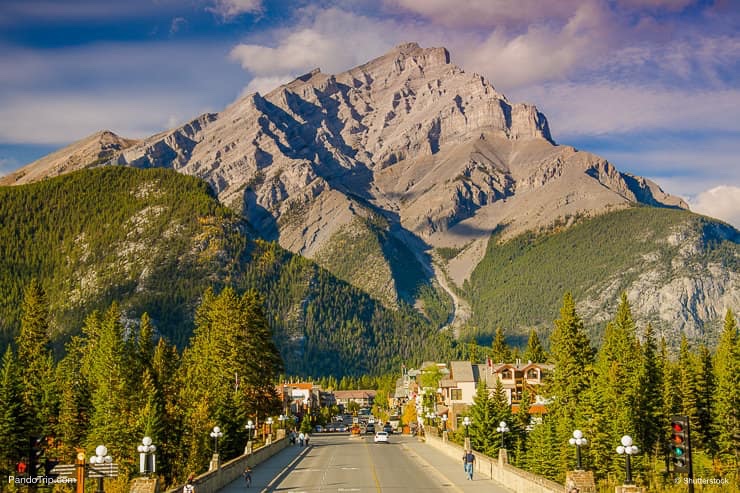 Why go there? Various all year round activities; a beautiful avenue in the center of the town, which provides a romantic night out.
---
2. Niagara Falls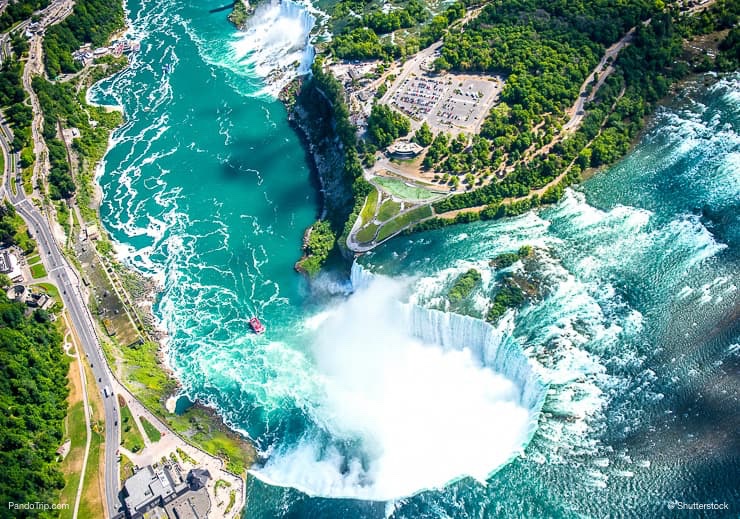 The most famous falls mark the border between Canada and the USA. The natural wonder is made of three falls, that is sprawled in the Canadian and American territories. The waterfall attracts millions of tourists every year. It also serves as a source of hydroelectric power due to the incredible volume of water, that drops with immense power.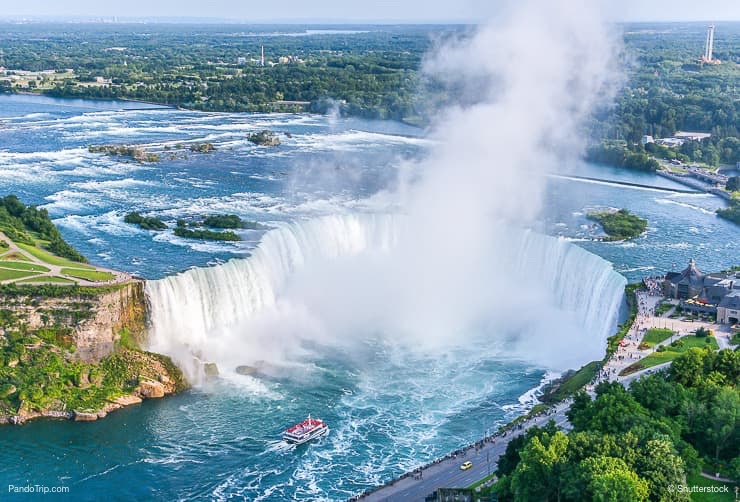 Why go there? One of the greatest waterfalls in the world, with a comfortable viewpoint.
---
3. Haffner Creek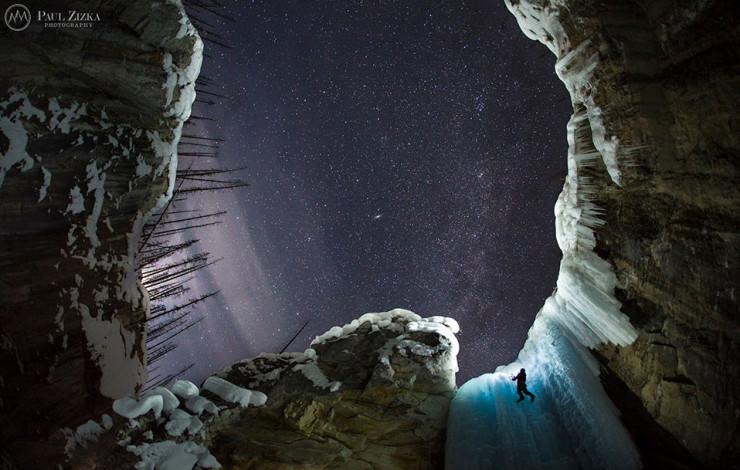 Found in Kootenay National Park, which is a wonderful unspoiled oasis, a World Heritage Site, that attracts hikers, climbers, and photographers. Haffner Creek is especially compelling for the adrenaline lovers: its steep rocky walls challenge even the most experienced climbers. The visitors are also tempted by the stunning ice pillars and Caveman cave, which features huge stalactites.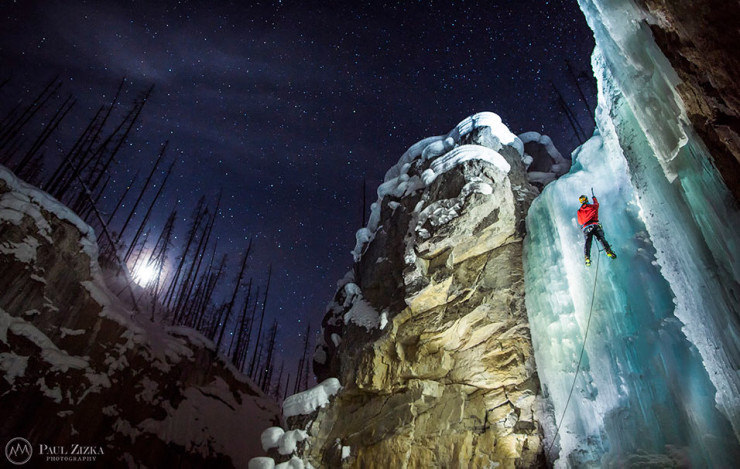 ---
4. Petit-Champlain, Quebec City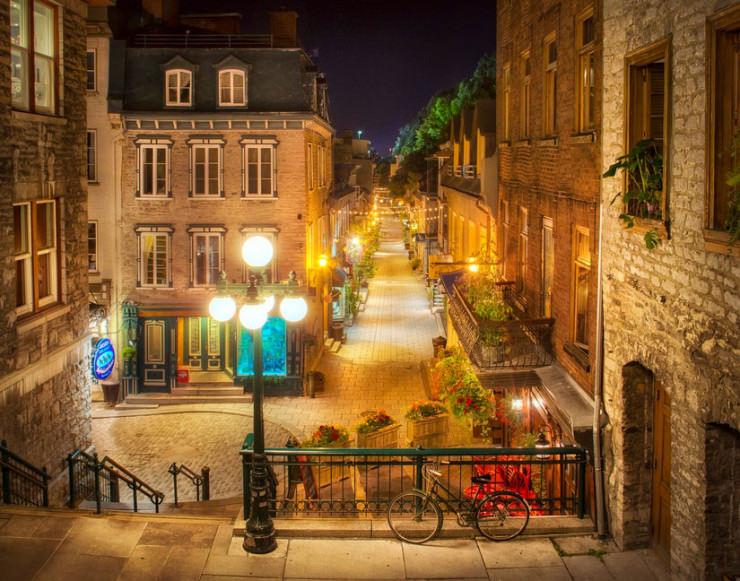 The beautiful city of Quebec gets covered in snow and decorated in thousands of lights in winter, thus becoming a desirable destination. Meanwhile, Petit Champlain is the most popular and picturesque neighborhood: visitors come here to explore the historical architecture, narrow cobblestone streets, and mural paintings. Moreover – it is the oldest shopping district on the whole continent!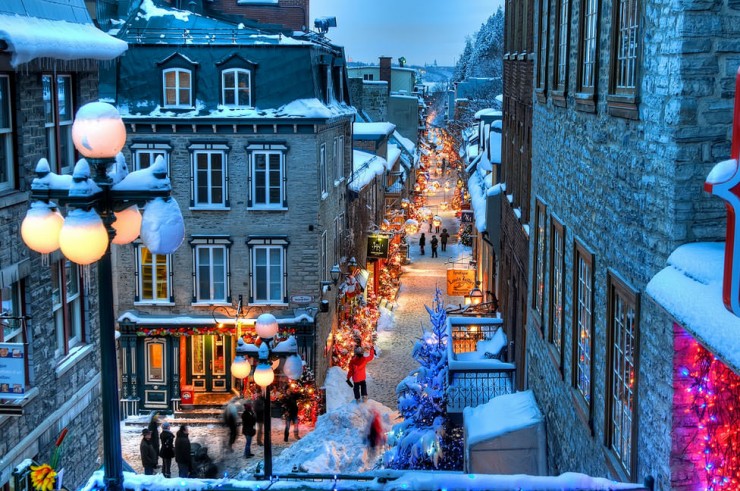 Why go there? The pedestrian street also features the Breakneck Stairs: built-in 1635 it is the oldest stairway in Quebec. Wonderful panoramic views open from the top, overlooking Old Quebec. Besides all the historically significant buildings, little boutique shops, cafes, and restaurants also attract crowds.
---
5. Mount Asgard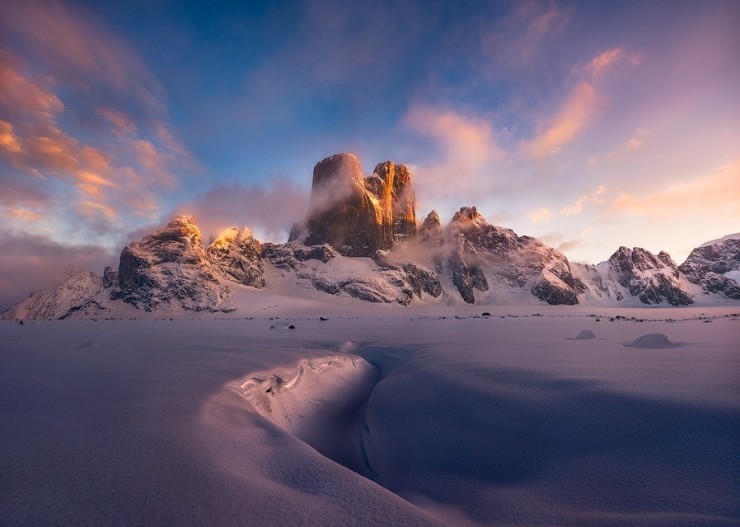 An impressive mountain, made of 2015 m (6610 ft) high twin towers, can be found in Auyuittuq National Park. The name comes from Scandinavian mythology, where Asgard is the kingdom of the gods, while it is called Sivanitirutinguak by the Inuit. The whole park is a wonderful place to visit, for its unspoiled nature, high peaks, and enigmatic serenity.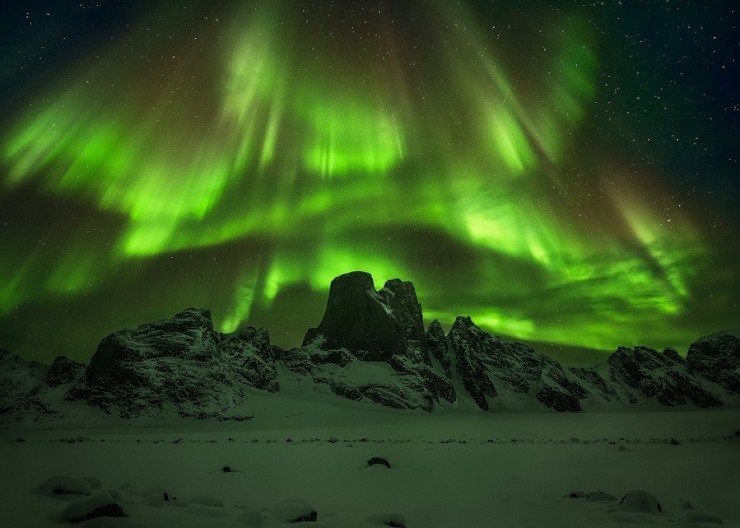 Why go there? Access is quite difficult, for there are really very few tourist facilities – only one official campsite throughout this huge nature reserve! 10-16 day tours are available both in summer and winter from Pangnirtung or Iqaluit.
---
Note: Original article was published on Pandotrip. Minor changes are made to match Buyandship's blog format.
---
🇨🇦 Must-Buy Canadian Goods You Need to Score Online via BNS 🇨🇦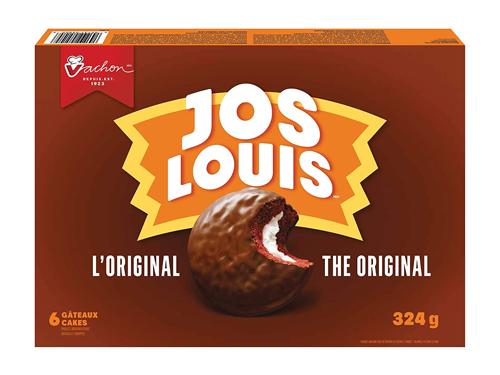 ► Vachon The Original Jos Louis Cakes with Creamy Filling and Chocolatey Coating
The Jos. Louis cake was one of the best-known products of Vachon Freres bakery, founded in 1895 by French-Canadian brothers Joseph and Eugene Vachon. The cream-filled snack cakes became so popular that they were sold all over the South at roadside general stores and lunch counters during the 1930s and 1940s.
Amazon CA Price:

CDN$ 2.79 or PHP 107.60
---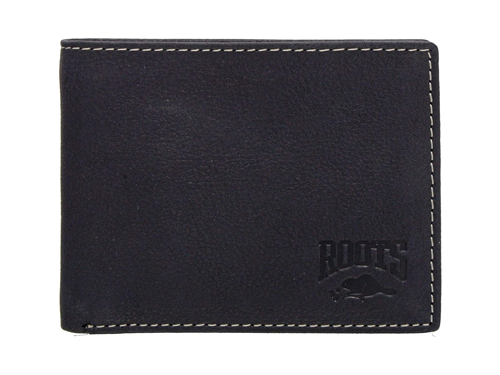 ► ROOTS Men's Milled Genuine Leather Slimfold Wallet
The slim profile of the Roots Black RFID Protected Slimfold Wallet allows you to minimize loading, yet carry everything you need in a stylish package. The fine quality leather is soft and durable with space for up to 8 cards plus plenty of cash. With an ingenious design that leaves your ID visible and easily accessible, this wallet makes it easy to travel light without sacrificing convenience or style.
Amazon CA Price:

CDN$ 55.00 or PHP 2,121.09
---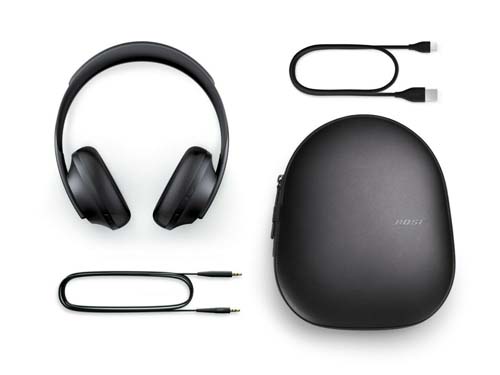 ► Red Rose Orange Pekoe Black Tea
Red Rose, a famous Canadian tea brand dating back to 1894~ This tea is a blend of four black teas that are skillfully blended to bring out the best qualities in each bag. The result is an extraordinary cup of tea with a smooth and satisfying taste.
Amazon CA Price:

CDN$ 6.97 or PHP 268.80
---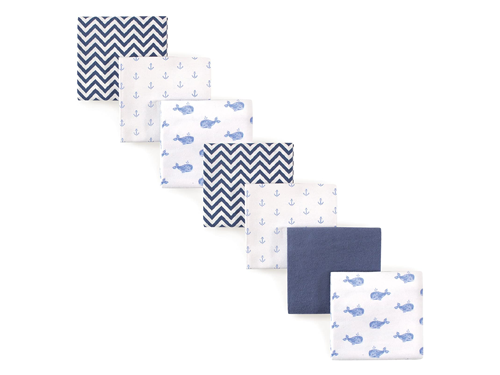 ► Hudson Baby 7 Piece Flannel Receiving Blanket
Hudson Baby Blankets are made with soft brushed cotton that is perfect for that newborn skin. The extra-wide, durable binding also makes the Hudson Baby Blankets machine washable and cuddly.
Amazon CA Price:

CDN$ 26.00 or PHP 1,002.70
---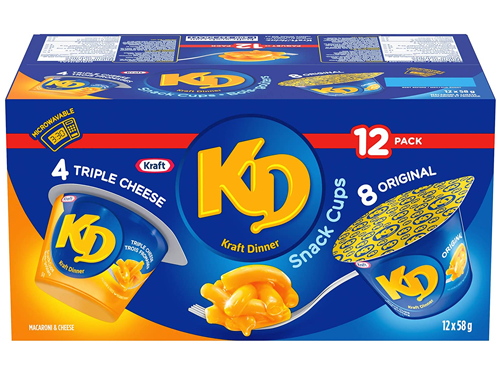 ► Kraft Dinner Snack Cups Variety Pack
Kraft Dinner Snack Cups feature delicious macaroni and cheese recipes and are available in Original Italian recipe, Three Cheese Supreme recipe, and Bacon Mac & Cheese recipe. Start snacking today, with Kraft Dinner Snack Cups!
Amazon CA Price:

CDN$ 15.97 or PHP 615.89