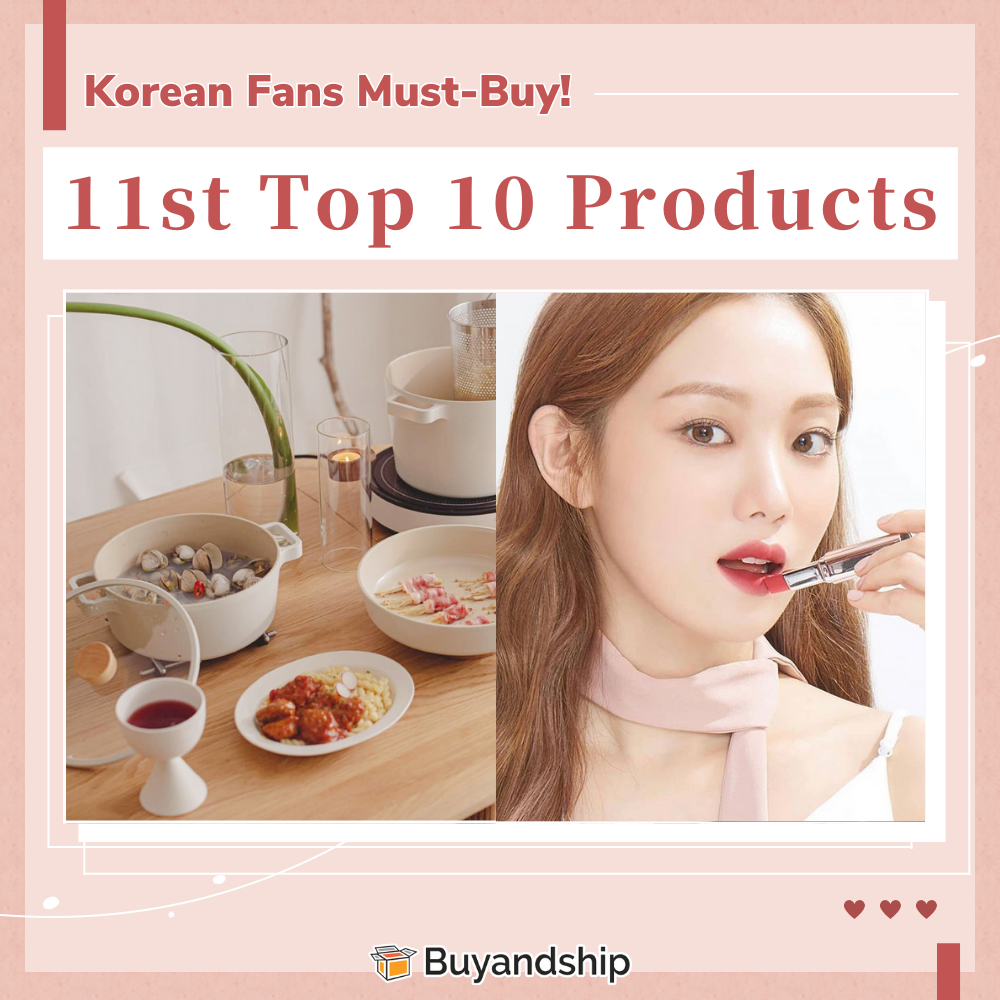 Did you know that the Korean online department store, 11st Korea, is one of the top popular sites among Buyandship members? If you want to try to shop in the store but have no clue where to start, we got you!  Check out the top 10 must-buy Korean products with a step-by-step online shopping tutorial on how to ship to the Philippines so, you can easily buy Korean products at the comfort of your own home.
In addition to many Oppa, Unnie, Korean makeup, or K-Pop Merchandise, South Korea has more famous products such as NEOFLAM kitchenware, LANEIGE Cosmetic, and more! Bookmark this page immediately if you're looking for popular products to buy directly from South Korea!
Top 10 Product Promotions in South Korea and Tutorial Guide on How to Buy From 11st Korea
Buyandship provides consolidation services for a large number of overseas online shopping users to solve the problem of expensive international direct shipping costs. Shop your favorite Korean Products with BNS!
Free PHP 50 Shipping Credits For Your First Shipment!Register now: http://bit.ly/2GGZhPX
---
Top 10 Products in 11st South Korea

Sappun Sandals
Korean girls' favorite cheap shoe shop
A large number of new styles is launched every season
Most styles have multiple colors to choose from
Of course, you have to buy a few pairs of sandals this summer!

Thermos Foogo Sippy Cup
There are handles on both sides of the cup body, so children can learn to hold a water cup by themselves
Foogo's styles in the Philippines are much less compared with South Korea's
Choose a high-quality and beautiful cup to hydrate your kids!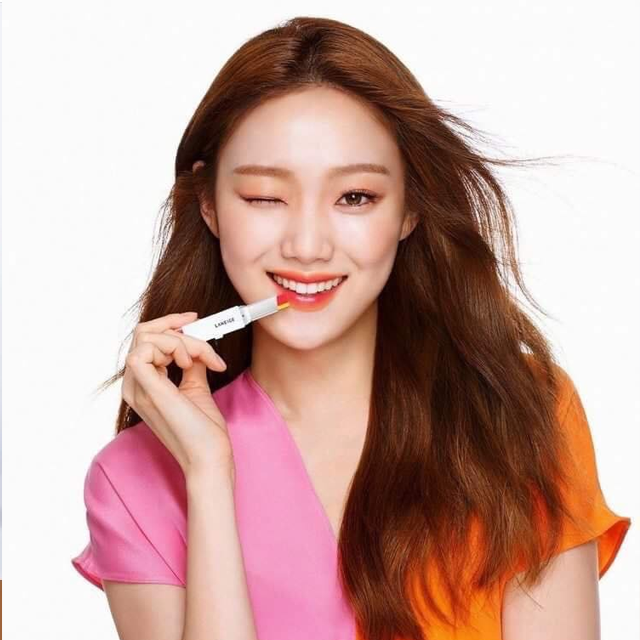 Laneige Cosmetics
Famous Actress Lee Sung Kyung is their known brand ambassador
Laneige products are advanced water-based recipes for individual skin types and issues.
All their products are dermatologist-tested, cruelty-free, and devoid of parabens, phthalates, and harmful chemicals.

Baby Snacks
There are a variety of baby snacks produced in Korea i.e in 11st online store!
There are rice crackers, cheese crackers, cereal bars, fruit purees, etc.
Not only can it provide the nutrition needed by children, but it also gives them more snack options
You can find many different styles of Korean baby snack brands on 11st

Pognae No.5 Baby Carrier
South Korea's Pognae harness can be said to be the "LV" in the mother world
Many mothers highly recommend this brand after trying it out~
The No.5 three-in-one baby carrier in the picture can be described has 3 uses or options: front, back, or as a cushion. Parents can use this directly from a baby to 36 months without any problem!

Memebox Cosmetics
Memebox gathers many popular Korean makeup brands, including its own brand I'm Meme, Pony Great God's PONY EFFECT, Bonvivant, etc.
Many Korean beauty Bloggers and Youtubers recommend their products
If you want to keep up with the latest Korean makeup trends, come to Memebox to find products from various Korean makeup brands

Shiba Inu Shiro & Maro
Shiro & Maro, an illustration of Shiba Inu produced in Korea, is very popular among locals!
In Korea, they also have Pop-Up Stores to sell their products
You can also buy their Phone Case at 11st, and there are many phone styles!

SPAO
SPAO is quite expensive in the Philippines but if you want to buy it, it's available on 11st!
A lot of Korean clothes are not only simple in texture but also pretty cheap
Often launch costumes in conjunction with movies and cartoons like Harry Potter, and more!
Some styles are exclusive on 11st and occasionally there will be some discounts

Cherrykoko Women's Clothing
Cherrykoko is one of the women's clothing brands that many girls must buy in Korea
There are small fresh, ladylike, and casual styles, wear them in a second to become a Korean girl
11st occasionally there will be coupons that can be used, and the price will be cheaper than the official website

NEOFLAM FIKA Kitchenware
Neoflam is the largest houseware brand company in Korea
Cookware and kitchen utensils are not only beautiful in appearance, but also functional
The FIKA series also won the 2020 Foreign IF and Red Dot Design Awards
The handles of the non-stick cookware in this series are made of wood, and the details in their designs are just perfect.
---
11st Korea Step-by-Step Tutorial Guide via Buyandship
Step 01: Choose the Language You Want
First, go to 11st South Korea Homepage.
11st has an English version, which is definitely an intimate feature that is convenient for overseas sellers! Just select the language you want to use in the upper left corner of the website, and you can easily switch.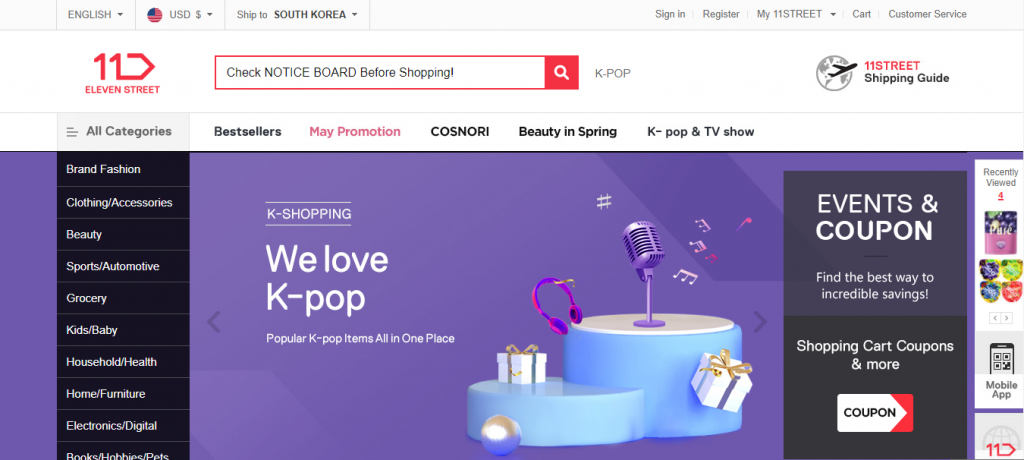 Step 02:Register as a Member
Click "Login" in the upper right corner. The website supports linking Apple or Facebook accounts to register as a member. You can also register a new account with an ID and email address.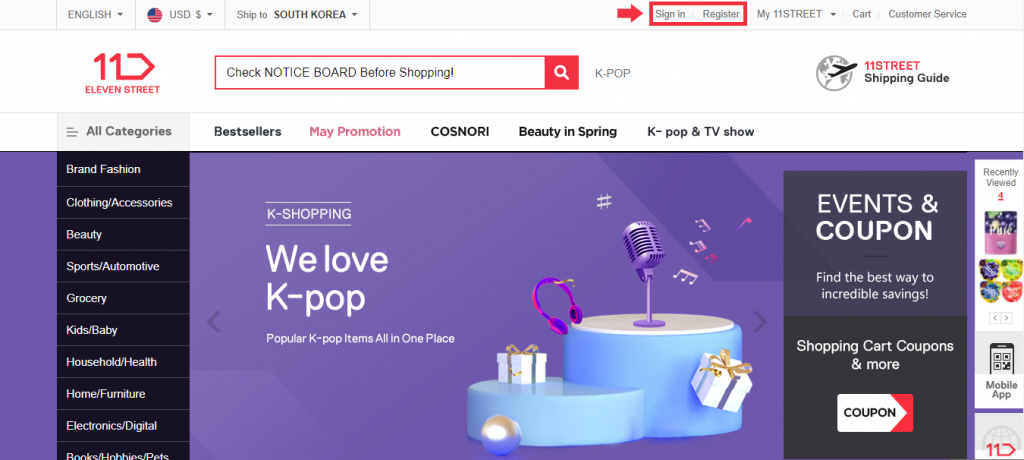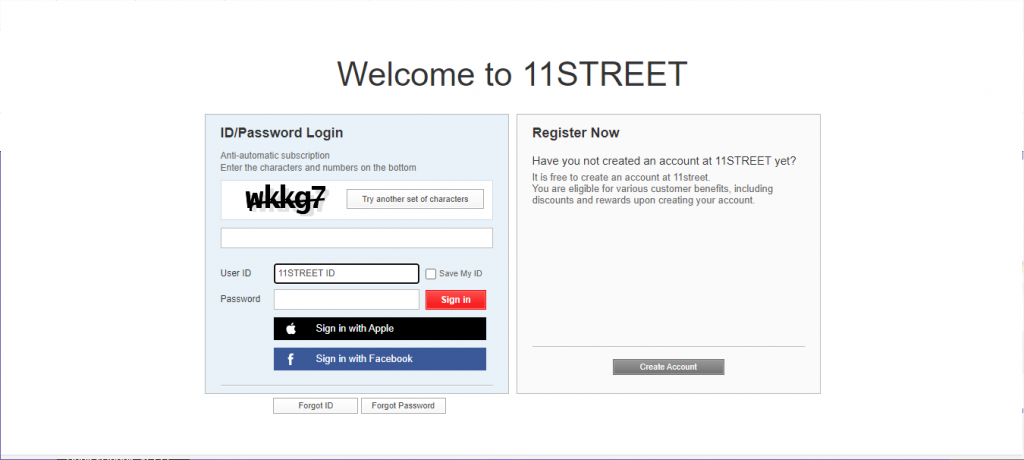 Step 03:Download and Receive Coupons
After registering as a member, you can receive coupons on the「Events & Coupons」 page, just dowload or click "Get It" to successfully receive them~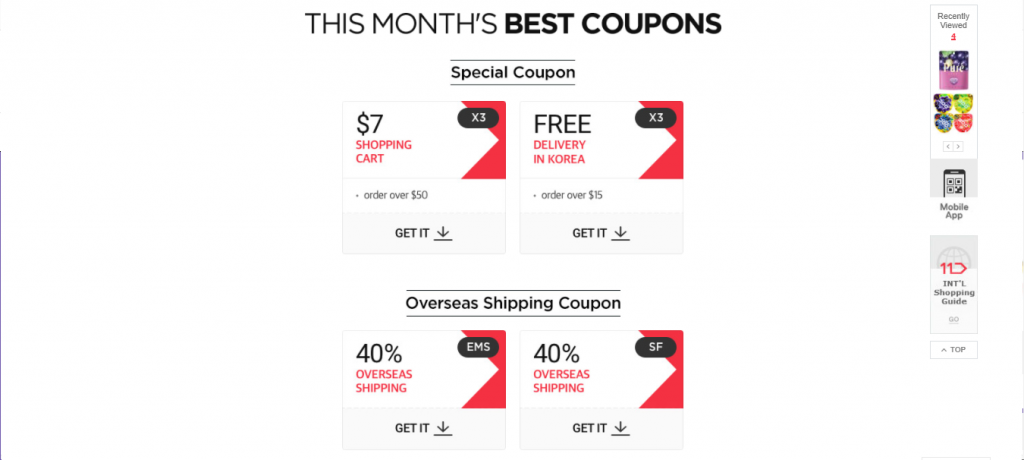 Step 04:Buy Your Favorite Products
In 11st, you can make good use of the search function to find the product you want. Generally, there is not only one product available for purchase on the product page. Kindly select "Domestic Delivery," choose the option you want on the "Product" tab, select a "Size" if there is an option, apply or change the coupon if necessary and "Add to Cart"
Since the website may not automatically help you choose the most favorable method, remember to check for yourself whether the coupon is the cheapest before adding it to the shopping cart. After selecting the coupon, click "Apply"
Step 05:Check Out Your Order!
After adding the selected product to the shopping cart, you can proceed with the settlement. Remember to check again whether the coupon has been applied to the product price.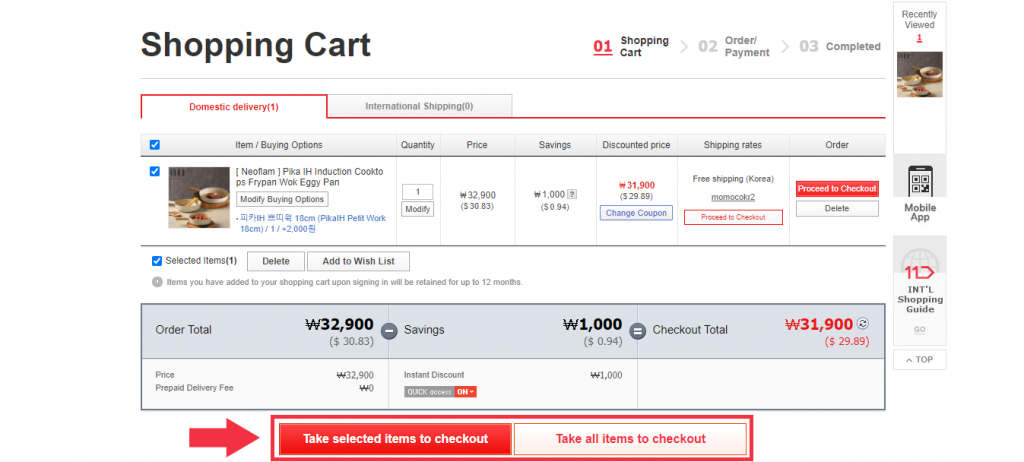 Step 06:Insert Buyandship's KR Warehouse Address
When filling in the address, you need to click "Find Address" first, and then just fill in the shipping information sheet with BNS KR Warehouse Address from your dashboard in the "Overseas Warehouse Address" page.

If you are not sure, you can search for the address as shown in the figure below, and fill in the remaining information on the web page after you fill in the address. Remember to fill in the User ID in the name column for identification.

Step 07:Pay For Your Products
After confirming that the receiving information is correct, payment can be made, and 11st accepts overseas credit cards for transactions! Pay for your products and you're done~ Remember to declare the shipment after the 11st shipment!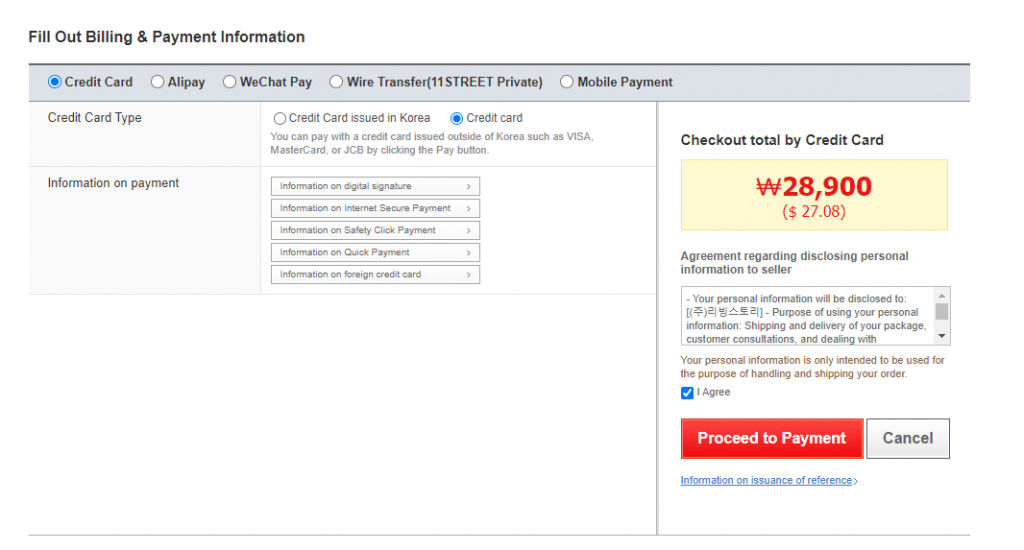 Step 08:Wait For Your Products to Arrive at Your Home in the Philippines!
All you have to do is sit, relax, and wait for your parcels to arrive at your doorstep in the Philippines. Enjoy your new Korean Goods directly from 11st South Korea!
---
See a pricing calculator and parcel restrictions below. No bulk shipments 10 units max per shipment.

If you choose Php 380 / lb DDU option, Please note if above Php 10k there are PH customs clearance fees separate from our shipping fee that is paid to local courier either COD or bank transfer, and sent to your home. If Php 10k or below then just our shipping fee 🙂
To enjoy no duty and tax, you need to checkout from HK under Php 10k total value of shipments regardless of how many shipments, then TRACK until it passes PH customs, then send the next batch.
If you choose Php 620 / lb DDP pricing option it is inclusive of duty and tax. See below step by step 🙂
https://www.buyandship.ph/blog/2021/05/17/buyandships-pricing-option-per-pound-delivery-duties-and-taxes-paid/
It's also worth noting that each household member's name can create their own account to enjoy each Php 10k under
Step 1: Each of your household members can open an account and each can enjoy under Php 10k. Sign them up now in here.
Step 2: When each household member signs up they also get Php 50 free credits. That means more savings for your household!
Step 3: You can also ask them to use your referral code when they sign up so both of you can earn more credits and have more savings 🙂
---
➡️ Learn how to purchase your favorite products from other sites using Buyandship
---
Looking for a community that can relate to your Buyandship Experience with great deals every day to inspire your next overseas shopping? Join our official Facebook Group now. See you there!

---
Is this your first time using our Buyandship service? Here are a few things you should know:
A flat fee of Php 380/lb Delivered Duty Unpaid or Php 620 / lb Delivered Duty Paid will be charged for overseas shipment whether it is from our USA, Canada, UK, Japan, Korea, Australia, Indonesia, Italy, Thailand, Hong Kong, China, or Taiwan warehouses. All the same rate! With a few easy steps, your product purchases will be delivered to you in no time.
SIGN UP NOW to gain access to our overseas warehouses, and get FREE PHP 50 credit to use for your next shipping fee!
Here is a video tutorial on How to Sign up with Buyandship.