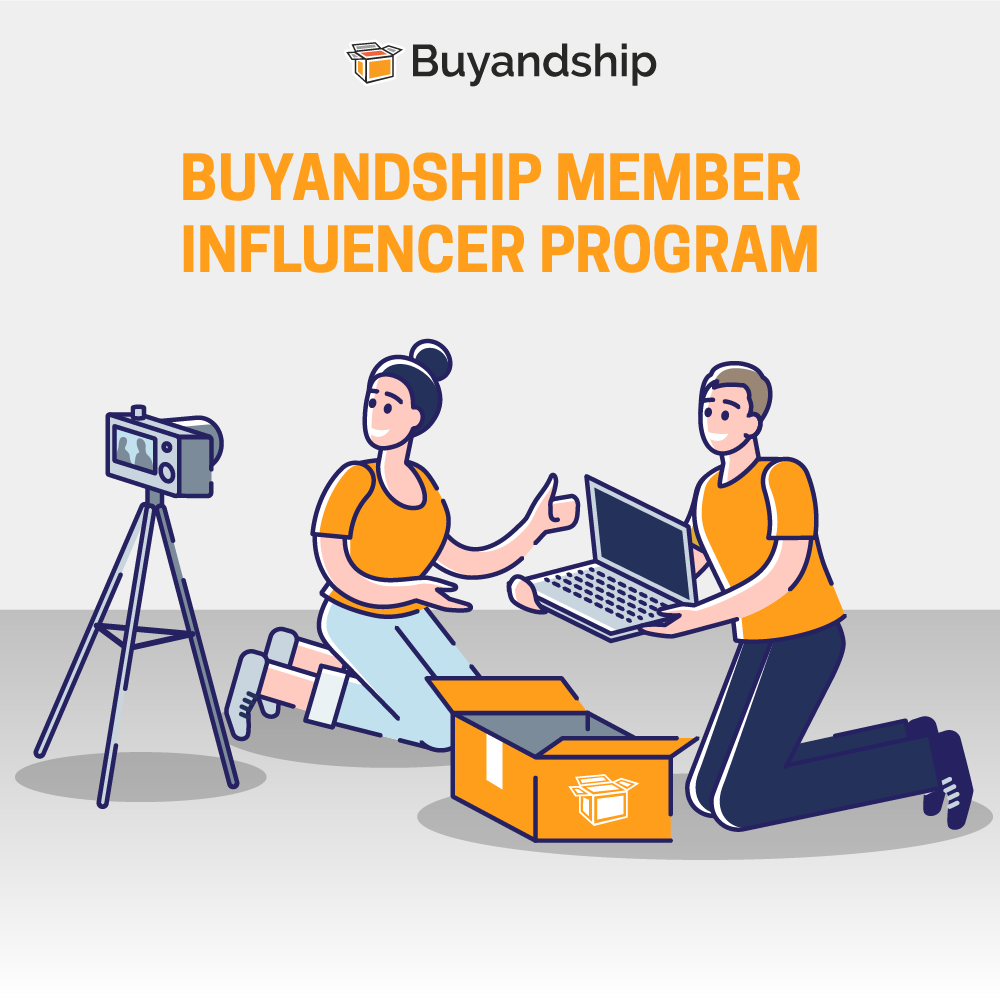 Real People. Real Experiences.

Hi Buyandship Members, we have a NEW promotion for our current active members to Earn More shipping credits for Php 1,000 per video! YOU are our INFLUENCERS! See mechanics below. The videos shall contain content at the minimum of:

Unboxing

Tutorial to help Friends and Newbies on How to Use Buyandship

Be as creative in your ideas! Be Helpful! Be Positive!

Learn more about our current influencer promo when you scroll down below~
---
For Reference: Good Sample Videos
You can also check #BNSVideo on Facebook for more reference, but please note that the videos above are good examples based on our criteria.
---
Promo Mechanics
Step 1: Create an unboxing video with a Tutorial on How to Use Buyandship. Please note that each member can have up to 5 submissions. Only registered and verified (email and mobile) Buyandship members with valid transshipment orders between June 1, 2021 and July 31, 2021 may participate in this promotion.

Step 2:  Accomplish the Buyandship Member Influencer Form (https://forms.gle/YV1cVeFAWNxjys5Q9) per video submission, provide your Youtube or Facebook link on the form, and make sure your video meets specifications below:

Video Format
• Video Codec: MPEG-4.
• Audio Codec: AAC, MP3.
• Resolution: 16×9 or 1080p (4:3 aspect ratio)
• Frame Rate: 24 – 30FPS.
• File Size: Max. 1 GB.
• Time: Minimum 5 mins to 15 mins Maximum

Step 3: Buyandship will evaluate the videos and confirm if the videos are a success and qualified.

Step 4: Once the submission is approved, Post on Your channel on Youtube and Facebook and Tag our social media accounts:
•YouTube – https://www.youtube.com/channel/UCpVDDFZBmzSOH9alxL2GB7g
•Facebook – https://www.facebook.com/buyandship.ph

Step 5: Buyandship will send your earned credits to your account!
---
Terms & Conditions
1. Only registered and verified (email and mobile) Buyandship members with valid transshipment orders between June 1, 2021 and July 31, 2021 may participate in this promotion.
2. Qualifying members are invited to create their own unboxing and/or tutorial videos and earn PHP 1,000 in Buyadship shipping credits on accepted submissions.
3. Prior to submitting his/her video for review by Buyandship Philippines, a member must fill out and submit the Buyandship Member Influencer Form: https://forms.gle/p2nq29y45AHAAth66  Members who post videos without also submitting completed forms will not be eligible to receive credit rewards.
4. Each video must be first reviewed by Buyandship Philippines to ensure content quality and conformance to terms and conditions. Videos that are not first reviewed by Buyandship Philippines or videos that are deemed below standards will not be eligible to receive credit rewards. Each video that passes review and is approved will be rewarded with PHP 1,000 in Buyandship shipping credits. Credits cannot be exchanged for cash, gift cards, goods, or other items of comparable value.
5. We ask that Buyandship members abide by the following guidelines for their videos:

Be kind and courteous. Please refrain from making insulting or disparaging remarks about others.
No hate speech or bullying. We want to ensure that everyone feels save and welcome. Bullying of any kind isn't allowed, and degrading comments about race, religion, culture, sexual orientation, gender, identity, or similar topics will not be tolerated.
No promotions or spam. Competitor promotions, spam, and other irrelevant promotions are not allowed.
Be positive and have fun! Buyandship is about the joy of finally buying what you want directly from overseas.

6. Submissions must conform to the following technical standards:

Video format: MPEG-4
Audio format: AAC, MP3
Resolution: 16 x 9 or 1080p (4:3 aspect ratio)
Frame rate: 24 to 30 fps
File size: No larger than 1 GB
Video length: 5 to 15 minutes

7. Once a submission is approved, eligible members must upload their video to their own Youtube and Facebook accounts. All videos must be publicly available, and posted videos must tag Buyandship accounts. Videos that are not publicly available or do not tag Buyandship accounts will be ineligible to earn reward credits.

8. Buyandship Philippines reserves the right to reject any video submission for any reason at its sole discretion. After each rejection, Buyandship Philippines will explain the reasons for rejection and include recommendations for improvement. Members are welcome to revise and resubmit their video submission. If a video submission is rejected five times, then no further revisions nor resubmissions from the Buyandship member will be accepted. The member will be thus ineligible to participate in this promotion.
---
See a pricing calculator and parcel restrictions below. No bulk shipments 12 units max per shipment.

If you choose Php 380 / lb DDU option, Please note if above Php 10k there are PH customs clearance fees separate from our shipping fee that is paid to local courier either COD or bank transfer, and sent to your home. If Php 10k or below then just our shipping fee 🙂
To enjoy no duty and tax, you need to checkout from HK under Php 10k total value of shipments regardless of how many shipments, then TRACK until it passes PH customs, then send the next batch.
If you choose Php 620 / lb DDP pricing option it is inclusive of duty and tax. See below step by step 🙂
Buyandship's Pricing Option: Php 620 Per Pound Delivery Duties and Taxes Paid
It's also worth noting that each household member's name can create their own account to enjoy each Php 10k under
Step 1: Each of your household members can open an account and each can enjoy under Php 10k. Sign them up now in here.
Step 2: When each household member signs up they also get Php 50 free credits. That means more savings for your household!
Step 3: You can also ask them to use your referral code when they sign up so both of you can earn more credits and have more savings 🙂
---
➡️ Learn how to purchase your favorite products from other sites using Buyandship
---
Looking for a community that can relate to your Buyandship Experience with great deals every day to inspire your next overseas shopping? Join our official Facebook Group now. See you there!

---
Is this your first time using our Buyandship service? Here are a few things you should know:
A flat fee of Php 380/lb Delivery Duty Unpaid or Php 620 / lb Delivery Duty Paid will be charged for overseas shipment whether it is from our USA, Canada, UK, Japan, Korea, Australia, Indonesia, Italy, Thailand, Hong Kong, China, or Taiwan warehouses. All the same rate! With a few easy steps, your product purchases will be delivered to you in no time.
SIGN UP NOW to gain access to our overseas warehouses, and get FREE PHP 50 credit to use for your next shipping fee!
Here is a video tutorial on How to Sign up with Buyandship.