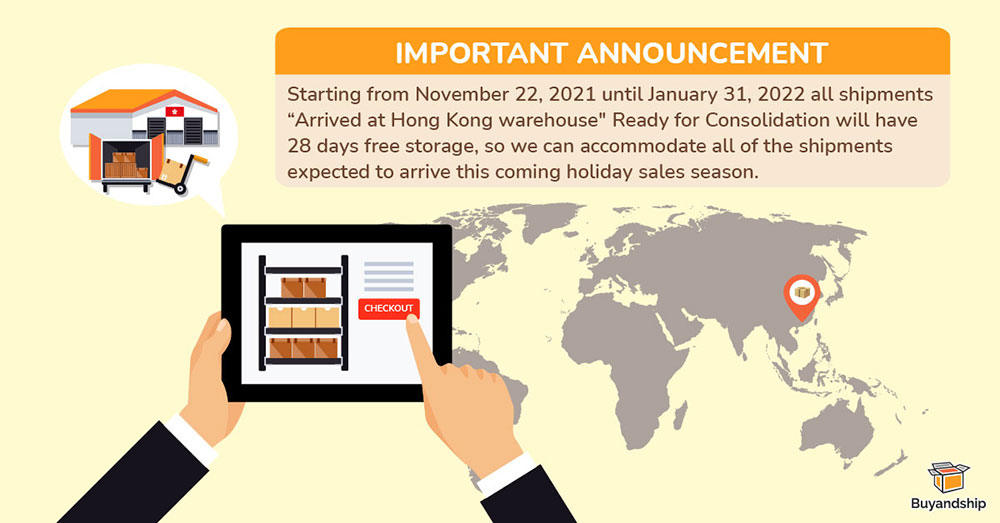 Hi ka-BNS!
As we continually enjoy the huge deals happening worldwide from early Black Friday sales to X'mas sales to End of the year sales, we are already experiencing a huge influx of shipments which is forecasted to grow even more and will continue to the new year 2022.
This current huge demand needs a temporary solution which is to reduce the number of free storage days from 42 days to 28 days free storage starting November 22 2021 to Jan 31 2022. This will help us all collectively in being more efficient through the holiday season.
Starting from November 22, 2021 until January 31, 2022, all shipments "Arrived at Hong Kong warehouse" Ready for Consolidation will have 28 days of free storage, so we can accommodate all of the shipments expected to arrive this coming holiday sales season.
Please note the system will change to 28 storage days no matter the parcel arrived before or after 22/11, if the parcel arrive before 22/11 and exceeded 28 days, kindly contact our Customer Service team before consolidation and we will waive the storage fee.
We suggest checkout quicker as a solution since this year is not normal in terms of demand due to the large sales happening worldwide. Apologies for this inconvenience, we are working hard to make sure that we can send your items from our Hong Kong warehouse and deliver it to your locations in the Philippines more efficiently during this holiday season. Please ask customer service if you have any questions regarding this.
Best,
Your Buyandship Family