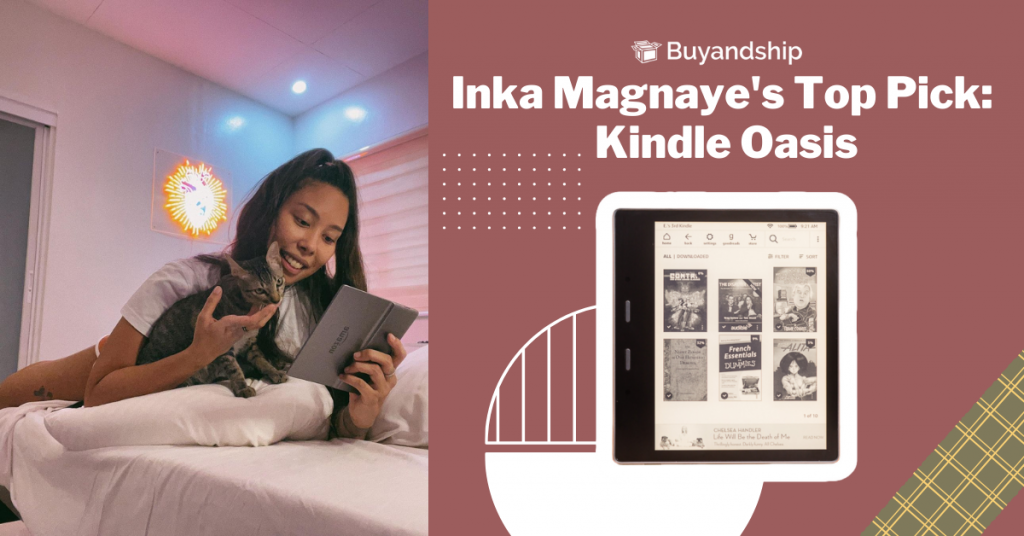 Famous Voice Talent, Social Media Influencer, Podcaster, Events Host, and Storyteller, Inka Magnaye shared in her Instagram Account her thoughts about leading a minimalist lifestyle and how she continues her drive for reading books, now, through Kindle Oasis that she bought from Amazon via Buyandship!
Check out her Instagram post below + Kindle Recommendations, and Step-by-Step Tutorial on how you can score one from Amazon via Buyandship Philippines. Thanks for the feat, Inka!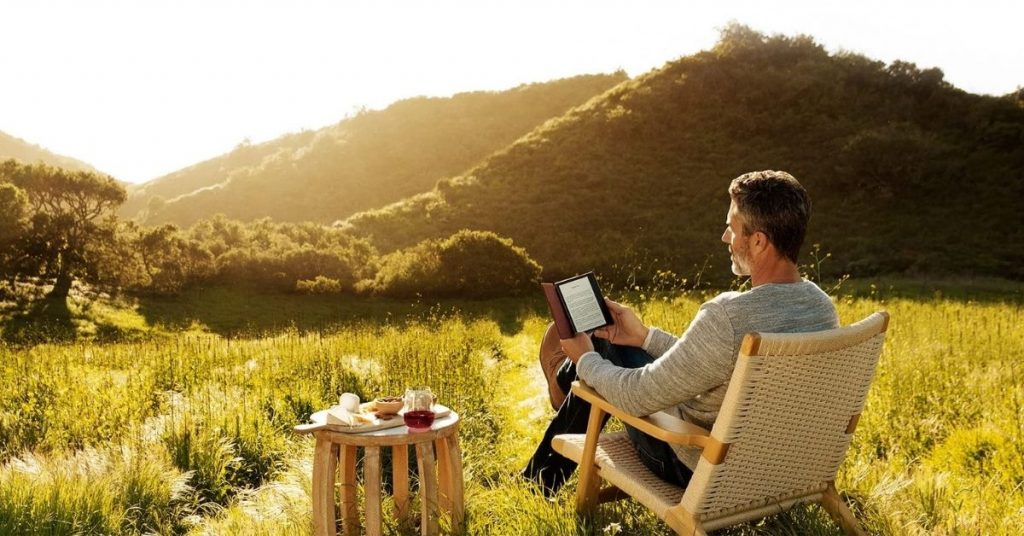 Technical Details
The Kindle Oasis features the best ever 7", 300 PPI Paperwhite display using the latest e-ink technology, an adjustable warm light for a richer reading experience in any light, and a sleek ergonomic design with page turn buttons, perfect for one-handed reading.
Kindle Oasis also has an adaptive front light that automatically adjusts the brightness of your screen based on lighting conditions. No more soggy pages with the Kindle Oasis – It's built to withstand getting splashed at the beach or dropped in the bathtub, hot tub, or pool. In the laboratory, Kindle Oasis is IPX8 rated to protect against immersion in up to two meters of fresh water for up to 60 minutes and 0.25 meters for 3 minutes in seawater.
Enjoy an improved Kindle reading experience with the latest software updates. Now with easy access to your device Settings and bottom navigation to switch between Home, Library, or the book you are currently reading. A new Library experience helps you find your favorite books with ease, and a new home experience helps you discover your next read by genre and category.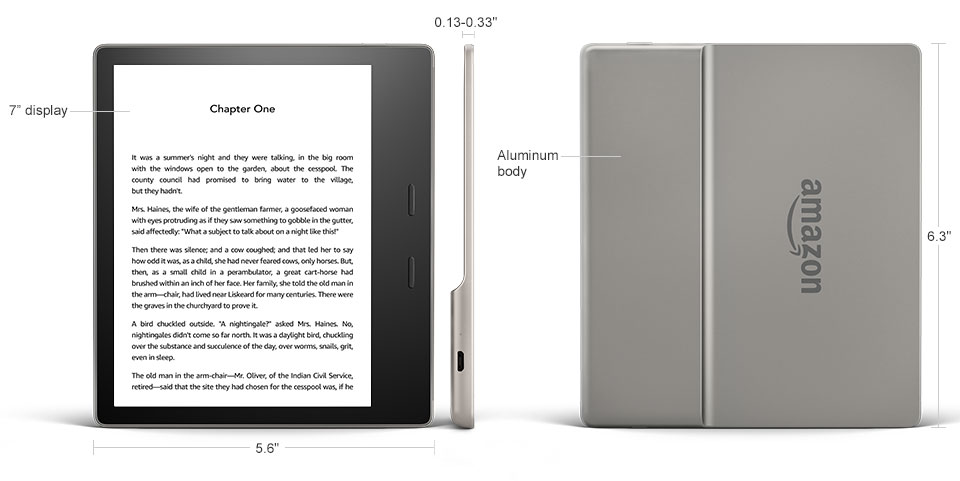 | | |
| --- | --- |
| Display | Amazon's 7" Paperwhite display technology with next-generation e-paper and built-in light, 300 PPI, optimized font technology, 16-level grayscale. |
| Size | 6.3" x 5.6" x 0.13-.33" (159 x 141 x 3.4-8.4 mm). |
| Weight | 6.6 oz (188g) or 1 lb; Actual size and weight may vary by configuration and manufacturing process. |
| System Requirements | None; fully wireless and doesn't require a computer to download content. |
| On-Device Storage | 8 GB holds thousands of books or over 35 Audible audiobooks; 32 GB holds thousands of books or over 160 Audible audiobooks; Audible audiobook capacity based on average Audible audiobook size. |
| Battery Life | A single charge lasts up to six (6) weeks, based on a half-hour of reading per day with wireless and Bluetooth off and the light setting at 13. Battery life will vary based on light settings, wireless usage. Audible audiobook streaming over Bluetooth will reduce battery life. |
| Charge Time | Fully charges in approximately 3 hours from a 5W power adapter or computer via USB cable. |
| Wi-Fi Connectivity | Supports public and private Wi-Fi networks or hotspots that use the 802.11b, g, or n standards with support for WEP, WPA, and WPA2 security using password authentication or Wi-Fi Protected Setup (WPS). |
Price Comparison
Device Model: Kindle Oasis – Ad Supported – 32 GB
---
Other Amazon Kindle Devices
Kindle Basic Front Light Wi-Fi 8GB Black Advertised E-reader
Kindle is a dedicated device for reading. The front light makes it even more convenient. Since the brightness can be adjusted, you can read comfortably indoors or outdoors. The matte display does not reflect bright light even in bright sunlight, and the e-ink display makes it feel like real paper.
Retail Price: ¥8,980 or PHP 3,850.25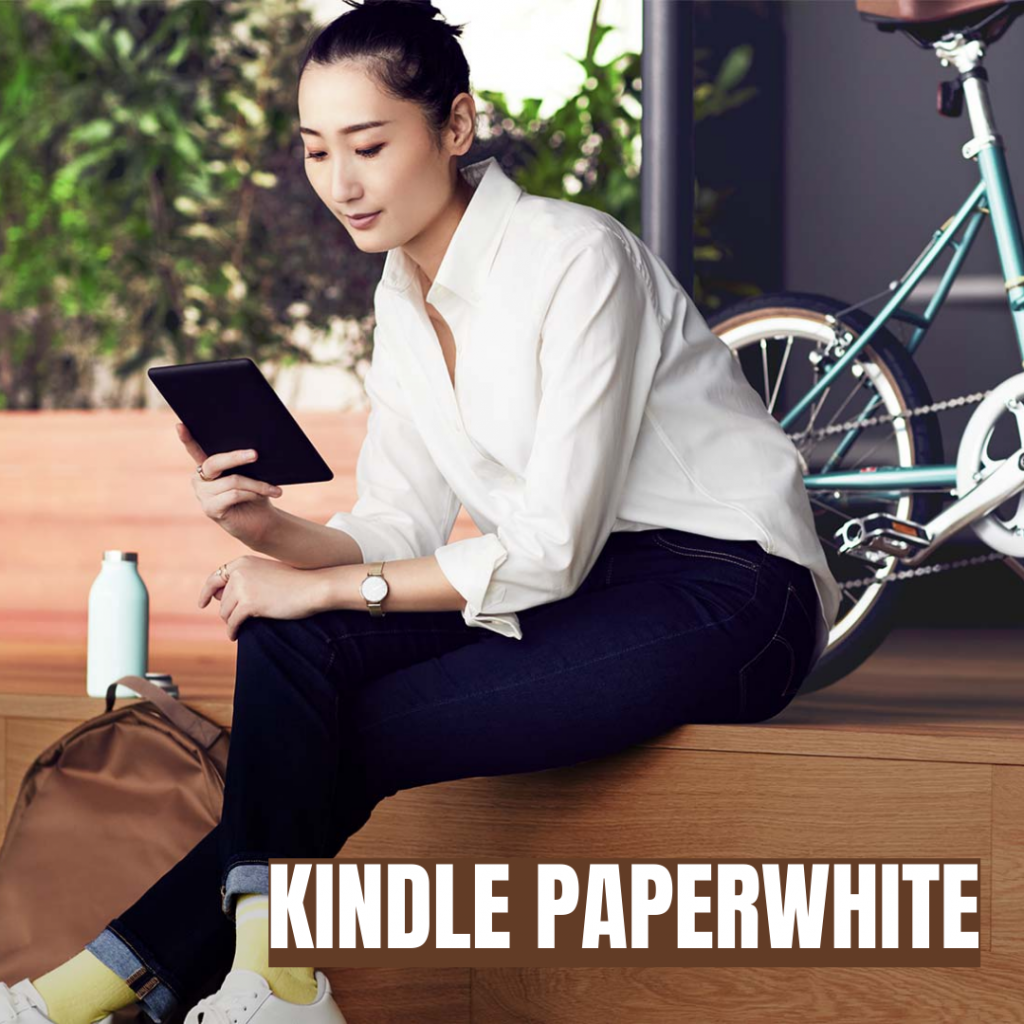 Kindle Paperwhite (8GB) 6.8″ Display with Advertisement
The 6.8-inch, 300ppi high-resolution display displays sharp and beautiful characters like a paper book. The matte E-ink screen is 10% brighter at the maximum setting than the previous model, and it has paper-like readability that suppresses reflection even in bright sunlight.
Retail Price: ¥14,980 or PHP 6,422.81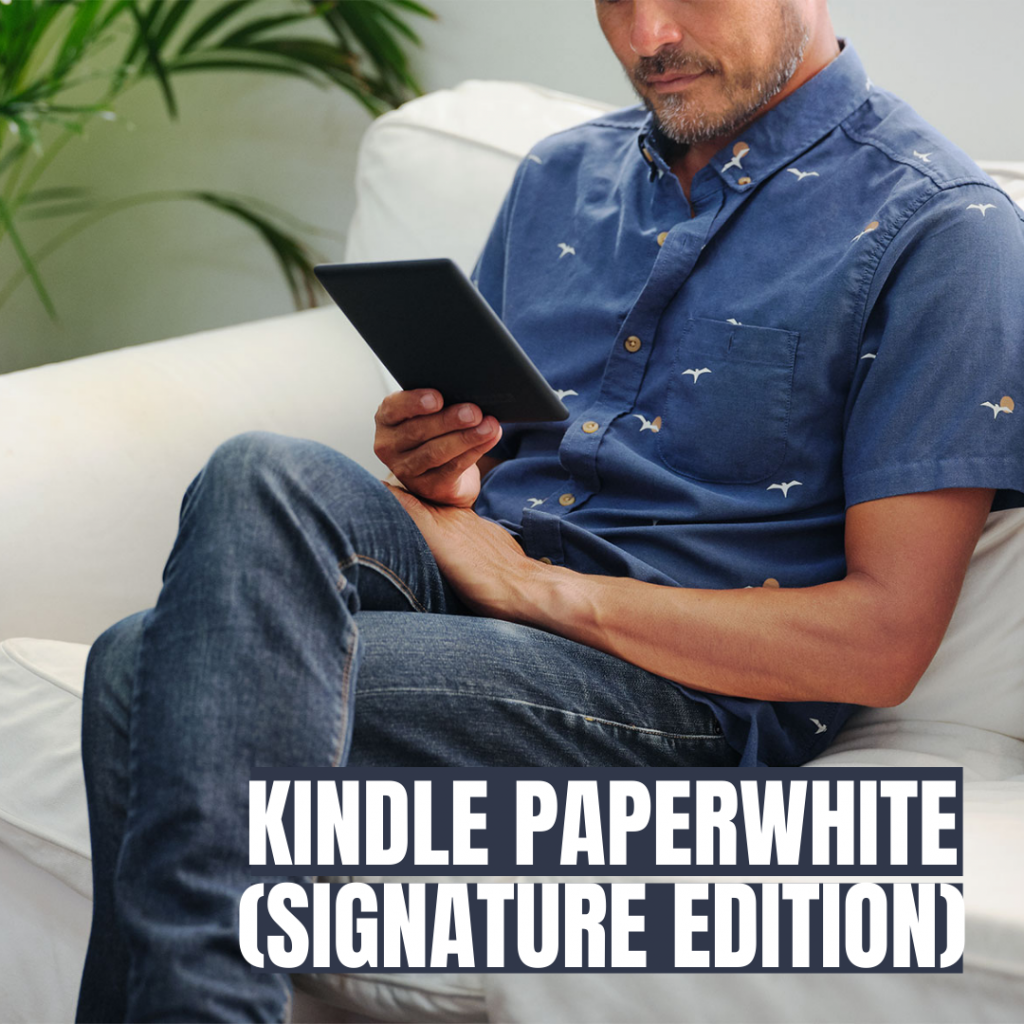 Kindle Paperwhite (32GB) Signature Edition
With a capacity of 32GB, you can carry thousands of your favorite books (in the case of general books), so it's perfect for reading while commuting to work or school. Easy charging with wireless charging. The enlarged display allows you to concentrate on reading, and the automatic brightness adjustment function makes it easy to read a book at any time.
Retail Price: ¥19,980 or PHP 8,566.60
---
How to Shop Kindle From Amazon Japan
Amazon.co.jp ranks first in Japan and offers a variety of Japanese products in all categories. The best sellers range from books to robots, to home appliances, toys, and video games. Check out this step-by-step tutorial on how Inka scored her Kindle Oasis from Amazon Japan via Buyandship Philippines.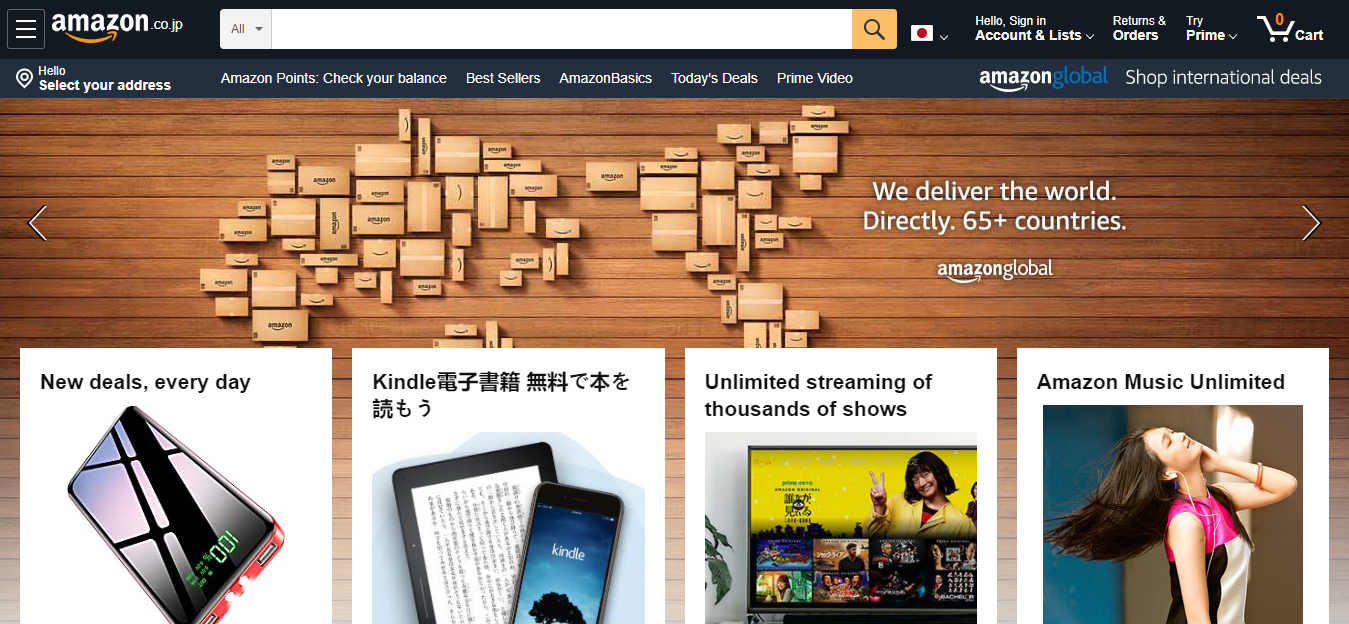 First things first, go to Amazon Japan's Landing Page.
Step 02: Log-In or Sign Up to Your Amazon JP Account. Doesn't Have an Account Yet? Click HERE

Create an account if you're new to Amazon Japan or simply log-in to your account if you already have one.
Step 03: Browse Your Favorite Products and Hit 'Add to Cart'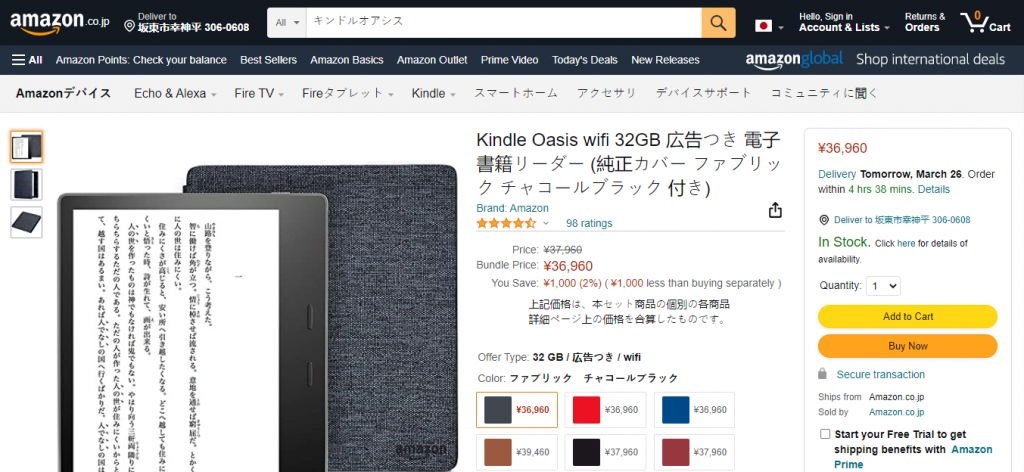 It's time to shop! Once you've decided on the Kindle or any product you want to buy, simply hit "Add to Cart" and then "Proceed to Checkout"
Step 04: Enter Buyandship JP Warehouse Address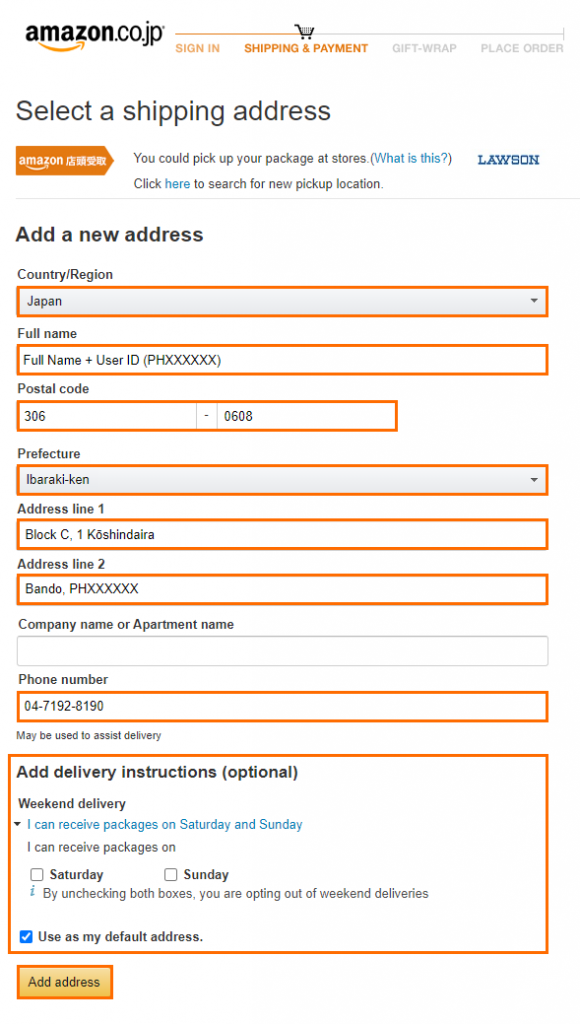 It will lead you to the Check Out Page (See Reference Photo Above) where you will need to enter Buyandship's Japan Warehouse Address. Please note that Buyandship's Warehouse Addresses are closed every weekend and JP Holiday, make sure to opt the weekends out of your delivery instructions.
Place BNS USER ID after your name for easier sorting when your parcel arrived at our warehouse address.
Then, enter Buyandship's Japan warehouse address for the shipping address.
In order to get Buyandship's US Warehouse address, log in to your Buyandship account, under the 'Overseas Warehouse Address' section, click on the 'Japan' Tab, and voila! All you have to do is just copy and paste.
➡️ Click Here to Register to Buyandship PH
Once you are done filling out the shipping section, review all the details you input and click "Add Address"
Step 05: Enter your credit card details then click "Add your card"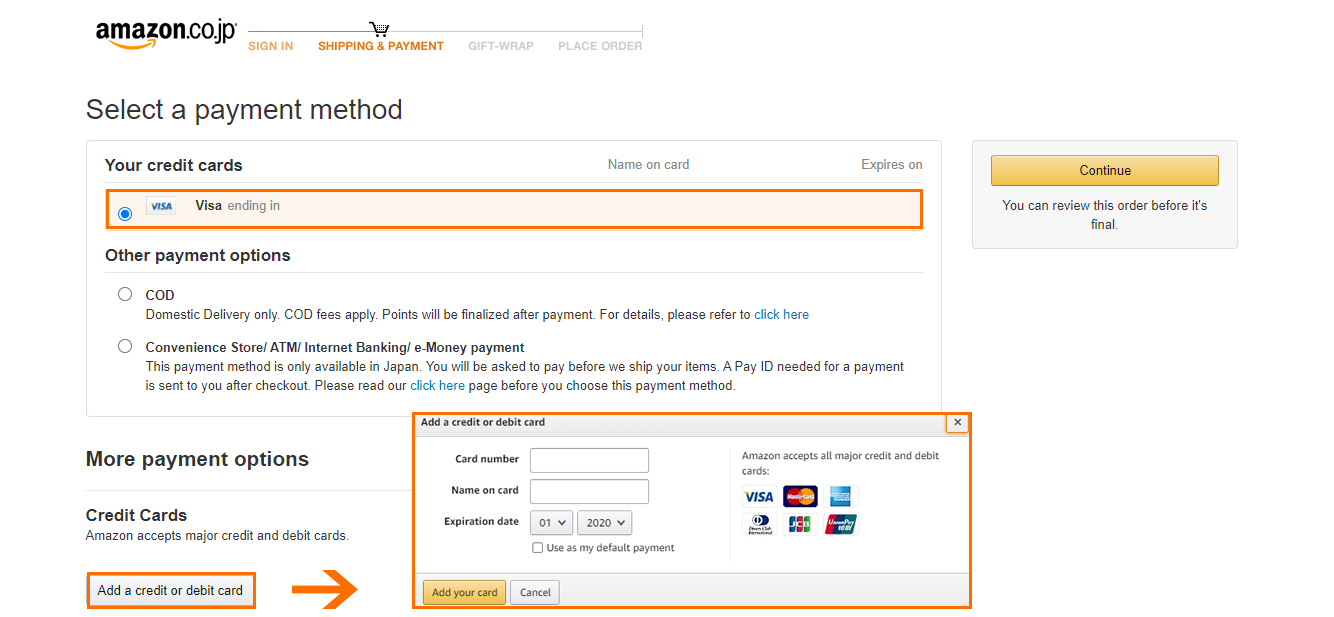 Click the "Add a Credit or Debit Card" button and simply enter your payment information. Choose your card as your mode of payment and click "Continue" once done.
Step 06: Input your Credit Card Address as Your Billing Address then click "Use this address". Your billing address should be your Credit Card (or virtual card) name and address

Add another Credit Card Address as your Billing Address. Your billing address should be the same address you input in your credit card account. To clarify:
Shipping Address = Buyandship Japan Warehouse Address
Billing Address= Credit Card Address
Once you're done, choose your Credit Card Address as your Billing Address by clicking "Use this Address"
Step 07: Check your order details one last time and click "Place your order"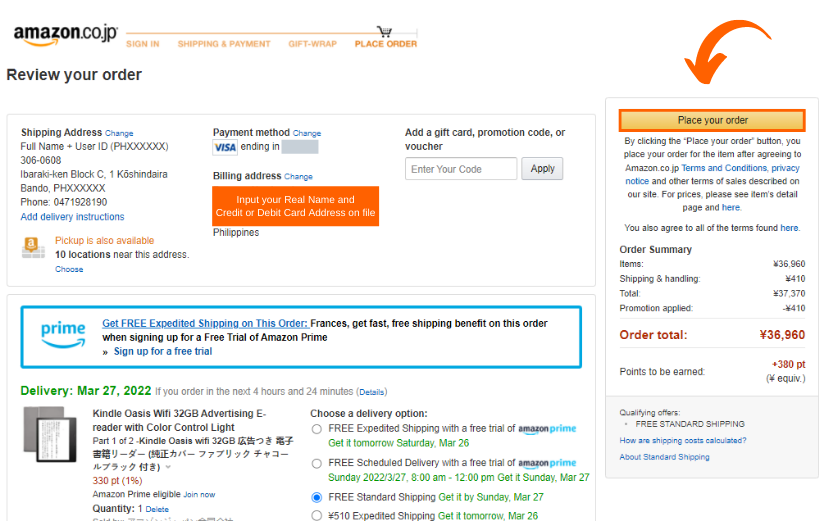 Check if all of the details you input are correct. Click on "Place Your Order" once everything is confirmed and wait for Amazon JP's Tracking Code.
Step 08: Declare Your Shipment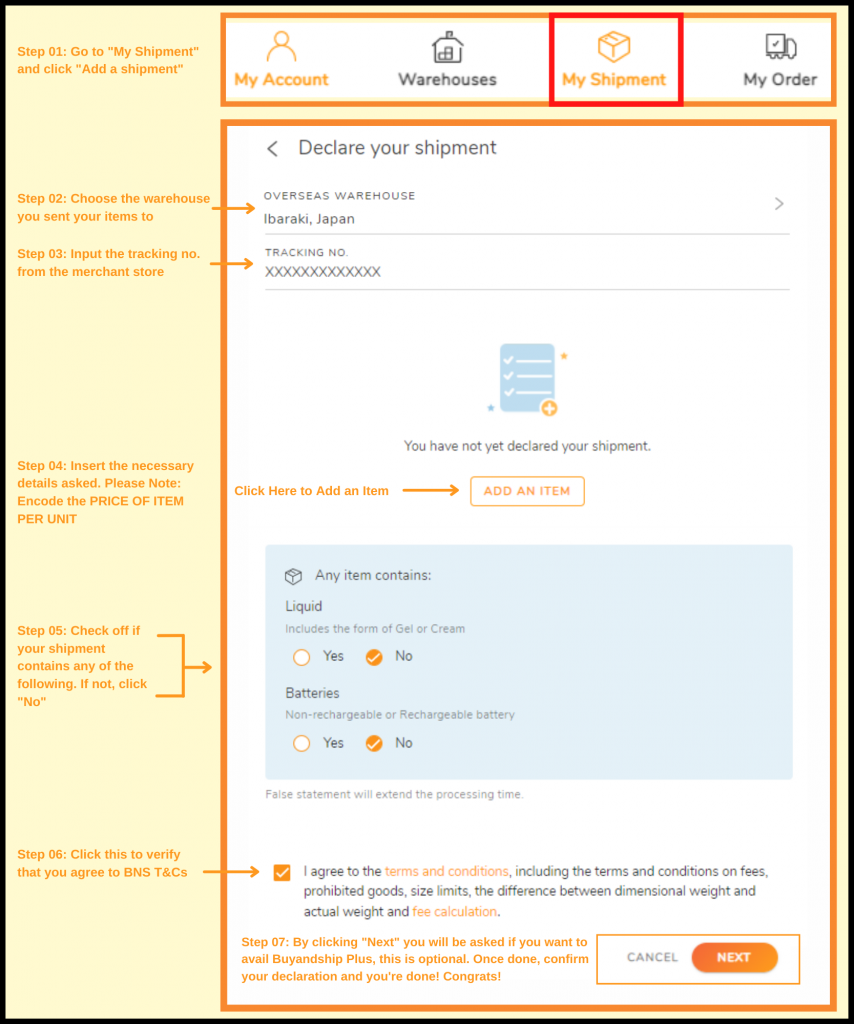 Once you get your tracking code from Amazon JP, log in to your Buyandship Account, and immediately declare your shipment. All you have to do is:
Go to 'Parcel Management'
Under My Shipment, click 'Add a Shipment'
Enter the Warehouse you ship it to, in this case, select 'Ibaraki, Japan'
Enter your Tracking Number
Fill out the Product Details (Click 'Add New Item' if you bought multiple items)
Check all of the Terms and Conditions
Hit 'Submit'
If you wanted a more elaborate explanation of how to do it, click here.
Step 09: Wait For Your Parcel To Be in Parcel Management "Arrived At HK Warehouse"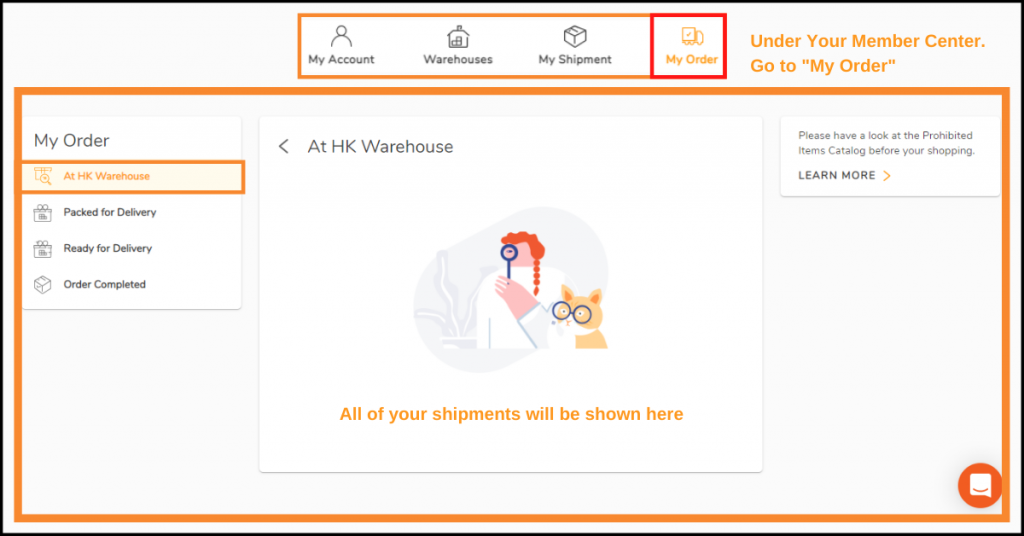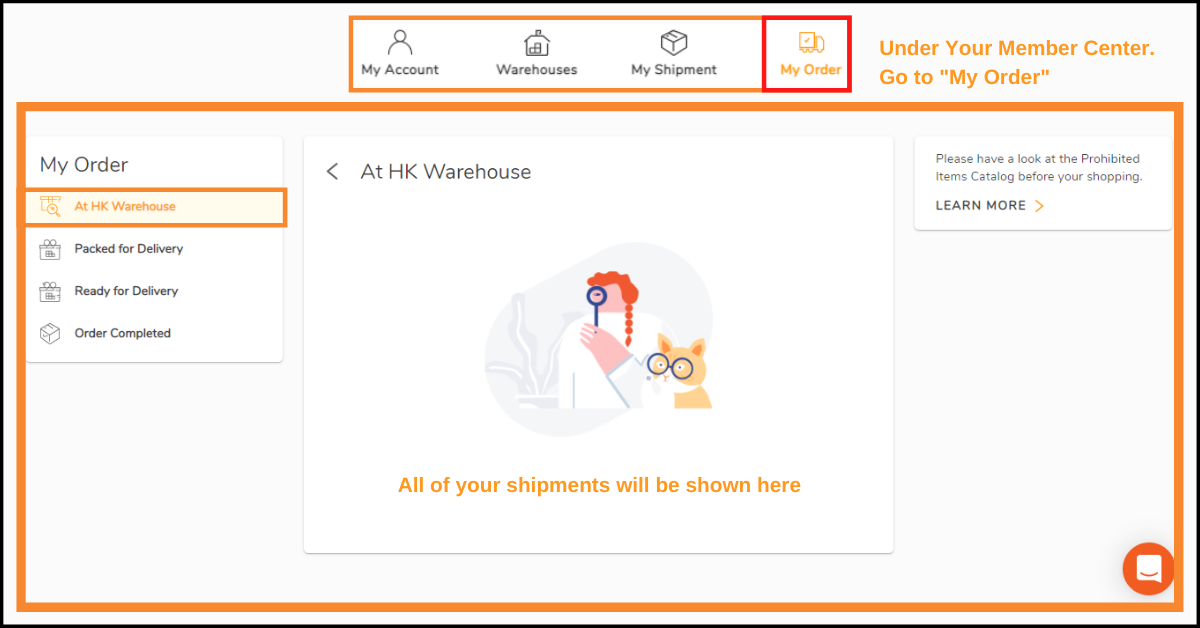 Once it is in "Arrived at HK warehouse" in My Order, you can checkout your shipments separately or consolidate your shipments (not separate items) by ticking on the box next to your tracking number. Once each shipment arrives at the HK warehouse you have free consolidation services and 42 days of storage. If you want to checkout, fill out the checkout details, and proceed to payment.
Step 10: Pay for Buyandship's Shipping Rate

We charge purely based on weight so, you don't have to compute for complicated math equations. Plus, we have the lowest shipping rate in the Philippines! We have 2 Pricing Options: Delivered Duty Unpaid (DDU) and Delivered Duty Paid (DDP) Check out the Features of DDP and DDU on the images below: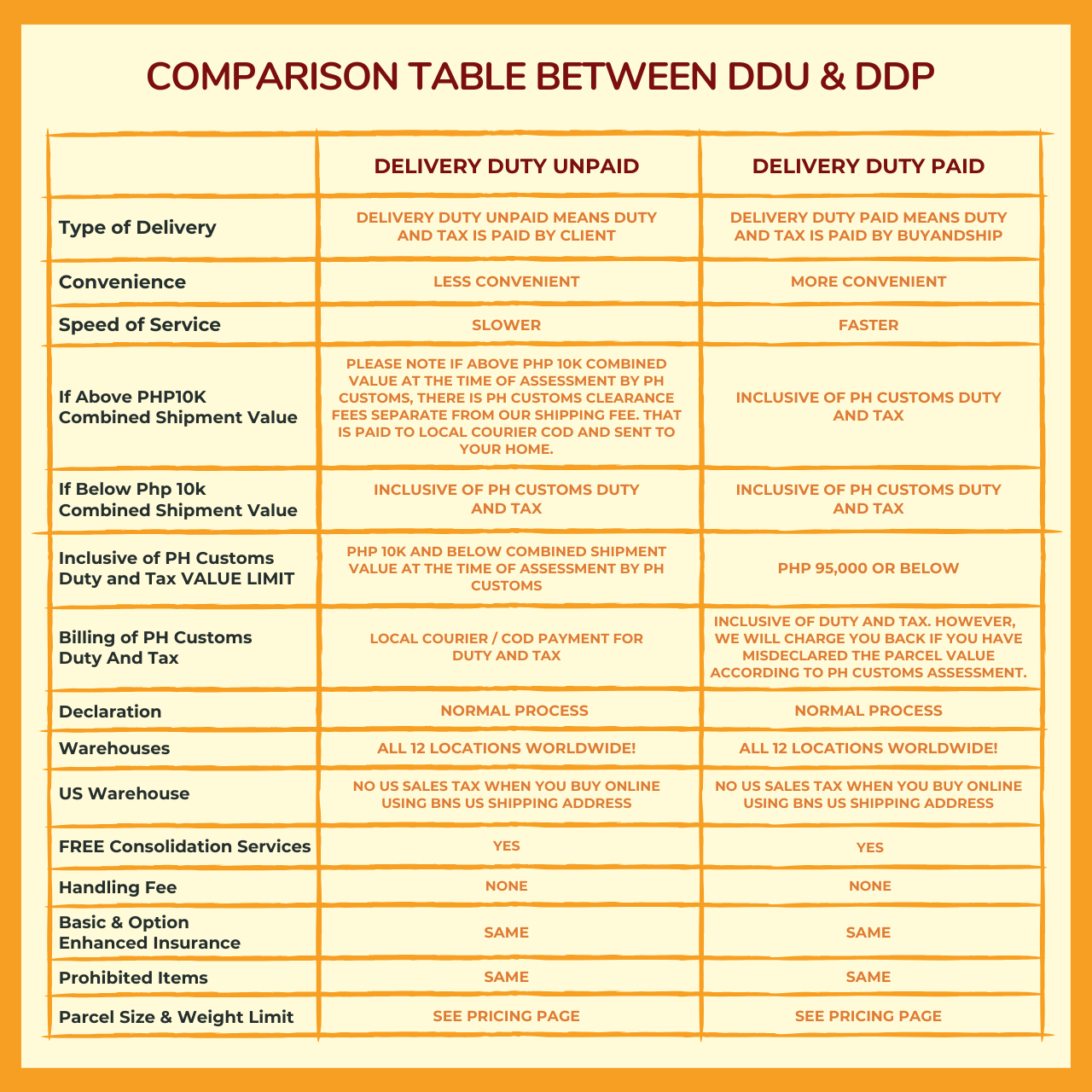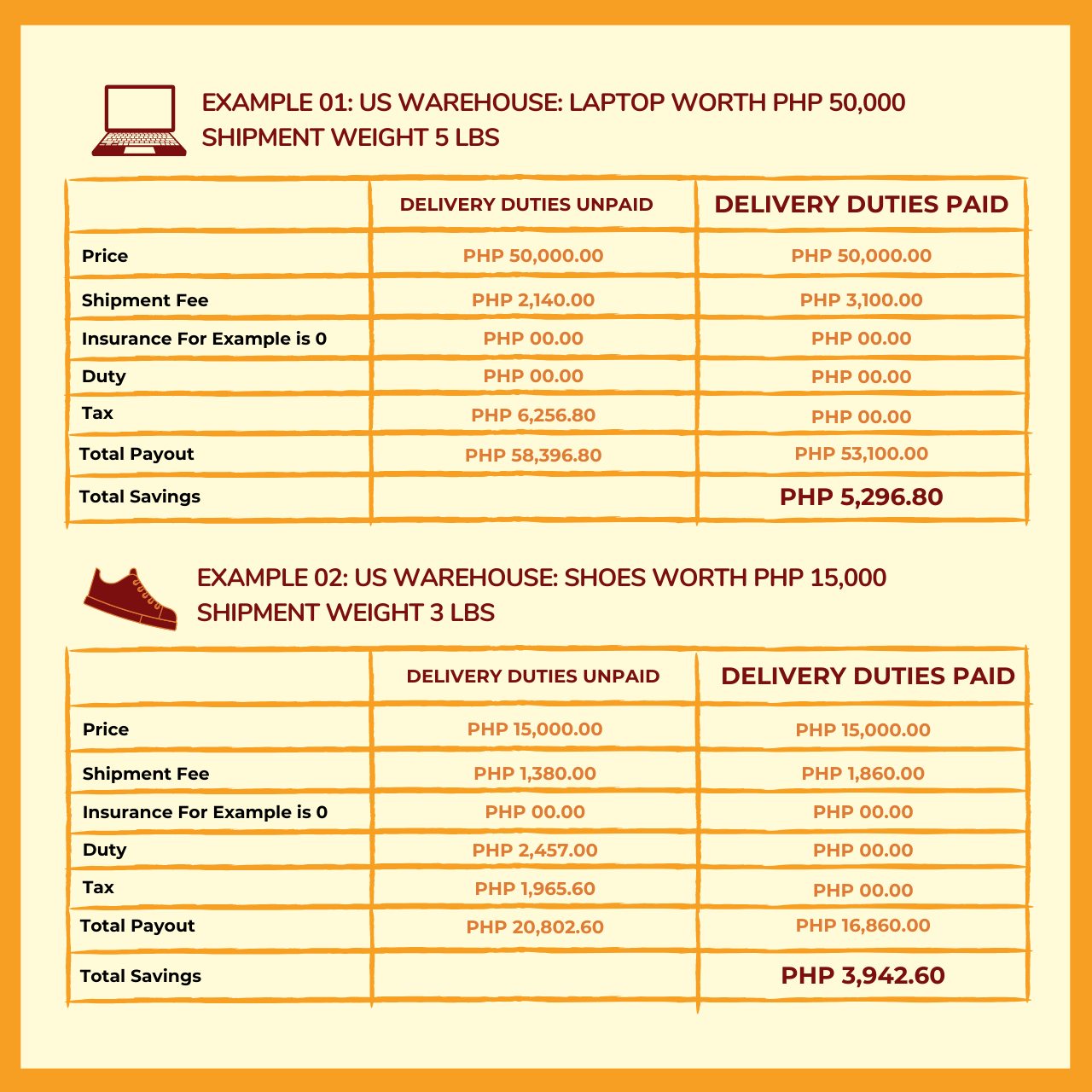 This goes without saying that if your parcel weighs exactly or less than 1 pound, we only charge you the designated amount but if the weight exceeds 1 pound, we round it up. But don't worry because you always have the choice to consolidate your items to maximize your money- that's a whole other conversation so it's best if you just read more about consolidation here.
Once you get notified that you're parcel is in our HK Warehouse, all you need to do is pay the service fee before we process it. Buyandship only accepts Internationally accepted Mastercard or Visa or Virtual Cards for a safer and faster way to pay.
➡️ Learn More About Our DDP Pricing Option HERE
Step 11: Wait For Your Products to Arrive on Your Doorstep in the Philippines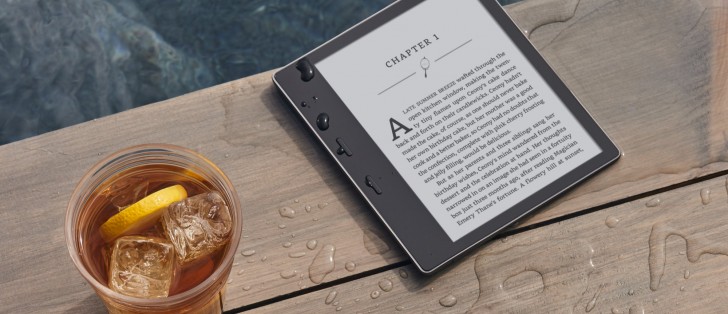 Last step! All you have to do is sit, relax, and wait for your Kindle to arrive at your doorstep in the Philippines. Enjoy your new products directly from Amazon Japan!