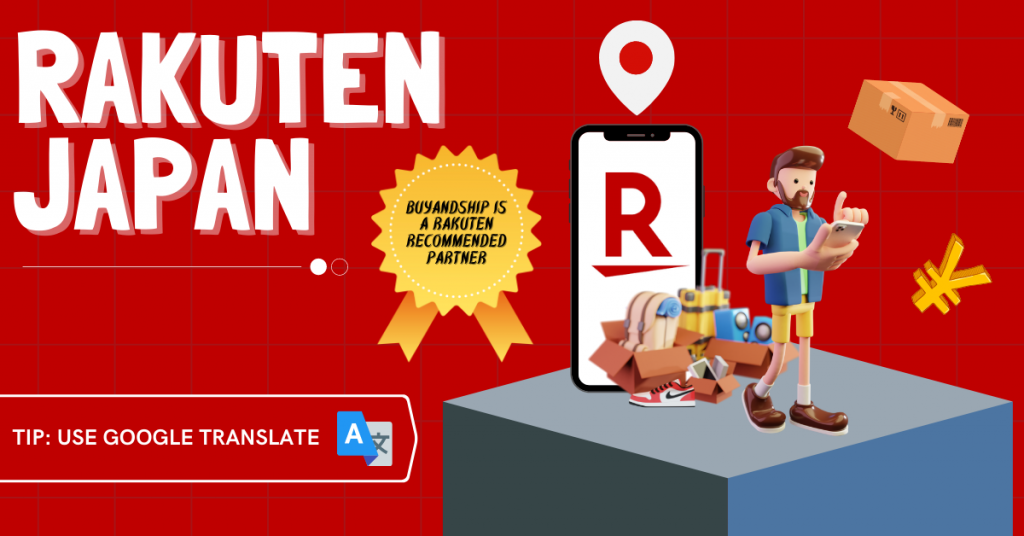 Rakuten is Japan's largest and most comprehensive online shopping platform, with more than 50,000 local Japanese stores, with a total of more than 10 million product listings. In addition to general shopping, there are free markets, auctions, and more that let users enjoy the fun of online shopping.
Although Rakuten Market itself is a shopping platform for Japanese consumers and only provides a Japanese interface, overseas users can use Google Translate Tool to translate pages and use the forwarding service to transfer goods from Japanese warehouses straight to their homes in the Philippines.
In addition to regular discounts for a limited time, there are actually many member-limited discount coupons that you can get as well on Rakuten. As long as you meet the specified minimum spend, you can get super cost-effective discounts! Check out the ultimate guide we made below for complete beginners, facing Rakuten head-on.
---
Familiarize Yourself with Rakuten Site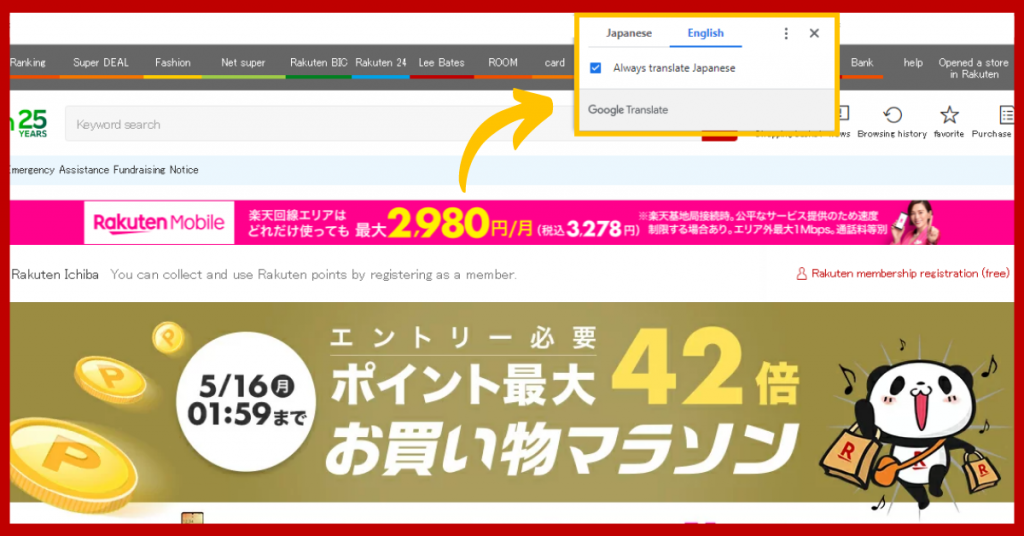 Google Translate!
Once you're on the Rakuten Japan site, use Google Translate Chrome Extension to convert the website pages into English to browse through the browser.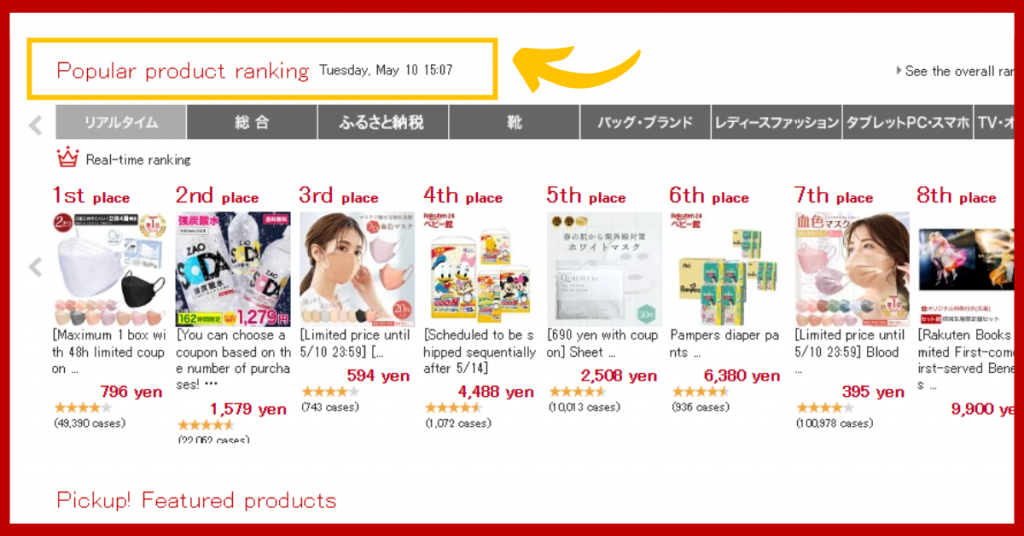 Rakuten Top Products
If you don't have a clear shopping goal, you can first take a look at the "Popular Product Ranking", which shows the most popular products in Japan, and is divided into different categories, you can view the ranking according to your own preferences.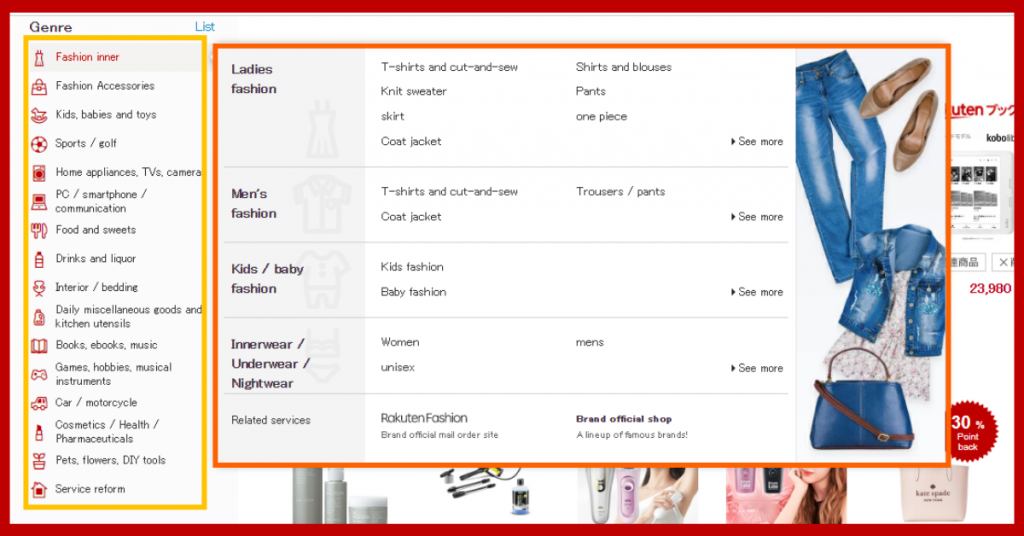 Wow, Categories!
There are product categories on the left side of the web page, and you can choose the special area you want to visit according to your personal needs. Rakuten categorizes products into 16 categories, and each category will be subdivided to ensure that you can accurately find your favorite.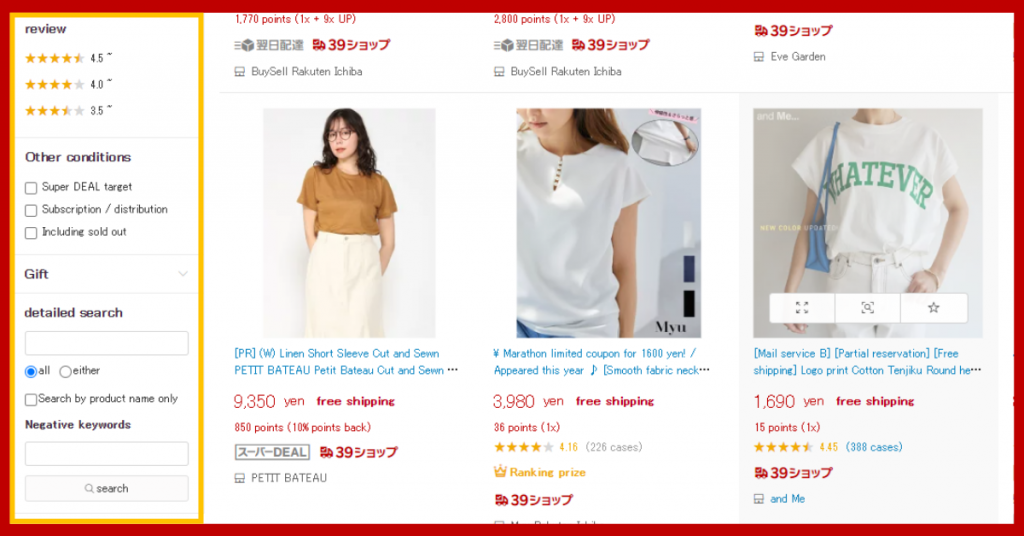 Review Each Product!
Taking the women's T-shirt category as an example, the page can see the ranking of popular styles, as well as products with a rating higher than 4.0. With reference to these high sales and evaluation products, you don't have to worry about buying fake or low-quality products~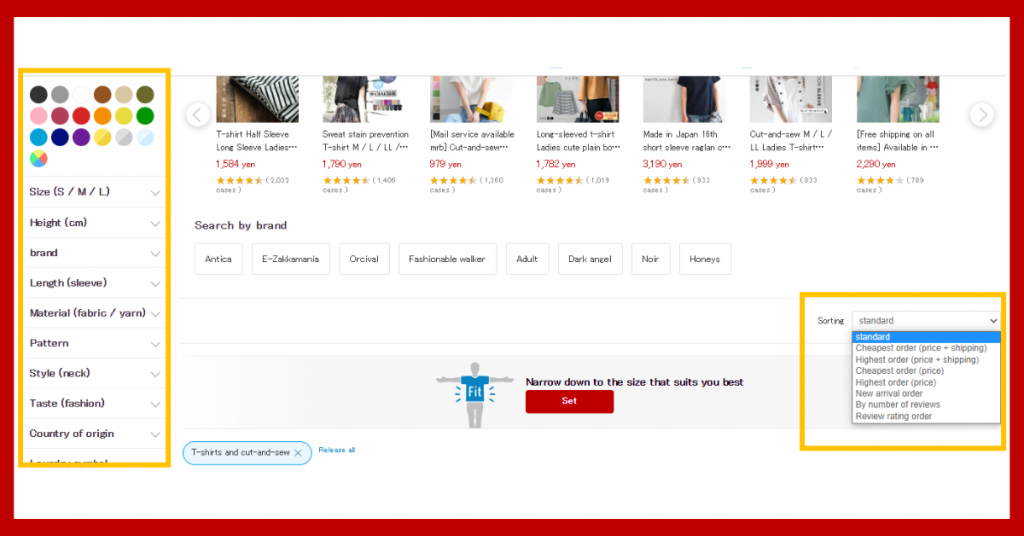 Filter & Sorting!
In the left column, you can see more precise filtering tools, such as size, brand, color, etc., and you can also click to view Japanese free shipping items!
Shopping Tip: Choose the sorting method of the products in the upper right corner, according to the price and rating of the products.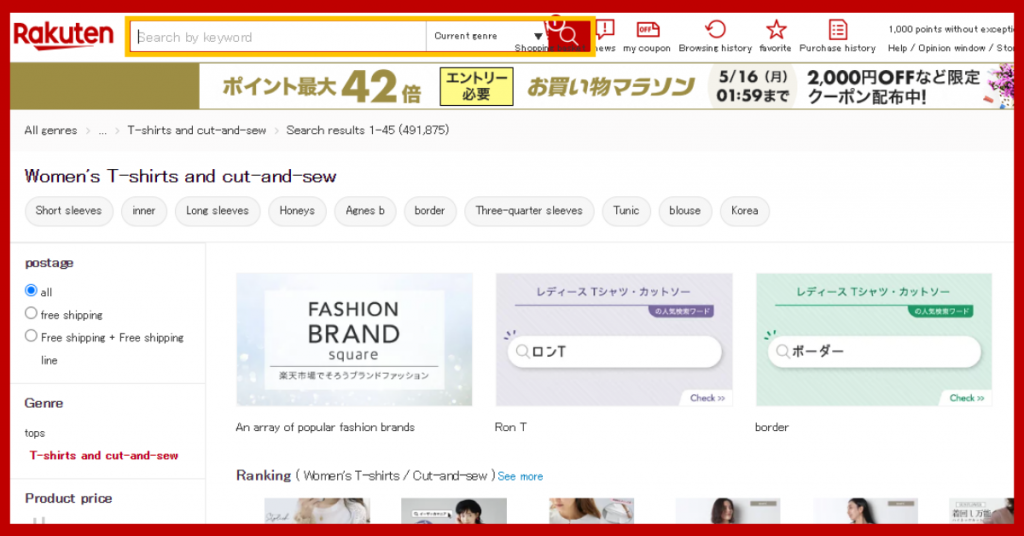 Search Engine is Key!
If you want to find products of a specified brand/model, you can use the search engine at the top of the page, enter the brand name/product name/model, and then click the red magnifying glass
Tips: It is recommended that you use Google to search for the Japanese name of the brand/product and then go to Rakuten to search so that you can find more results.
---
How to Get and Use Rakuten Coupons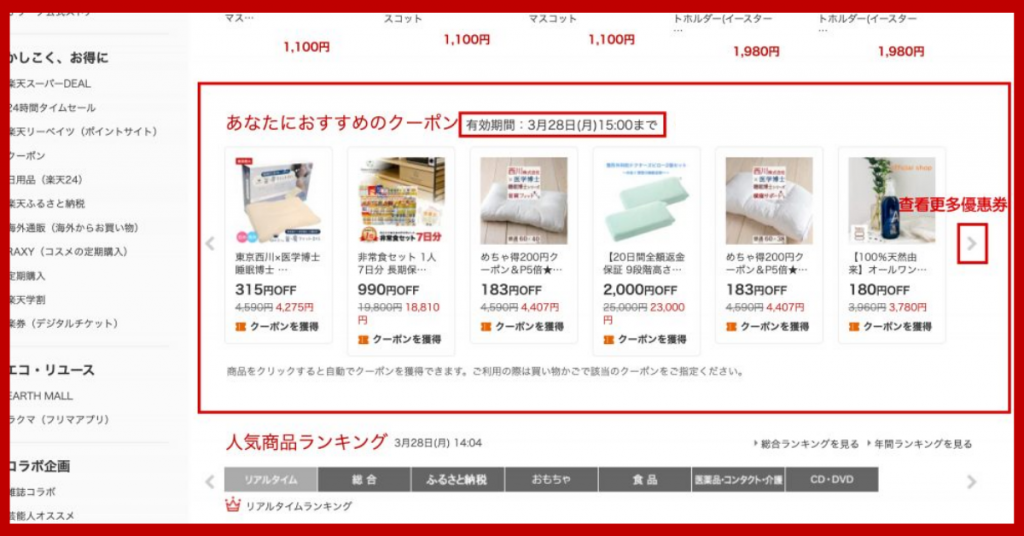 Method 1:
After logging in as a Rakuten member, swipe to "あなたにおすすめのクーポン" in the middle of the page, and you will see the coupons offered by the recently viewed Rakuten stores. Click the right arrow to see more coupons recommended by the website. All coupons have an expiration date. If you have a favorite product, don't hesitate to buy it~
Method 2:
After logging in as a Rakuten member, select the desired product category, and you can find coupons below the top charts.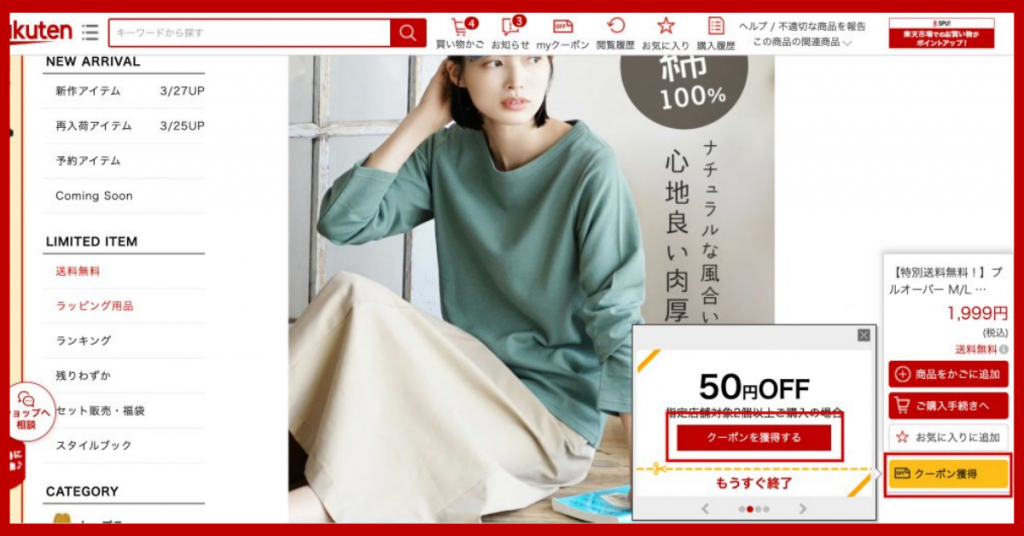 Click to enter the relevant product page, the yellow "クーポン Get" button on the right is a coupon, click on the red button to receive the coupon, and remember to pay attention to the valid date and time of the coupon.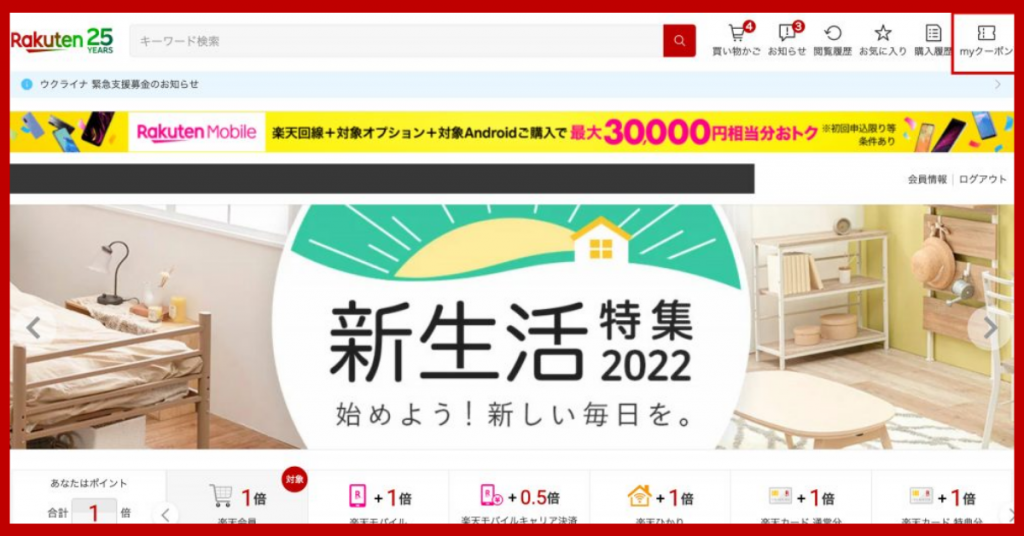 Method 3:
After logging in as a Rakuten member, click "myクーポン" in the upper right corner.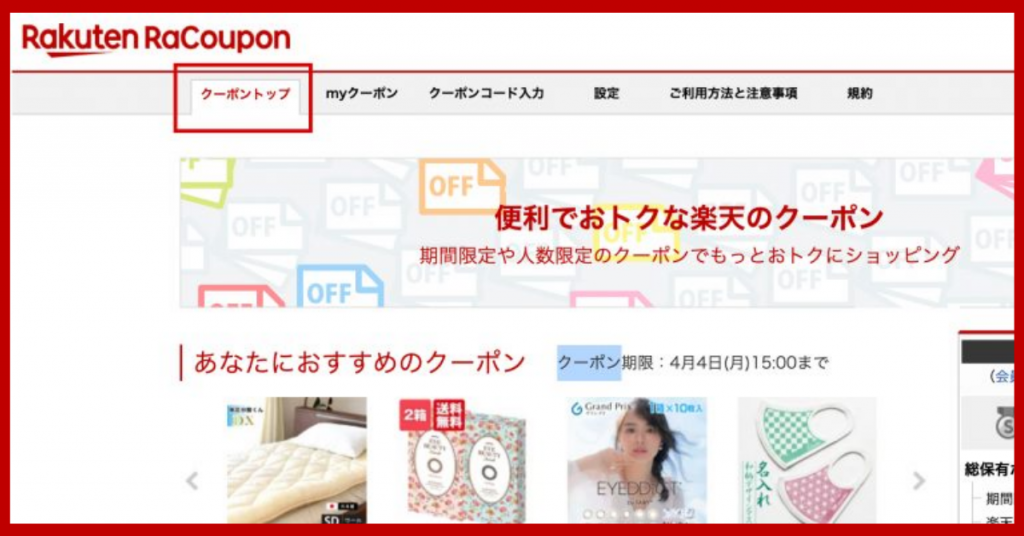 Then click "クーポントップ" to enter the coupon homepage to search for more coupons.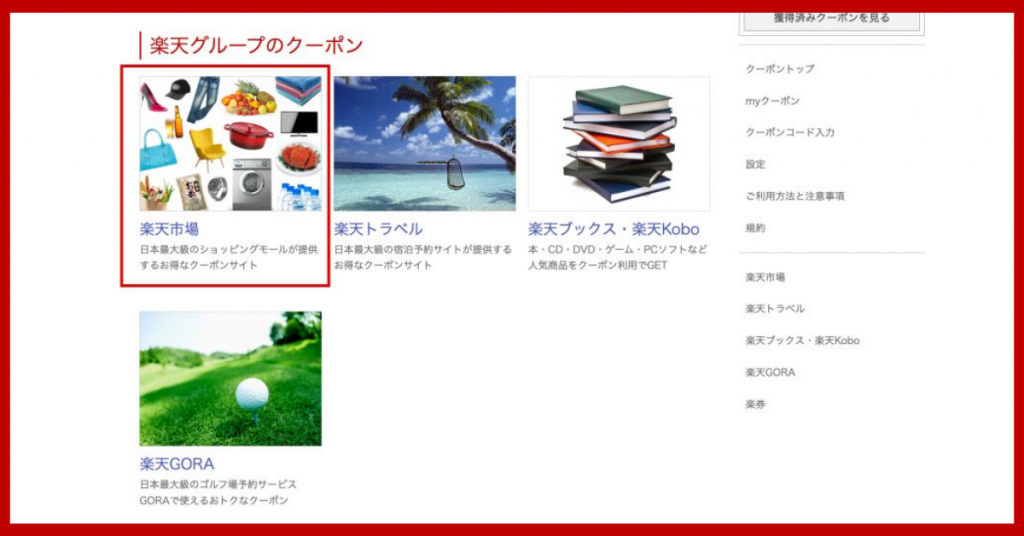 After entering the page, scroll down and click "Rakuten Market"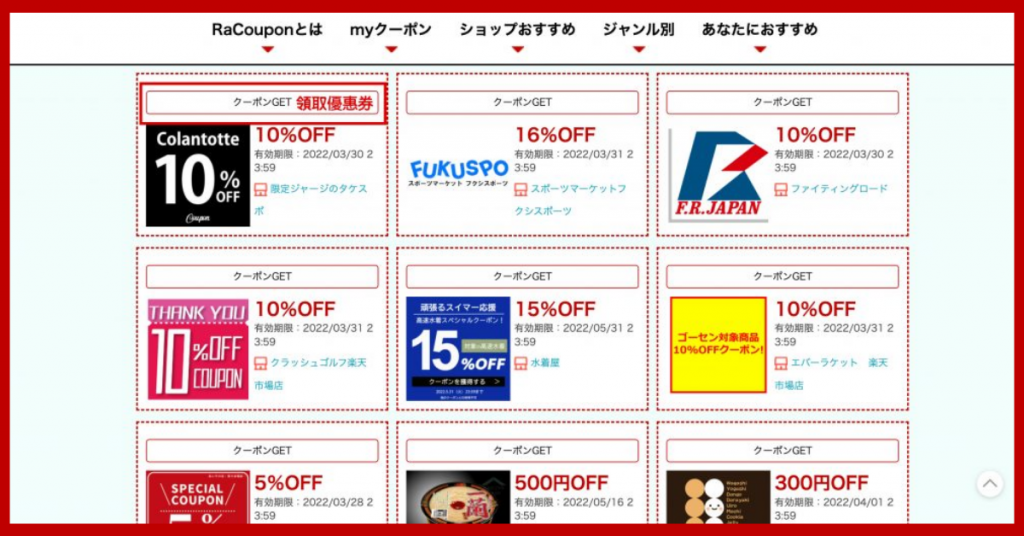 The page displays the coupons of selected stores, click "クーポンGET" to enter the redemption page.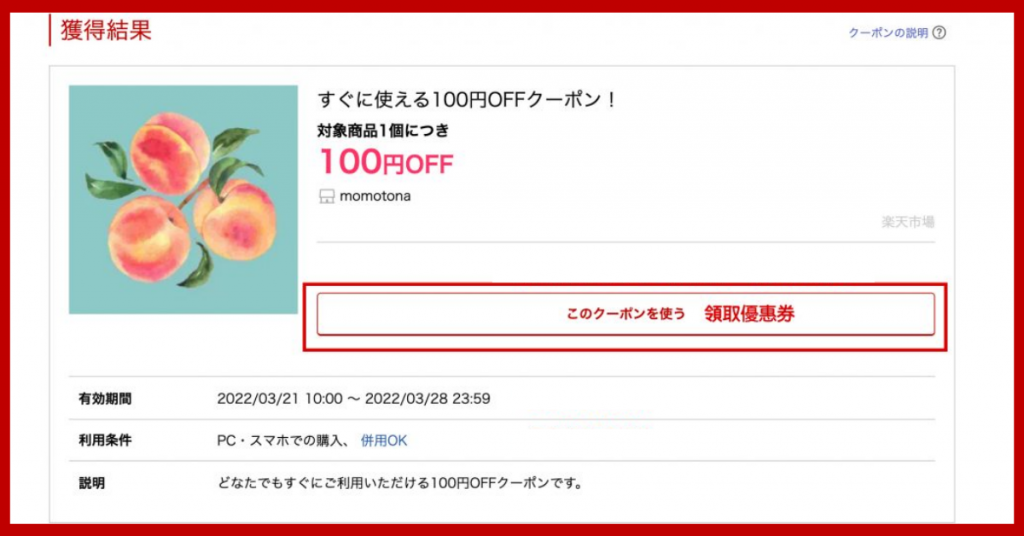 After entering the claim page, remember to pay attention to the validity period and conditions of use of the coupon, and then click to receive the coupon, and the system will automatically save it for you.

How to Use Coupons
After entering the payment page, the "クーポン Utilization" section will display how many coupons you have applied, then click "Change".
Check the coupon you want to use, then click "Update", the system will automatically update the discounted price after the coupon, and then pay.
How to Online Shop to Rakuten via Buyandship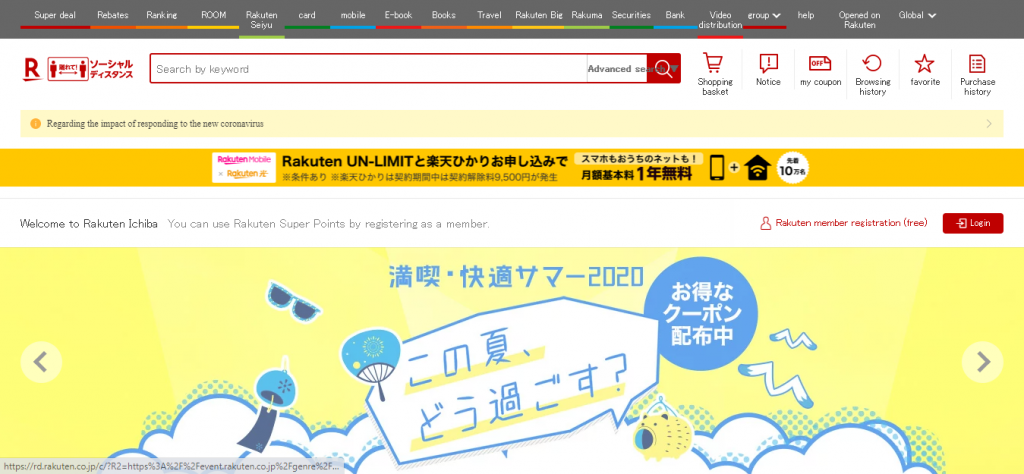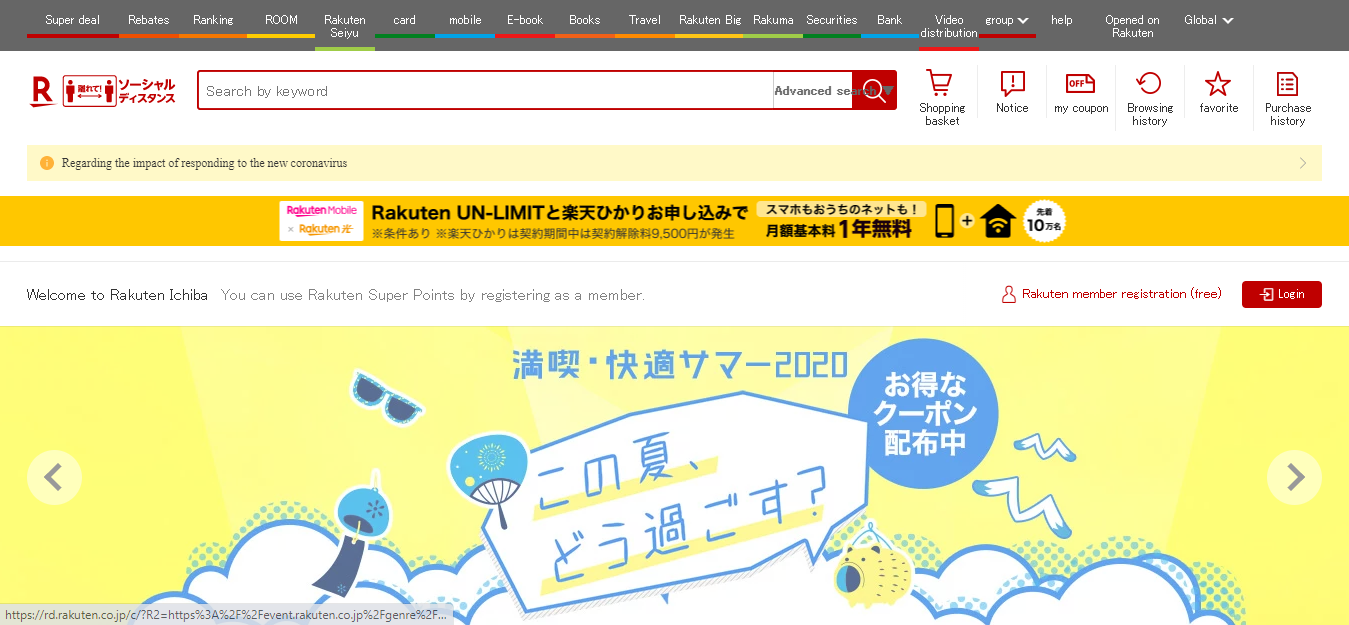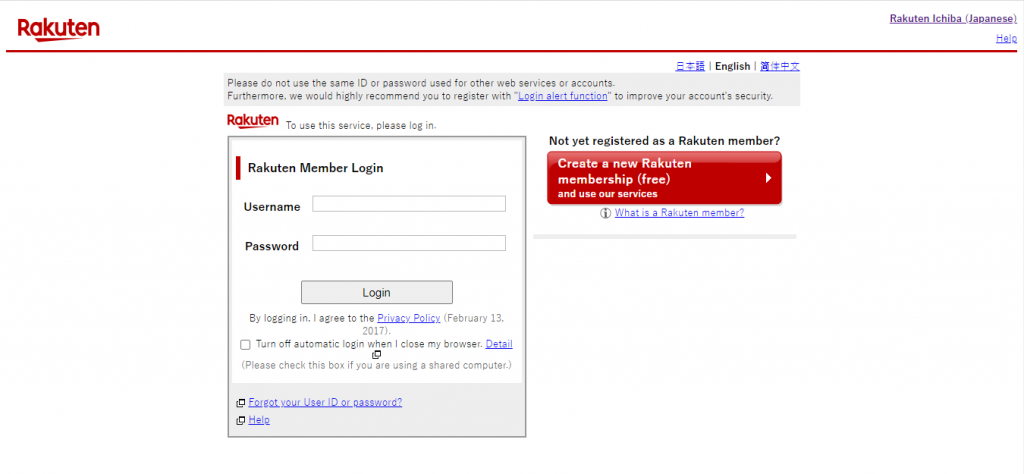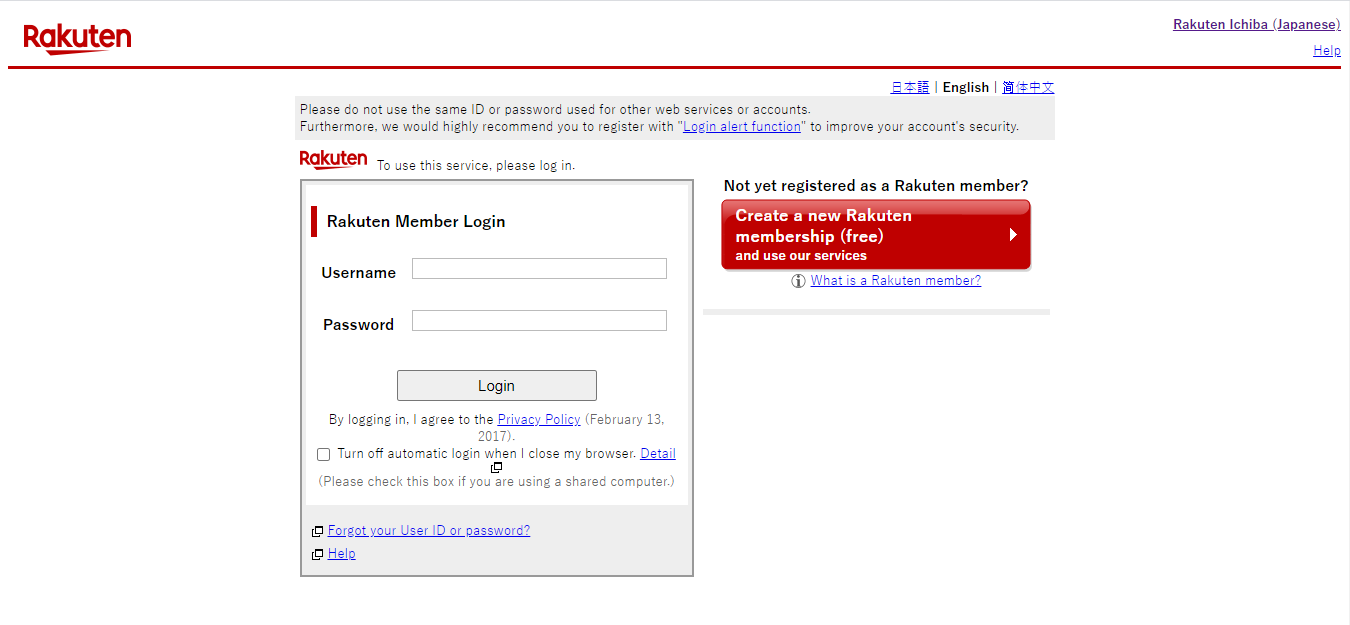 Step 02: Sign Up or Log-In To Your Rakuten Account
Create an account if you're new to the site or simply log-in to your account if you already have one.
Note: Convert Your English Name To Japanese
Please Note: Upon Member Registration, you will need to convert your name to Japanese. Simply input your name and convert it to the button below. After that, you will be redirected to your Member Dashboard where you can set up your Buyandship Japan Address. Let's walk you through the process in the next step.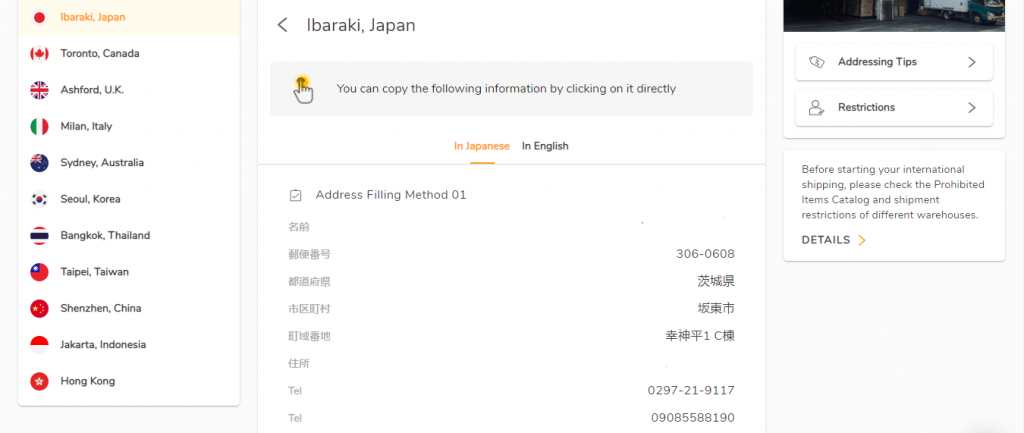 Step 03: Enter Buyandship's Japan Warehouse Address
You will need to input Buyandship's Japanese Warehouse and your credit card billing address here for less convenience when you checkout your products. You can find instructions and our address in your dashboard under "Overseas Warehouse Addresses"
Shipping Address = Buyandship Japan Warehouse Address
Billing/ Orderer Address= Your Actual Address in the Philippines or Credit Card Billing Address
Simply input the necessary details needed and you're good to go! If it asks for your phonetic name, simply convert your name online and you're done.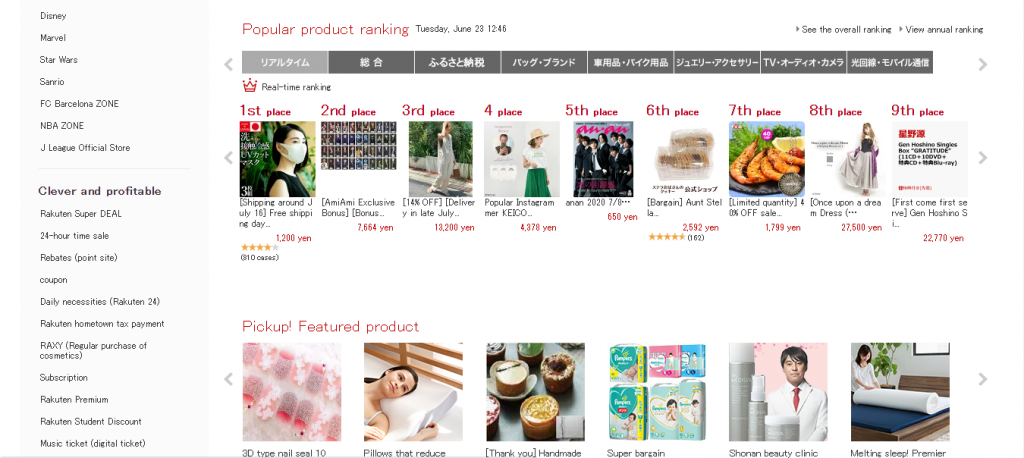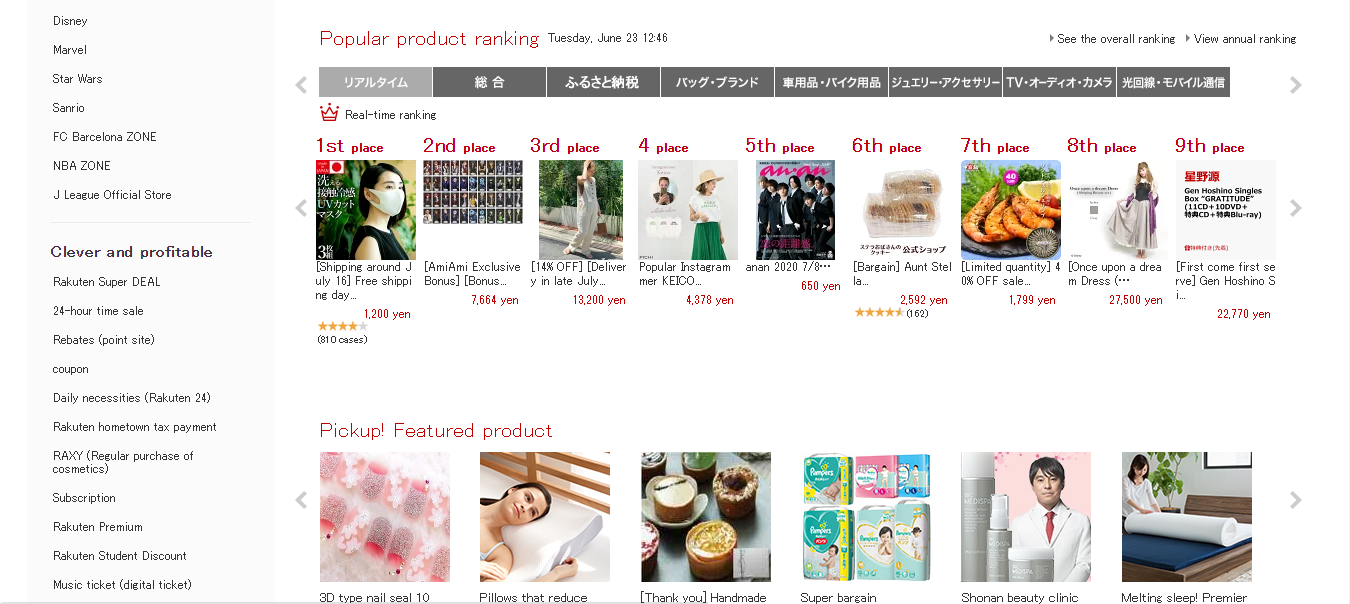 Step 04: Browse Your Favorite Japanese Products
Once you have an account, it's time to shop! Make sure to review each item carefully to make sure it is worth your hard-earned money, if you're satisfied with the product/s you fancy, simply hit "Add product to basket"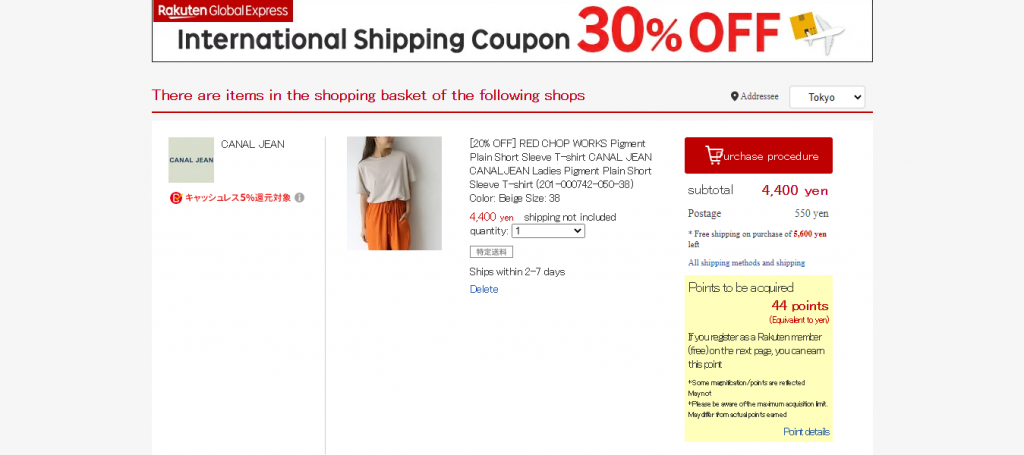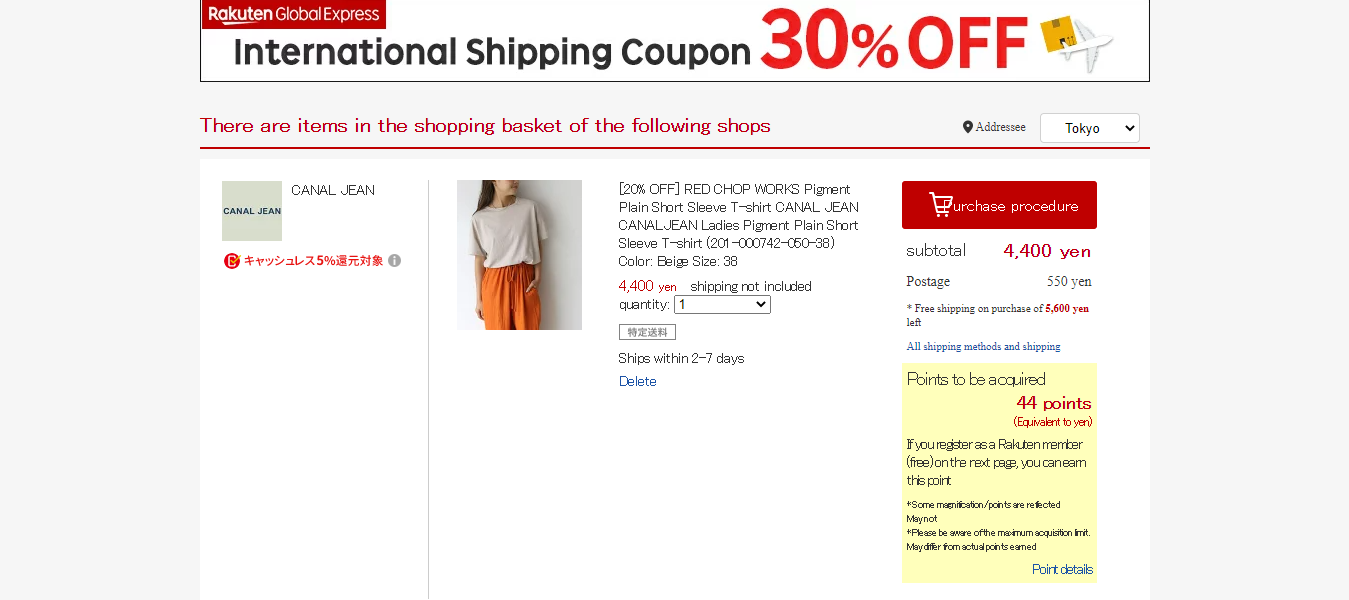 Step 05: Review Your Shopping Basket and Check Out
Before sealing in your products, make it a habit to review everything first before hitting "Purchase Procedure"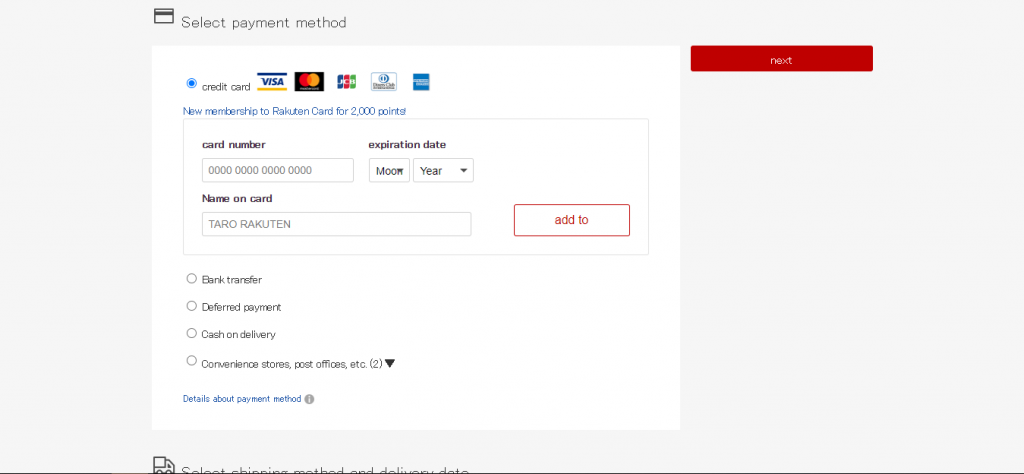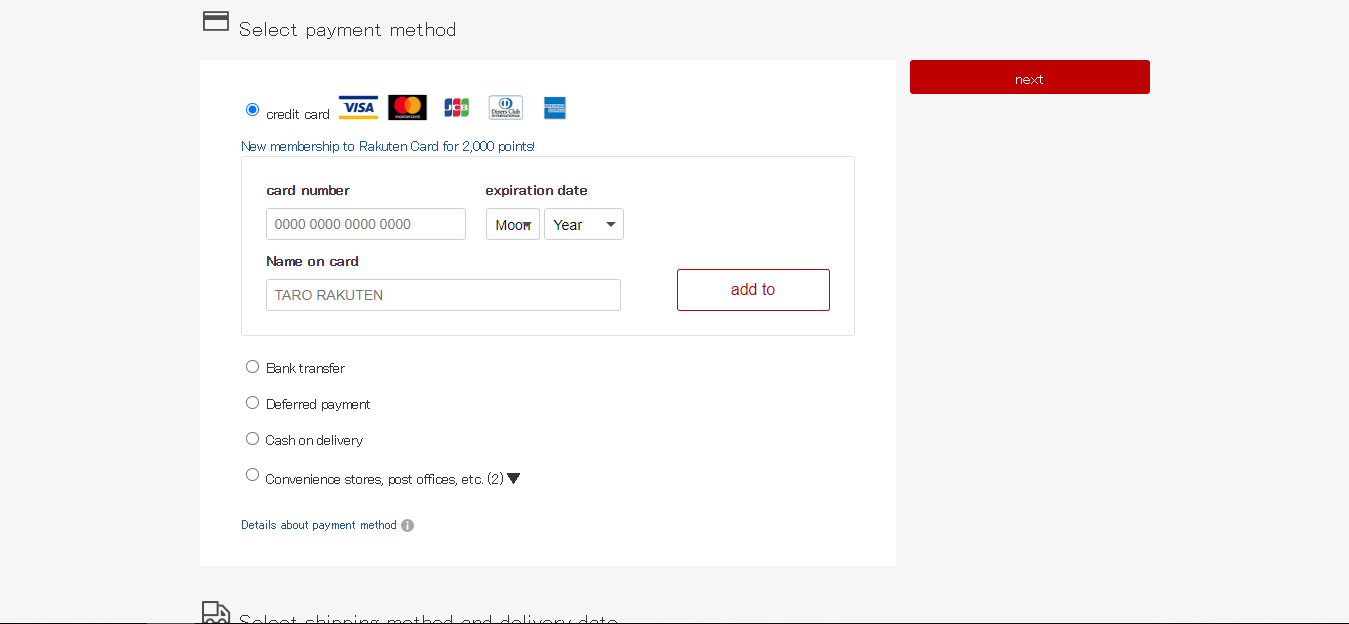 Step 06: Log-In and Select Payment Method
Rakuten will ask you to log in before they redirect you to the Payment and Shipping Method, and since you input your shipping and billing orderer address when you sign up, all you have to do is enter your card details to pay.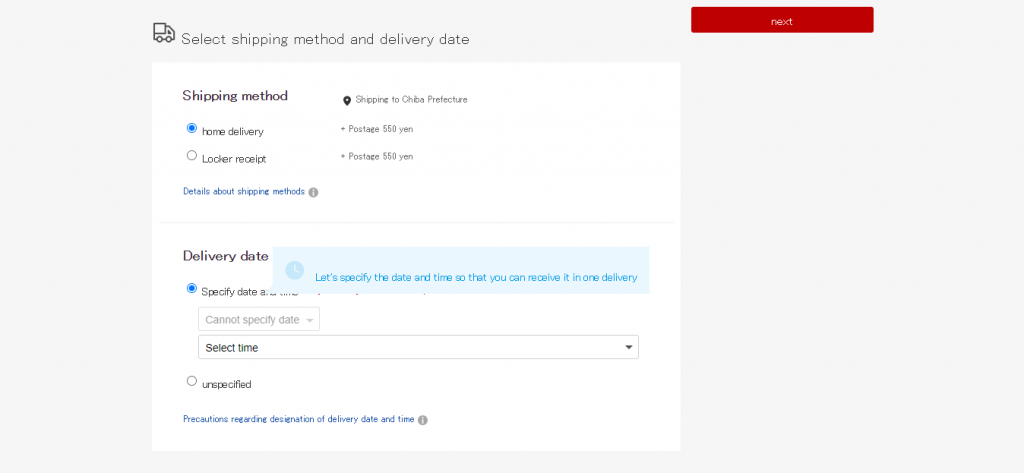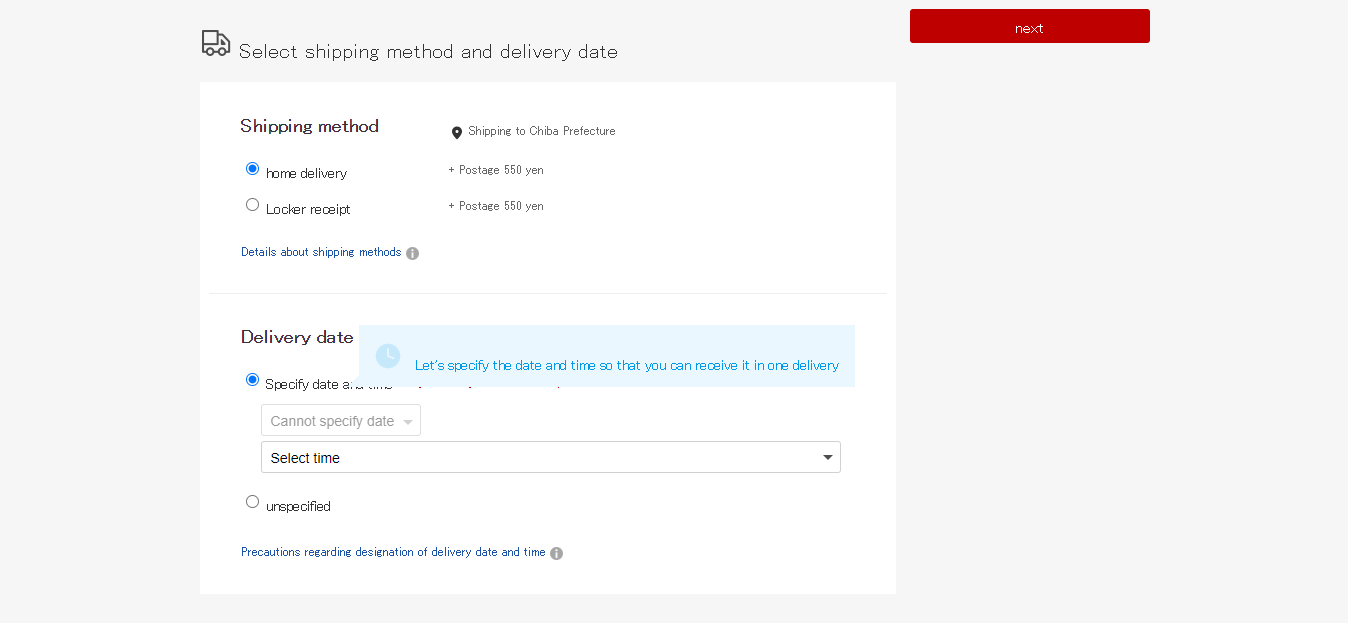 Payment & Shipping Method
Rakuten will ask you to log in before they redirect you to the Payment and Shipping Method, and since you input your shipping and billing orderer address when you sign up, all you have to do is enter your card details to pay.
After entering your credit card details, you will have an option for shipping method and delivery date, enter your preferences, and simply hit "Next" to confirm your order.

Step 07: Review All Your Details and Confirm Order
Check if all of the details you input are correct. Remember, the destination should be our Japan Warehouse Address, and Orderer information should be your Philippine's Address or Credit Card Billing Address. If everything looks good, simply click "Confirm Order"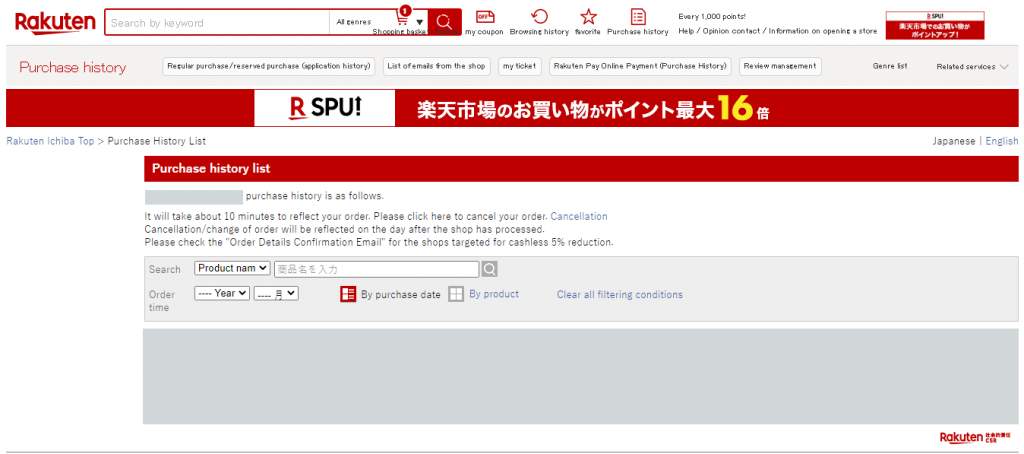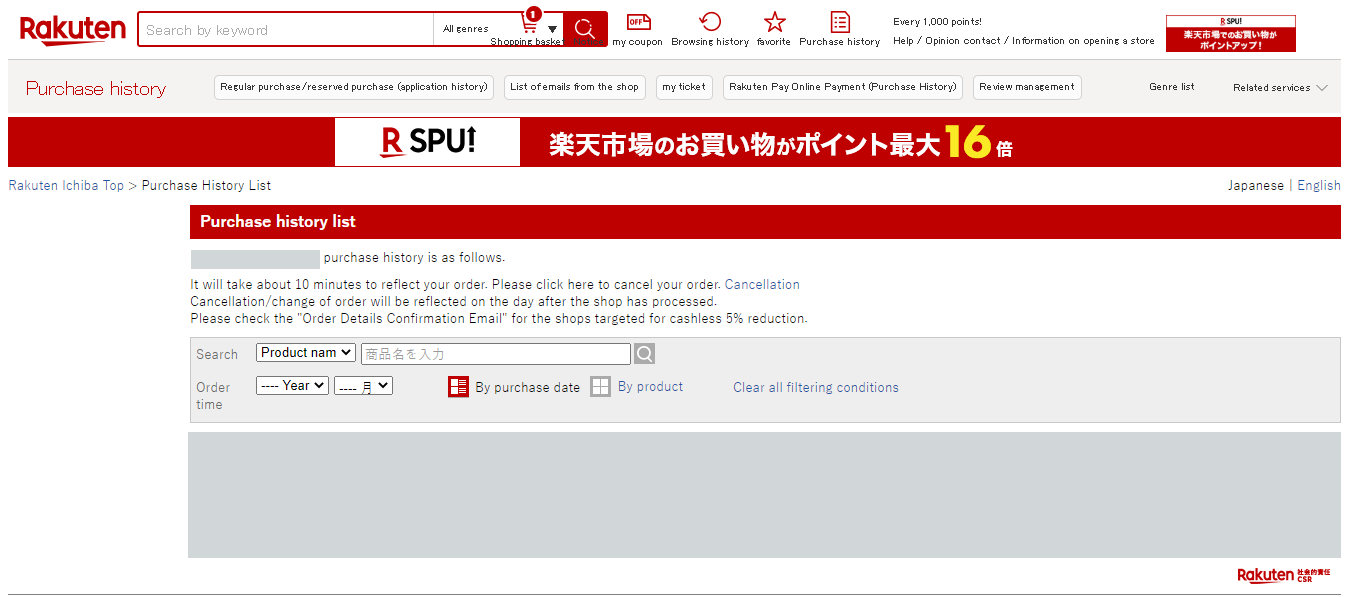 Step 08: Wait For Your Tracking Number
Wait for Rakuten's confirmation email which would consist of your tracking number and order details. If you have an account, simply check the order status under "Purchase History"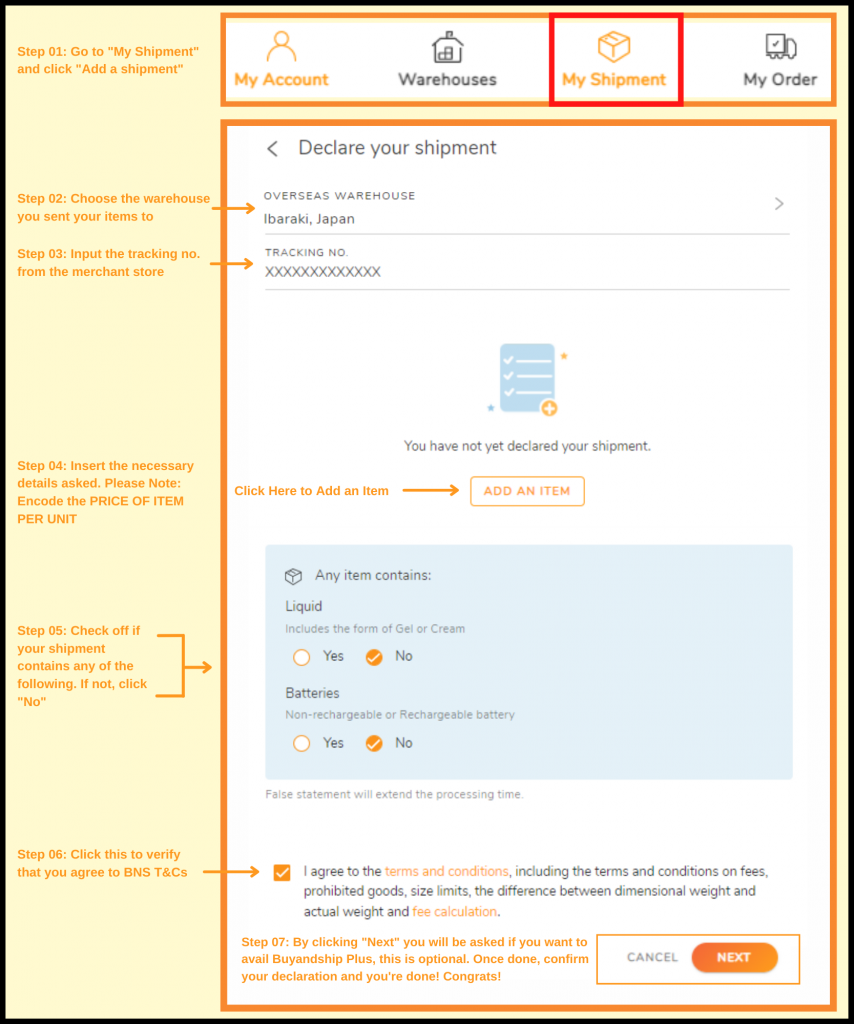 Step 09: Declare Your Shipment
Once you get your tracking code from Rakuten, log in to your Buyandship Account, and immediately declare your shipment. All you have to do is:
Go to 'Parcel Management'
Under My Shipment, click 'Add a Shipment'
Enter the Warehouse you ship it to, in this case, select 'Ibaraki, Japan'
Enter your Tracking Number
Fill out the Product Details (Click 'Add New Item' if you bought multiple items)
Check all of the Terms and Conditions
Hit 'Submit'
If you wanted a more elaborate explanation of how to do it, click here.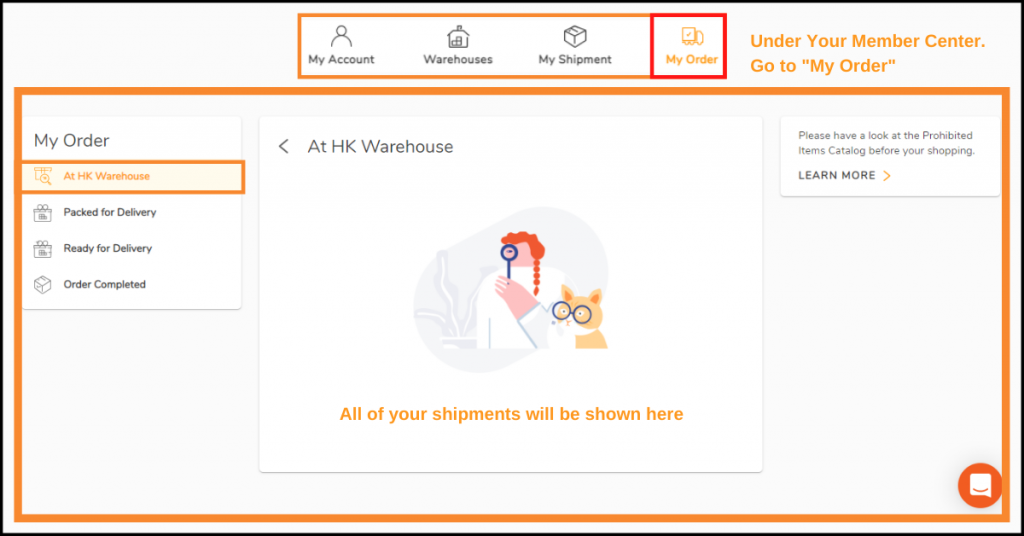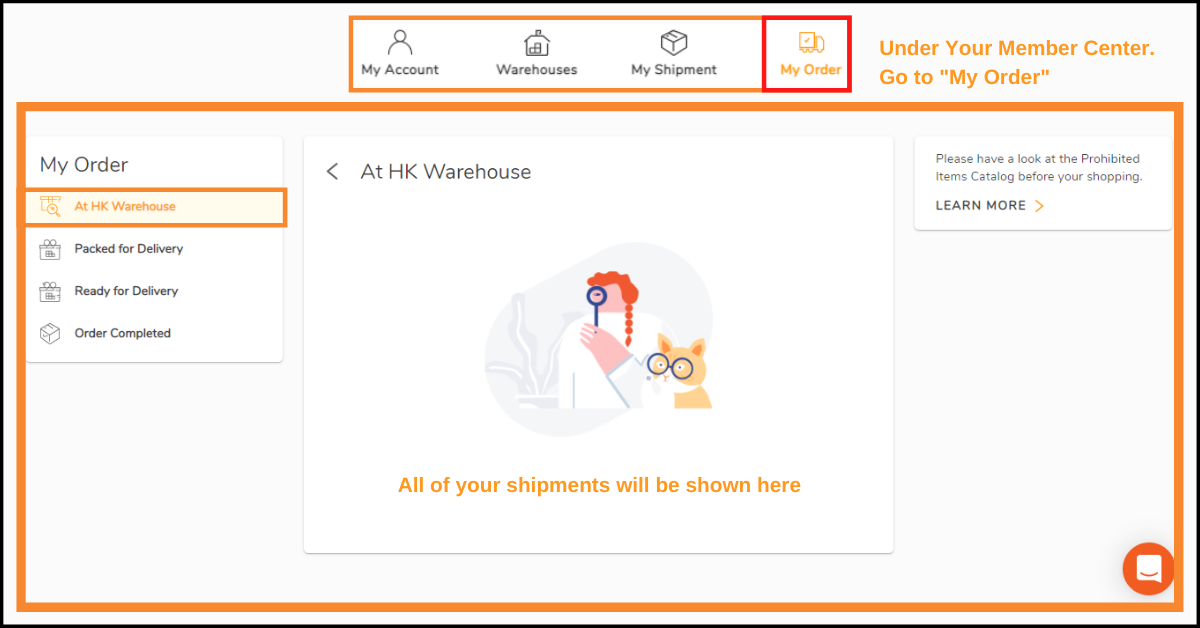 Step 10: Wait For Your Parcel To Be in My Order "Arrived at HK Warehouse"
Once it is in "Arrived at HK warehouse" in My Order, you can checkout your shipments separately or consolidate your shipments (not separate items) by ticking on the box next to your tracking number. Once each shipment arrives HK warehouse you have free consolidation services and 42 days of storage. If you want to checkout, fill out the checkout details, and proceed to payment.


Step 11: Pay For Buyandship's Shipping Rate
We charge purely based on weight so, you don't have to compute for complicated math equations. Plus, we have the lowest shipping rate in the Philippines! We have 2 Pricing Options: Delivered Duty Unpaid (DDU) and Delivered Duty Paid (DDP) Check out the Features of DDP and DDU here.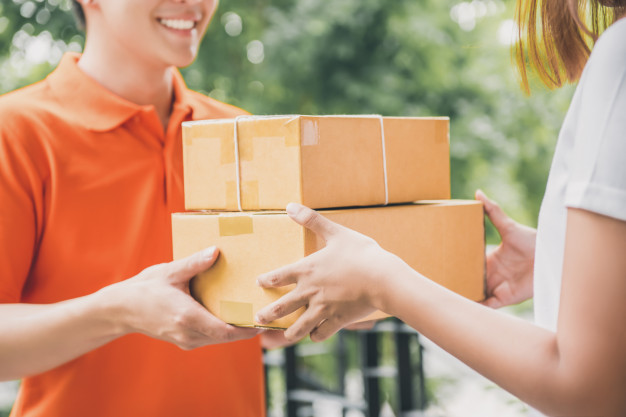 Step 12: Wait For Your Rakuten Parcel at Your Doorstep in the Philippines
Last step! All you have to do is sit, relax, and wait for your parcels to arrive at your doorstep in the Philippines. Enjoy your new products directly from Rakuten Japan!