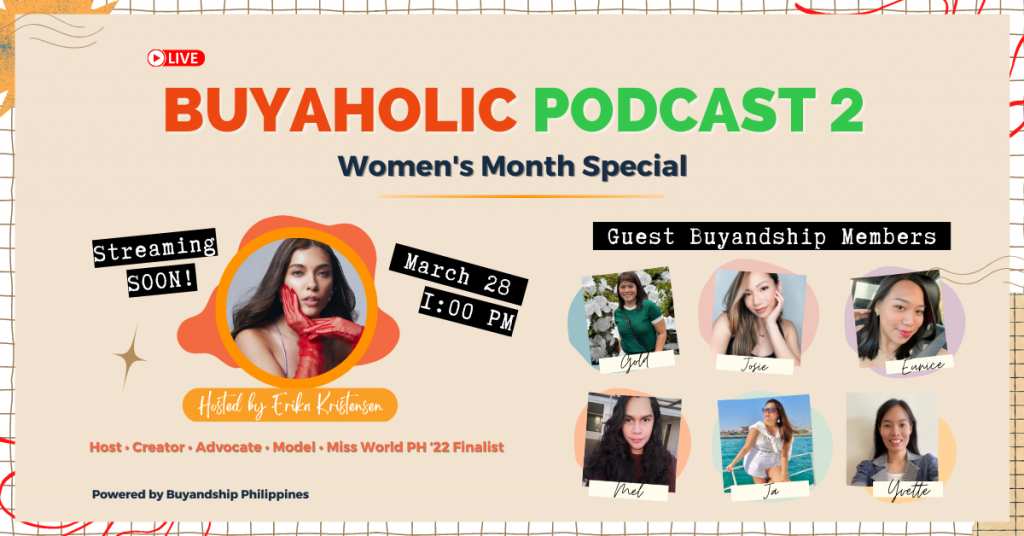 As we celebrate Women's Month, it's essential to recognize the remarkable Buyandship female members that significantly contribute to shaping who we are as a company. This month provides us an opportunity to honor the strength and diversity of our women members and acknowledge how Buyandship Philippines helped break the barriers of online shopping.
For the next episode of the Buyaholic Podcast, we are so excited to announce that we invited Model, Creator, Advocate, and Miss World 2022 Finalist, Erika Kristensen, to host the event! Watch Erika as she chats with our REAL Members, diving deep into hearing their stories: From their personal experiences with Buyandship to their wishlist for the ongoing Easter and Spring Sale~ Tune in to the episode, and see you there Ka-BNS!
🎙️ Host: Erika Kristensen
👩 Guests Buyandship Members: Gold, Josie, Eunice, Mel, Ja, and Yvette!
🗃️ Organized by Adlib Studios x Buyandship Philippines x Brand Nation
🗓 TUES | MAR 28 | 🕘1PM | FB Live