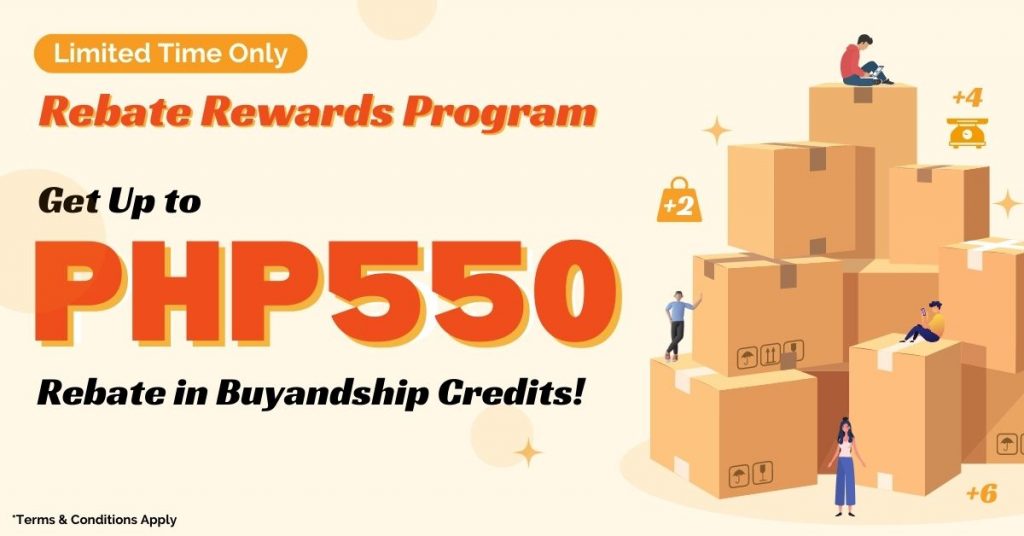 Hi Buyandship Members!
Introducing our exciting Rebate Program featuring tier-based giveaways! From June 9th to June 30th, 2023, for every member order, you can earn shipping credits based on the total weight of your orders. Each eligible member will receive the rebate credit once, and it will be conveniently added to your account within 7-14 business days upon the completion of the campaign. Make the most of this Memorial Sale weekend and discover how you can earn additional Buyandship shipping credits!
| Weight in lbs | Thank You Rebate Credits | Rebate Offer |
| --- | --- | --- |
| 1 lb | PHP 50 | Up to 8% Discount |
| 2 lbs | PHP 150 | Up to 15% Discount |
| 3 lbs | PHP 250 | Up to 18% Discount |
| 4 lbs | PHP 350 | Up to 20% Discount |
| 5 lbs | PHP 450 | Up to 21% Discount |
| 6 lbs & Above | PHP 550 | Up to 22% Discount |
Important Note: What's the Total Chargeable Weight?
If you have 3 shipments, each weighing 1.5 lbs, and you choose to consolidate them into one order, the actual weight of the order will be 4.5 lbs. However, the total chargeable weight of the order will be rounded up to 5 lbs. Your rebate credits will be based on your total chargeable weight checked out in Hong Kong within the campaign period!
Remember, kindly provide ample time for your shipments and note that it takes some time before your shipments arrive in Hong Kong from our overseas warehouses.
Promo Terms & Conditions
The campaign starts on 9 June 2023 and ends on 30 June 2023 at 11:59 PM.
This campaign is open to all Buyandship Philippines members.
Eligible participants are Buyandship users with total chargeable weight checked out in Hong Kong within the promo period. Each member is eligible to receive the rebate credits once.
The completion date and time of shipment orders will be based on the system record.
Credits will be added to users' accounts in 7-14 business days upon campaign completion.
Credits earned through this campaign have a 30-day lifespan.
The credits can be used to pay Buyandship's shipping fee (1 credit is equivalent to PHP1)
All credits cannot be transferred to other member accounts and cannot be exchanged for cash.
By participating in this campaign, the customer states that he/she understands and is willing to abide by the terms and conditions of the campaign.
Buyandship reserves the right to limit entry, amend rules, or cancel, terminate, modify, or suspend the campaign if considered necessary without prior notice.
In case of any dispute, Buyandship will reserve the final decision.
---
We are so grateful to all of our Buyandship members for making this promo possible! Your support inspires us to work even harder to provide you with the best possible cross-border e-commerce experience in the Philippines. We hope you will continue to do all of your overseas shopping with Buyandship, and we look forward to your purchases during the campaign period.