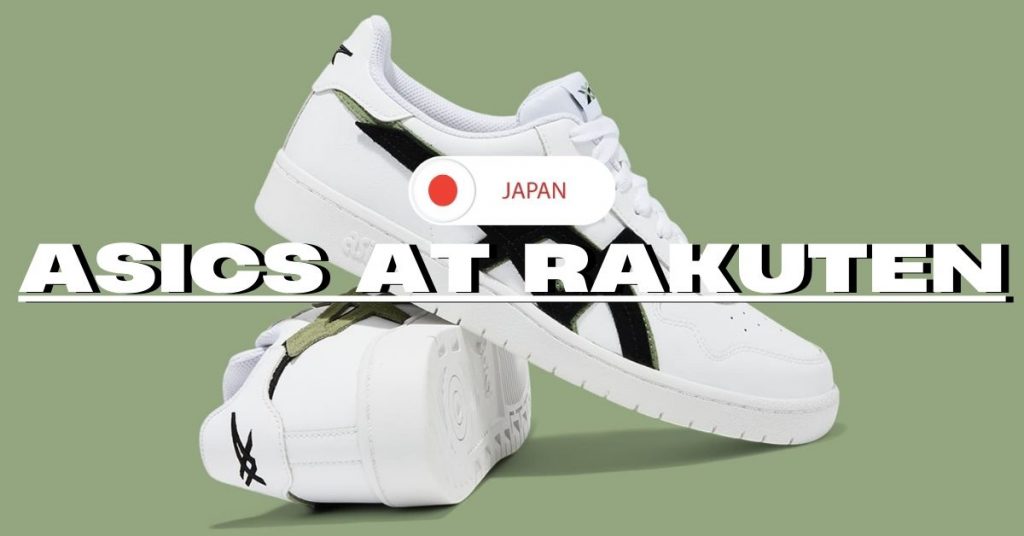 Asics is a Japanese sportswear brand that offers a wide range of sportswear and equipment for your daily workout and sports like football, tennis, baseball, and more. Their sportswear is functional yet perfect for daily wear! Did you know you can shop on ASICS Official Online Store on Rakuten Japan for a wider selection of styles compare to locally in the Philippines? You can find ASICS styles that are exclusively sold in Japan while earning rebates on Rakuten points too!
ASICS official store on Rakuten doesn't offer international shipping to the Philippines, but you can shop your favorite ASICS styles from Rakuten Japan and ship to the Philippines hassle-free with the help of Buyandship! Read on for some of the most popular styles you can save on – many of them aren't available in the Philippines!
🔥 Exclusive Offer : Buy JPY6000 and get JPY700 Off during Super Sale! Collect your coupon here!
Table of Contents:
► Popular Running Shoes to Shop from ASICS
► Popular Lifestyle Shoes to Shop from ASICS
► Popular Clothing to Shop from ASICS
► Step-by-step Tutorial: How to Shop ASICS from Rakuten Japan & Ship to the Philippines?
💡 New to Rakuten? Find Out More About the Largest Online Shopping Site in Japan & How to Sign Up as a Member Here!
Popular Running Shoes of ASICS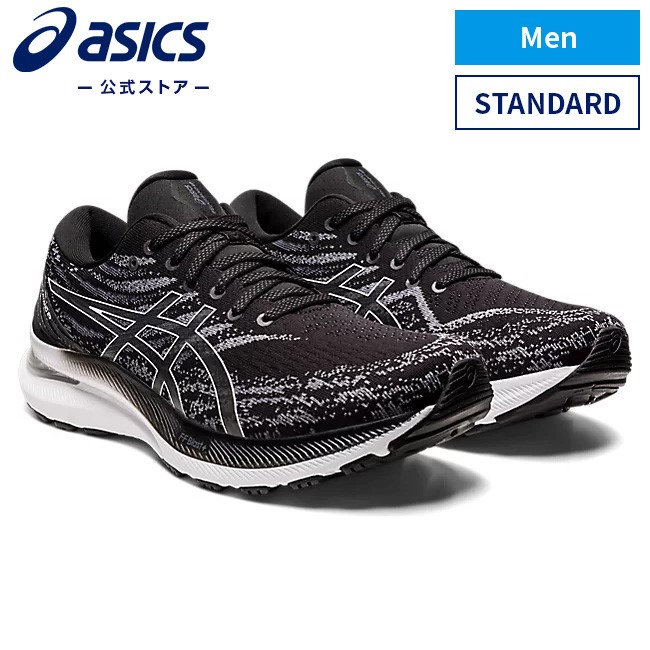 ASICS Gel Kayano 29 Men's Running Shoes
The Gel Kayano shoe creates a stable running experience and a more responsive feel underfoot.​ ​Featuring a low-profile external heel counter, this piece comfortably cradles your foot with advanced rearfoot support.​
Not Available in ASICS PH
JP Price : PHP7,182.31 ( JPY17,600 )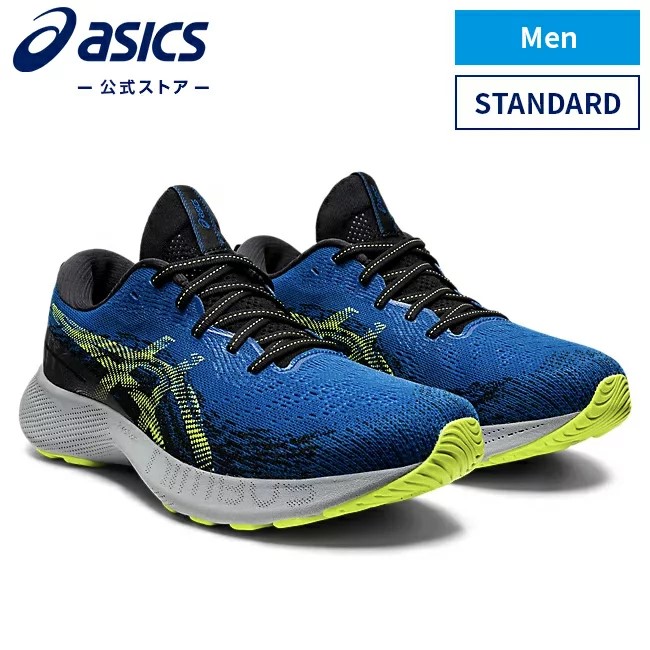 ASICS Gel Nimbus Lite 3
Designed with recycled materials, the mesh upper provides better support, breathability, and comfort. With laser-cut details in the tooling, these features lighten the load placed on your body and the environment!
Not Available in ASICS PH | Colorway Not Available
JP Price : PHP4,937.84 ( JPY12,100 )
Popular Lifestyle Shoes of ASICS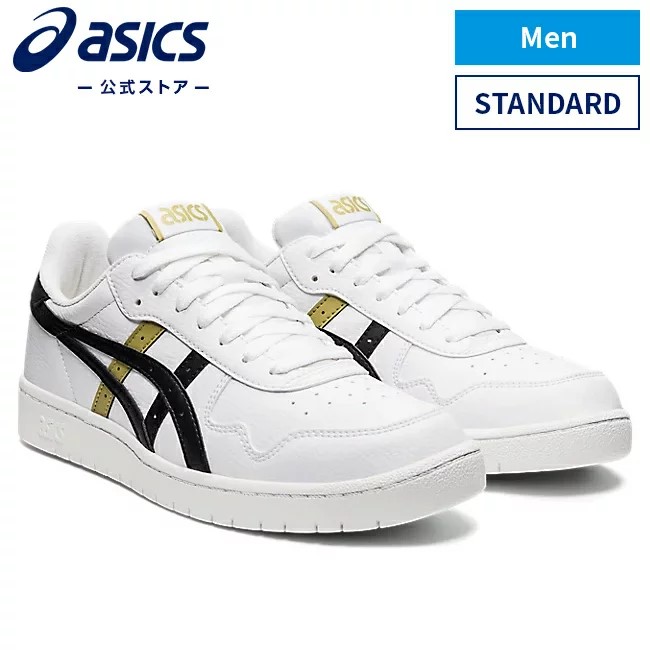 ASICS Japan S Low Cut Men's Sneakers
Inspired by "FABREJAPAN-S" released in 1981 that loved by basketball players, this Japan S model has been updated as lifestyle shoes. It's lightweight with cushioning, featuring a classic silhouette that goes with any of your outfits!
Not Available in the Philippines
JP Price : PHP3,591.15 ( JPY8,800 )
Popular Clothing to Shop from ASICS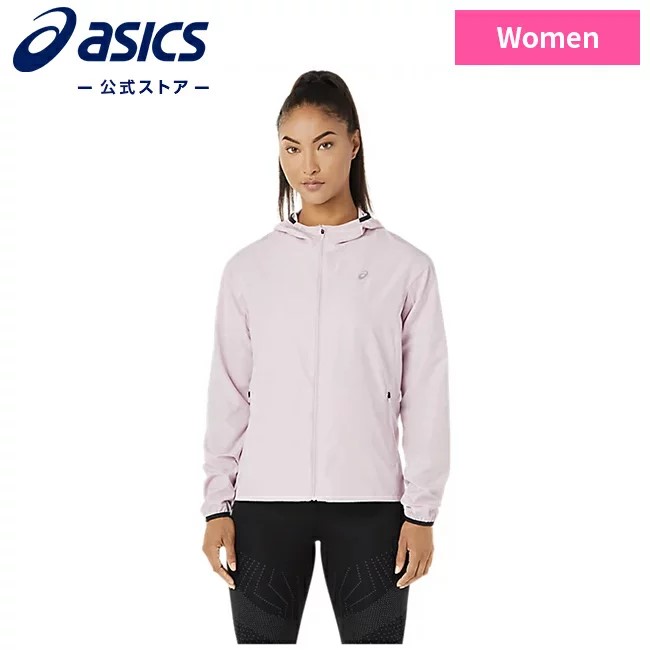 ASICS Women's Running Windproof Jacket
A lightweight jacket that is windproof and water-repellent for light rain and wind. Well-ventilated underarm enhances breathability, perfect for a workout! It becomes reflective in the dark so you can run safely even at night time!
Philippines Price: PHP 4,290
JP Price : PHP3,142.26 ( JPY7,700 )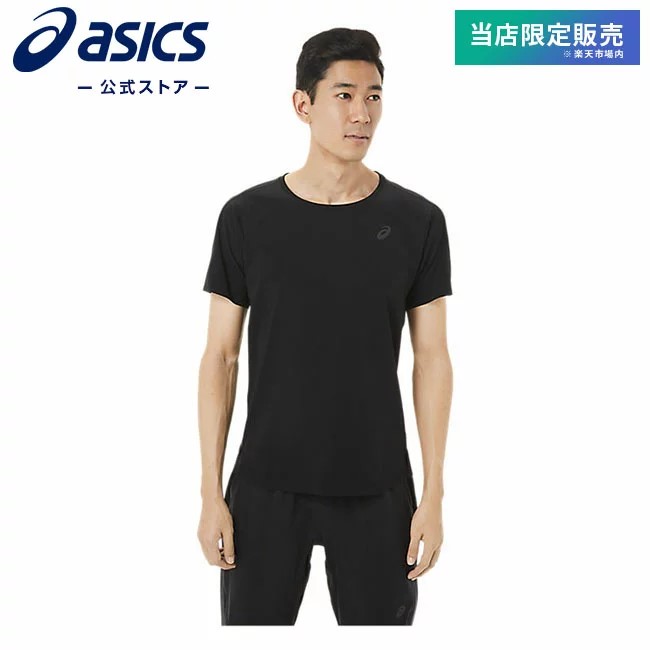 ASICS Men's Metarun Short-Sleeve Performance Top
Exclusively sold on ASICS official store on Rakuten, the top is lightweight, breathable, and stretchy. Recommended for runners who are serious about training and competing!
Not Available in the Philippines
JP Price : PHP2,513.81 ( JPY6,160 )
💡 Note: Product prices, quantities, etc. may change due to sales. All are subject to change. We do not own any of the pictures above nor affiliated with the brands mentioned. All credits are due to all of the brands featured in the article unless otherwise specified.
How to Shop ASICS from Rakuten Japan & Ship to the Philippines?
Step 1:Go to Buyandship website to log in or register as a member.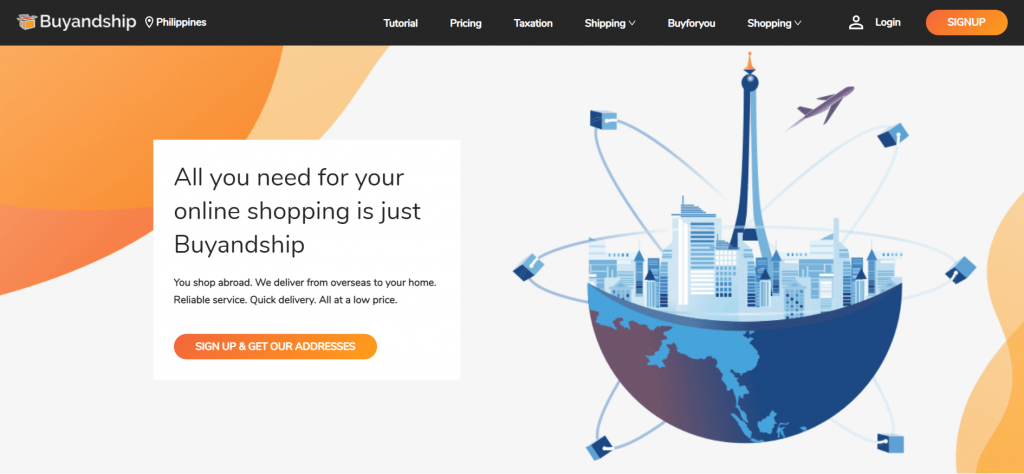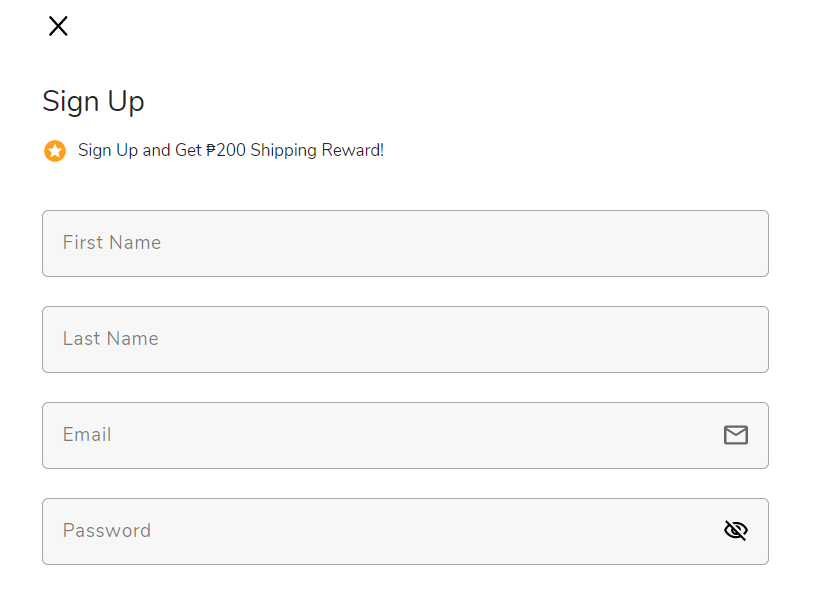 Step 2:Fill in your first and last name, and email address and set your account password. Click "Sign Up" once the details are completed.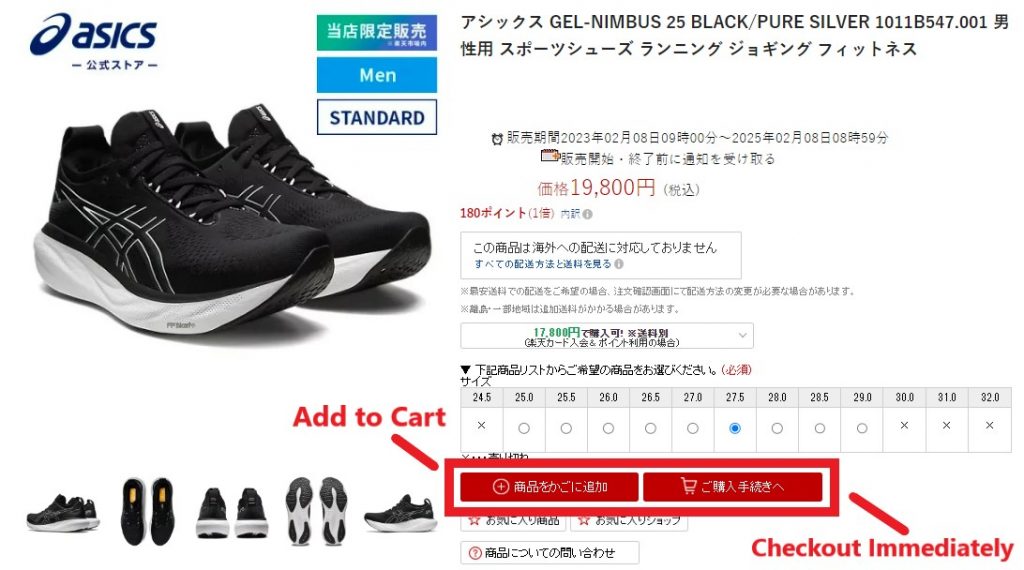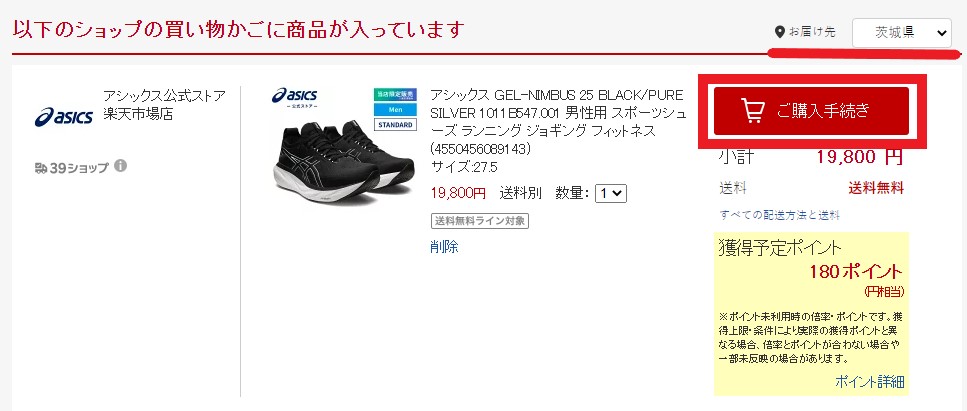 Step 4:Go to your shopping cart, and select "茨城県 (Ibaraki Prefecture)" as the shipping location from the upper right corner.
Check and make sure the correct items are added to the cart and proceed.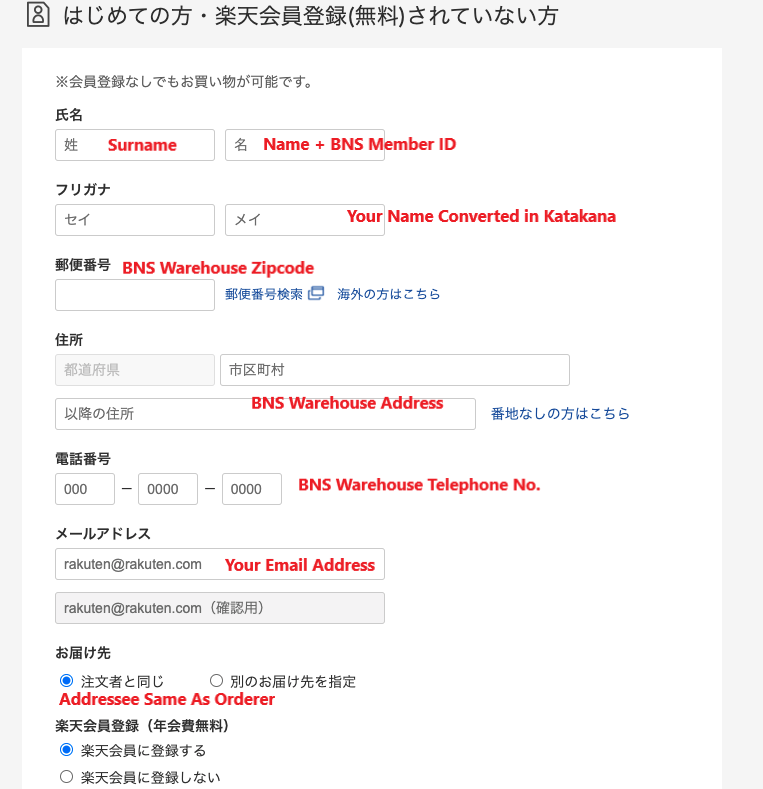 Step 6:Fill in the delivery address. Go to the "Overseas Warehouse Address" on your Buyandship member centre and select "Japan" to view the information about Buyandship's Japan warehouse.
In the name session, please enter your name and Buyandship membership number (e.g. PHXXXXXX). For the "フリガナ", you need to convert your name into Japanese Katakana (click here to convert). Once it's converted, copy and paste it onto the name bar.
Step 7:You can choose whether to register as a member on Rakuten. If you don't want to register, you can click the second box "楽天会員に登録しない".
It's highly recommended to register as a member if you shop often on Rakuten as you can save payment and shipping details on your account for faster checkout next time, and earn points!
Set your password if you proceed with registration.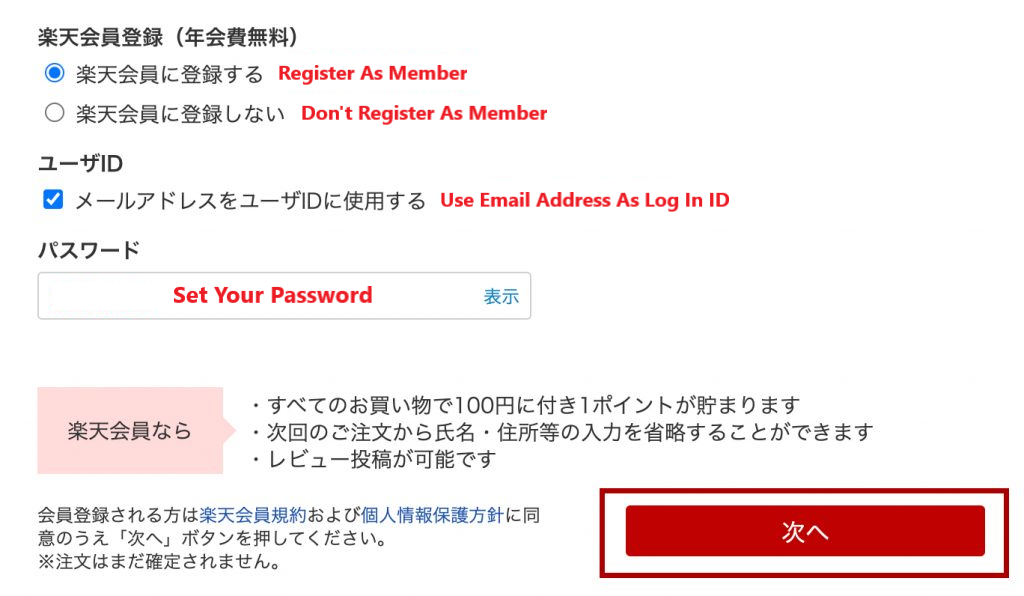 Step 8:Proceed onto the payment page, fill in your credit card information to settle the payment, and then click "次へ".
Step 9:Confirm your order information, and then click "OK" (the red box shown). You'll receive an email confirmation once the order is submitted.
Step 10:Once you've received a shipping notification email from Rakuten, go to your member centre and declare the shipment on Buyandship to receive your package as soon as possible!
💡 Members can purchase Buyandship Plus during the parcel declaration process. The fee will be 3% of the declared value of your parcel, which will be collected together with the delivery fee.
Remember to declare your Rakuten shipment with product links to get a PHP5/lb declaration reward and/or post your Rakuten Shipment on our FB Group to be eligible for our #BNSRakuten Campaign where you'll win PHP335 Buyandship Credits!