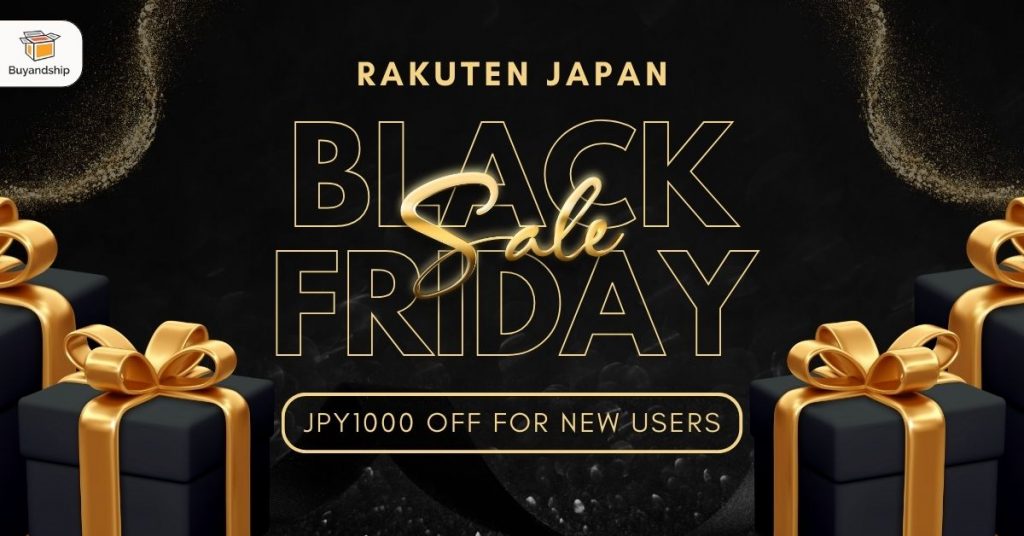 Are you ready for the ultimate Black Friday shopping experience? Brace yourself for a deal that's practically too good to be true! Buyandship has teamed up again with Rakuten Japan to bring new users an exclusive offer that can make your first purchase up to 100% off! Yes, you read that right – it's essentially free shopping for a limited time. This promotion operates on a first-come, first-served basis, and Rakuten has a limited supply of 2,000 coupons available from November 21 to November 27. Scroll down to see more details on how to secure your coupon!
Buyandship x Rakuten Japan Exclusive Coupon Details
Buyandship x Exclusive Rakuten Japan Coupon
Promotion Details
Promotion Type
Rakuten Japan shopping coupon for first-time Rakuten users or existing Rakuten Users who haven't made their first purchase yet
Validity Period
2023/11/21 00:00 – 2023/11/27 23:59 (JST)
*Please note that it's in Japan time
Discount
JPY1000 Off for purchase JPY1000+ (Free or Up to 100% Off!)
Applicable Shops
Over 50,000 shops on Rakuten Japan
Terms and Conditions
Limited to the first 2000 eligible orders on a first-come-first-served basis
Exclusively for members who haven't made any purchases on Rakuten
1 time use per Rakuten user
Cannot be used in conjunction with other coupons
Vouchers are only valid for Rakuten Japan orders shipped to Buyandship's Japanese warehouse address.
Please note: Existing users, please refrain from creating a new Rakuten account solely to benefit from the promotion. Engaging in this practice may result in flagging and subsequent banning by Rakuten Japan. Let's ensure a smooth and enjoyable experience for all users by adhering to these guidelines.
Get Coupon
Click: https://bns.is/3G4UnLB
Rakuten Japan Coupon
Rakuten Japan is one of the largest shopping platforms in Japan, with over 50,000 local shops offering everything from Japanese stationery, snacks, and apparel to outdoor products and more. Rakuten Japan offers regular promotions, during which you can accumulate your Rakuten points and get a rebate of JPY1 for every 1 point, which can be redeemed on your next purchase! Buy more save more!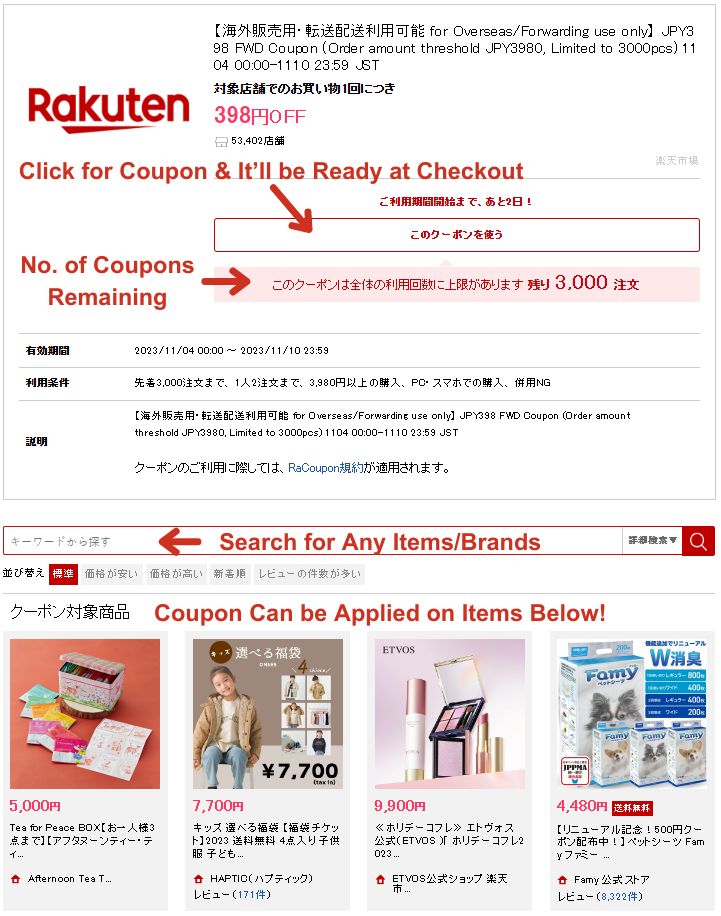 How to Use Your Coupon?
Once you are on the payment page, the "クーポン利用" section will show you how many vouchers are applicable to you. Select the Buyandship exclusive voucher and click "变更".
Must-Buys from Rakuten Japan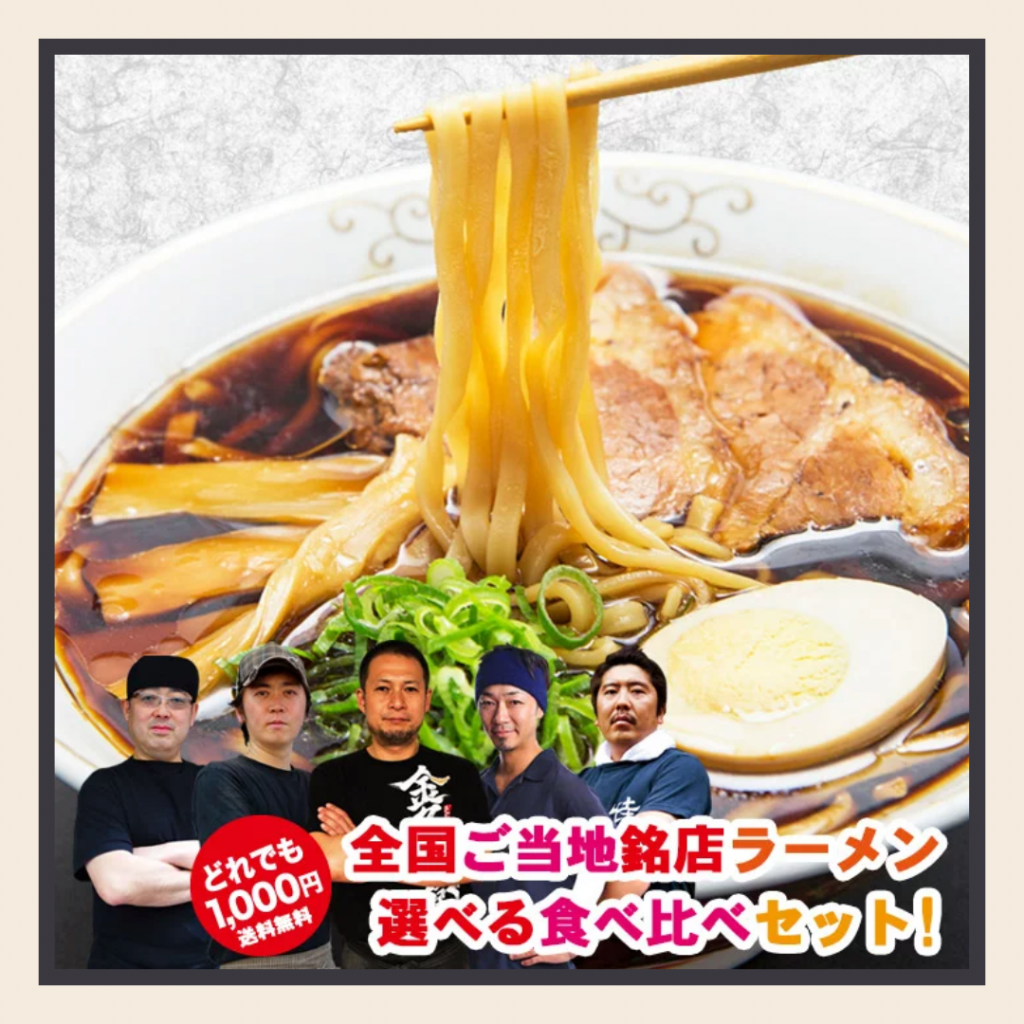 Rakuten Ichiba Gourmet Awards 2019/2021 Ramen Category Winners – From 15 Shops
You can now shop and taste Japan's famous ramen from 15 shops nationwide without booking a ticket to Japan! Now available in instant packets, pick which one you love/s and explore only the best via Buyandship, fresh from Japan!
Price: PHP 371.88(JPY1,000)
Get it for Free with Rakuten x Buyandship Coupon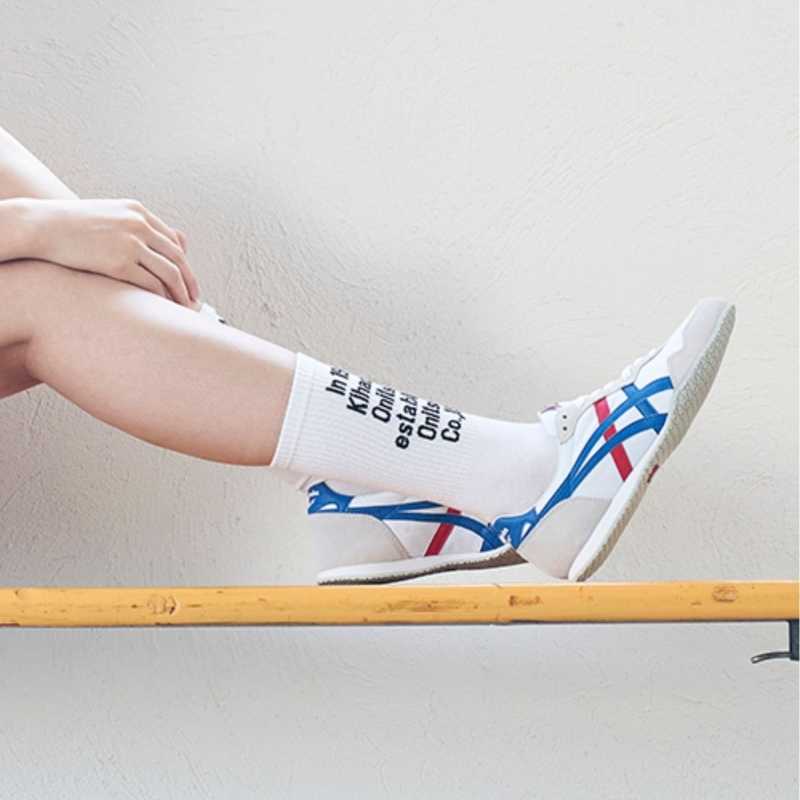 Onitsuka Tiger Serrano
Based on its innovative yet simple design, the SERRANO™ model is a contemporary classic for daily wear, known for its iconic and simple design.
Price: PHP 3,681.66(JPY9,900)
Use the Rakuten x BNS Coupon to Get JPY1000 Off!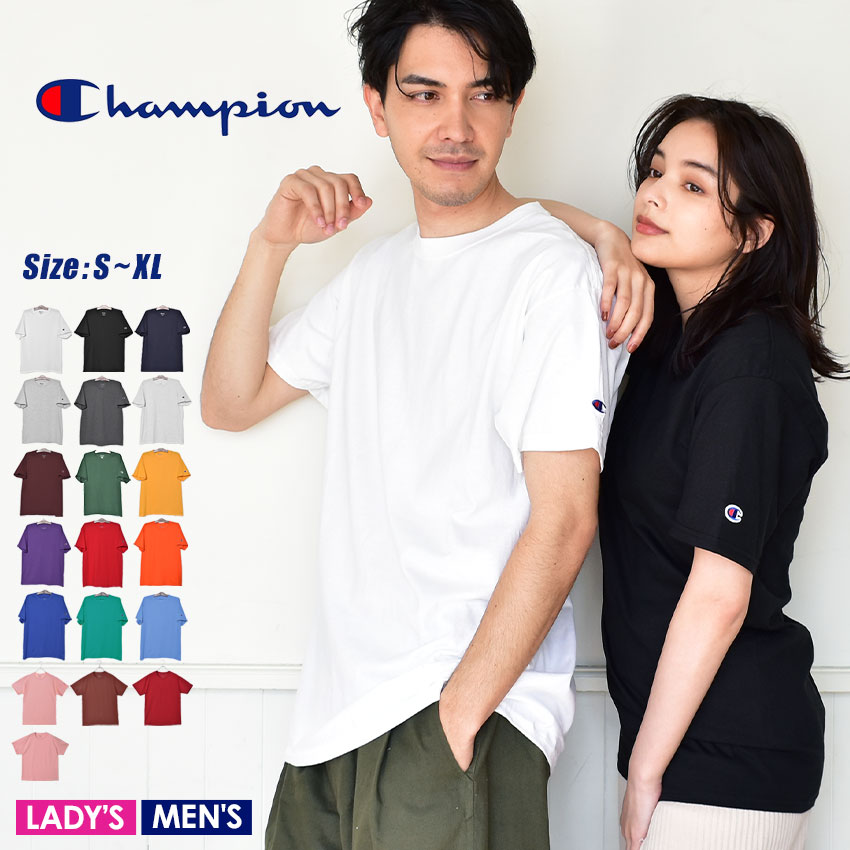 Champion Logo Crewneck Shirt
Discover the epitome of understated elegance in crewneck T-shirts! Featuring a subtle yet iconic mini Champion logo on the left sleeve, these T-shirts are available in 16 colors.
Price: PHP 409.36(JPY1,100)
Use the Rakuten x BNS Coupon to pay only PHP38!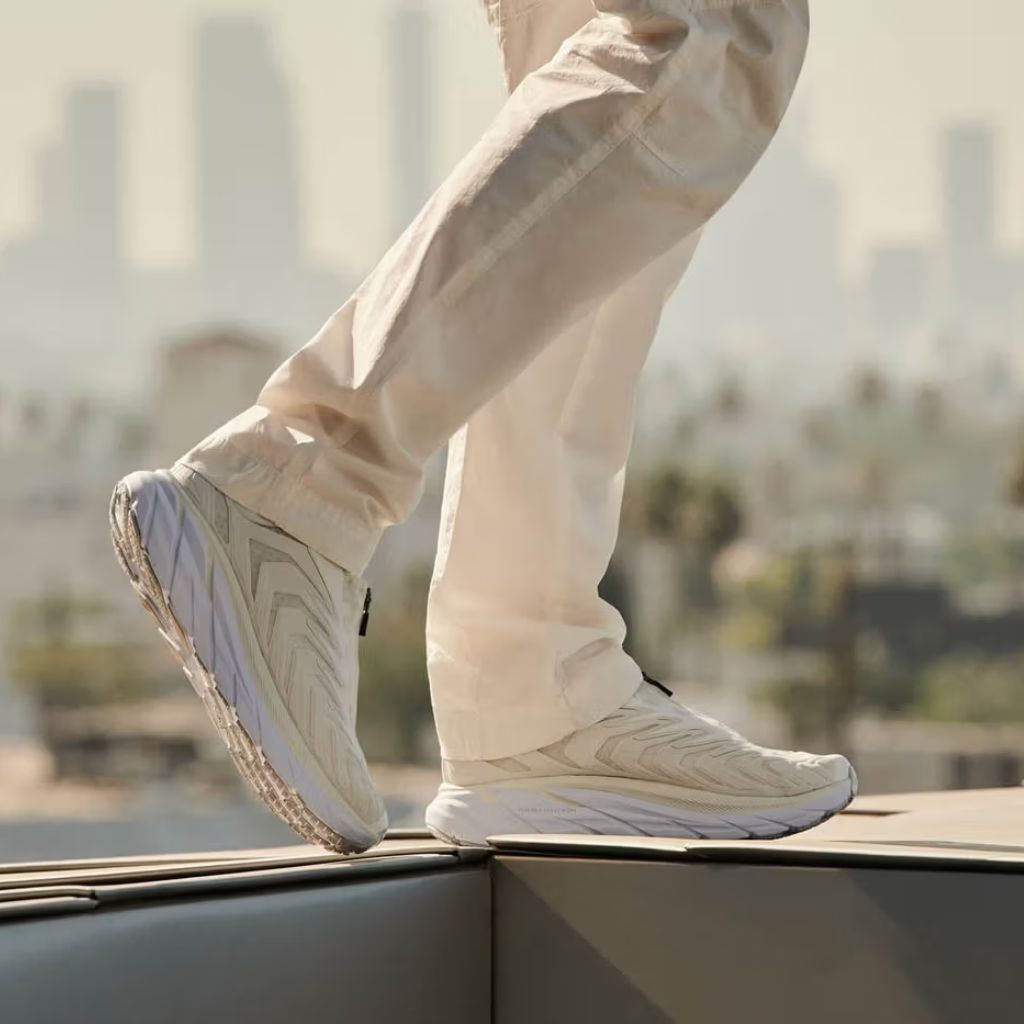 Hoka One One Project Clifton/Sneakers
Engineered for supreme comfort and maximum performance, these sneakers elevate your every step. With a lightweight construction and signature Hoka cushioning, the Project Clifton is your go-to for a responsive and energizing run.
Price: PHP 11,977.24(JPY32,200)
Use the Rakuten x BNS Coupon to Get JPY1000 Off!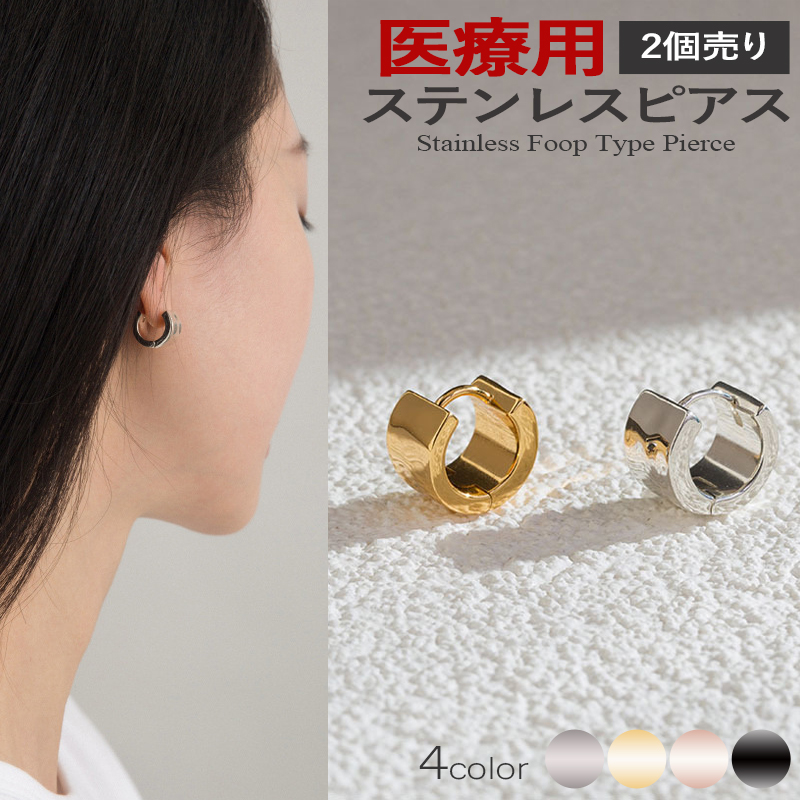 Stainless Small Hoop Earrings
Elevate your style with our Stainless Steel Earrings collection—crafted with 316L precision for metal allergy compatibility. Delicate yet durable, these earrings are perfect for you!
Price: PHP 371.88(JPY1,000)
Get it for Free with Rakuten x Buyandship Coupon