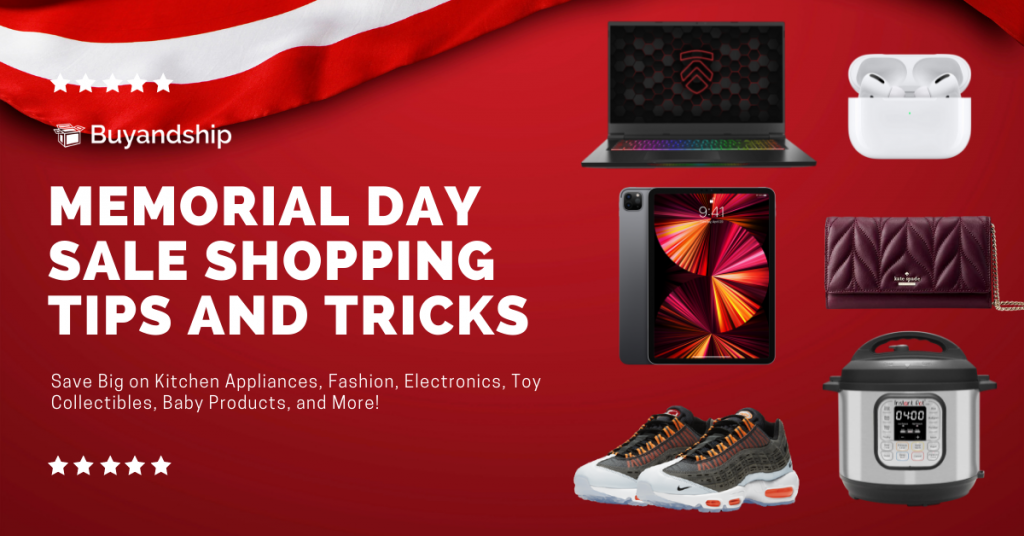 Excited about the next big US Sale Event? So are we! But let's calm down for a moment and get down to the basics of the Memorial Day Sale~ Scroll down to see the quick rundown on tips and reminders you need to know when using Buyandship for your Memorial Day purchases.
Take advantage of the myriad of discounts and sales from overseas online stores during one of the largest sale events in the US! Count on Buyandship to ship your Memorial Day haul directly to your doorstep in the Philippines!
Your Ultimate Shopping Guide To Memorial Day Sale 2022
#1 Line Up Your Schedule and Lock Key Shopping Dates
Memorial Day in the United States is the last Monday of May every year. It's a federal holiday to observe, reflect, and have awareness and reverence for those who have died defending America. It lands on May 30 this 2022.
It's also one of THE biggest sale events of the year and a lot of major brands will offer huge offers of Up to 90% OFF and More this weekend. Make sure to check all the dates and expiry of these offers so you don't miss out on anything. Whether it's apparel, electronics, home decor, or appliances, everything will be on sale!
# 2. Pay Attention to Different Time Zones
Most of the online stores start discounts following the west coast time. This year, Memorial Day Sales are already starting as early as today throughout this long weekend. But please note some brands are extending their sale offers even though Memorial Day is officially over!
# 2. Keep an Eye Out on Flash Deals/ Limited Time Offers
The flash promotion of the Memorial Day Sale usually happens 1-2 days before the holiday, some brands already offer flash deals or limited-time offers. Make sure you researched beforehand such as the average price of what you've wanted to buy or the cheapest platform to buy it from. In that way, when you see your desired products on sale, you can easily tell if it's a steal or a trap. Make sure to buy it quickly and have it shipped to one of our location warehouses before it runs out of stock!
# 3. Prepare Your Shopping List and Create an Account to the Respective Online Store
Start formulating your shopping list now, add the product page to your favorite bookmarks, or pre-add it to your Wish List on the website. As long as the discounted price is launched in the next few days, you can directly add the product to the shopping cart without any hassle and proceed to checkout easily.
Remember to fill in Buyandship's Warehouse Address to your Address Book to save more time and score huge deals.
# 4. Prepare Your Credit Card and Apply for Paypal in Advance
Some online stores abroad may not accept foreign credit cards. Aside from that, there are also some brands that only accept Paypal as a payment method. To avoid payment issues, prepare multiple payment options today and make sure that your credit cards are not blocked from making overseas transactions.
Make sure to shop at stores that accept foreign credit cards as well and apply for a Paypal Account in advance, so you're one step faster than the others!
One more thing: Here's a trick we gathered from our Buyandship Members who had a successful transaction with online stores (especially the tricky ones.) Call the Customer Service of your local bank in advance and tell them to allow the cross-border e-commerce transaction. Right after payment, confirm again with your bank to make sure your payment wasn't blocked to ensure a smooth transaction with your Memorial Day Sale purchases.
# 5. Understand the Local Shipping Fee
We understand the excitement of online shopping, but one of the most important things you have to pay attention to is the local shipping fee. Although there are a lot of online stores that offer local free shipping, some only offer free shipping if you type in the promo code. So please remember to double-check to ensure you get the best deals!
# 6. Open a Buyandship Account for a Better Overseas Online Shopping Experience and Get FREE PHP50 upon Account Verification
Having a Buyandship account is an advantage, especially with all the Memorial Day Sale Offers right now. Many international websites do not provide overseas direct delivery services to the Philippines or if they do, chances are they charge high international shipping fees that cost higher than the cost of your purchase product.
With Buyandship, you'll get access to 13 locations worldwide (U.S (Portland and California,) U.K., Japan, Korea, Indonesia, Italy, Australia, China, Hong Kong, Taiwan, Canada, and Thailand) which means 12 regions to shop from! You're no longer limited to online shops in the Philippines. If Buyandship's shipping rate is what you're worried about, fret not, we only charge you purely by weight at the lowest shipping rate~ No hidden charges!
And since the US is known for its Black Friday Sale, did you know that our US Warehouse in Portland is in a Sales-Tax Free Zone? That means you can buy as many products without getting taxed by the US Customs! Click here to learn more about our "No US Sales Tax" Feature.
You can also use our New LA California Warehouse Address to shop on brands that don't ship to No US Sales Tax Zones like Macy's, Best Buy, Target, and More! Click here to get your LA Warehouse Address
---
Parcel Forwarding Tips For Your Memorial Day Sale Haul
No one wants to miss the lowest deals from the Memorial Day Sale Unfortunately, many major US retailers do not offer international shipping, but you don't have to worry about that since Buyandship is here to help!
Every second matters when you're shopping for the Memorial Day Sale. Therefore, saving our warehouse address as a default on every single online store you're planning to shop is an important move. The faster you make a purchase, the sooner your shipments will arrive at our warehouse and be ready to deliver to you. We've written some tips just for you:
1. Address Filling Format
Go to your dashboard > Overseas Warehouse Addresses and simply copy and paste our addresses to your shipping information, depending on which warehouse you wanted to ship your products to. In addition to this, make sure to fill in the Buyandship Membership ID in "Name" so, it would be easier for us to sort your parcel once it arrives at our warehouse.
Again: You MUST add your Buyandship User ID (PHXXXXXX) in the 'Last Name' or 'Address' Tab, so we can easily identify your parcel once it arrived in our warehouse.
2. Payment Method and Billing Address
Just like what we stated in the earlier part of the blog, most international Web Stores either/both accept internationally-accepted credit/debit cards and Paypal as the mode of payment. Please take note to use your Real Name and Credit/Debit Card Address and upon the billing section to ensure a hassle-free transaction.
Please Note: There are some stores like Walmart, Apple, Gap Factory, and More that only allow US Billing Addresses. You can use our Warehouse Address on these transactions or use GCash AMEX and copy the provided US Billing Address. Kindly note that these are case-to-case basis so, researching beforehand is a must.
3. Declare Your Shipments Immediately
Declare your parcels immediately once you get your tracking number from the merchant store! If you haven't declared your parcel before its arrival at the warehouse, the check-in time of your parcel will be delayed for 3-5 working days as priority will be given to those pre-declared parcels. It's vital that once you receive the tracking number from the merchant store you shop from, declare your shipment to your BNS Account. Click here to learn more about how to declare your shipment.
If there is no tracking number provided from the seller and if the seller filled out your shipping address correctly with your member ID, and was delivered to our warehouse, please wait for an email from us that you have an "Undeclared Shipment" In that same email, there is a tracking number in which you can just copy and paste and declare your shipment. Once you have declared your shipment it should move to "Arrived at Overseas Warehouse" status in Parcel Management.
Please note: Due to the high volume of orders during this sale season, the check-in time of your parcel may take longer than usual. Please be patient and contact our Customer service, in case your parcel hasn't been checked in after a few days.
4. Shipment Size Restrictions
If deemed necessary, our warehouse will repack and replace packaging without prior notice. Every single shipment (Per Tracking number) must not exceed 55 pounds for Metro Manila and 20 pounds for Non-Metro Manila. If the single parcel exceeds 20 pounds, please do not consolidate it with other parcels. After the parcel consolidation:
The sum of all 3 sides cannot exceed 150 CM
Each side must not exceed 100 CM
Volumetric Weight can not exceed 5 times the actual weight
Calculation for Volumetric Weight: [Length (CM) x Width (CM) x Height (CM)] ÷ 6,000 x 2.2046
If the parcel exceeds any of the above limitations, additional charges may be required. The overseas warehouse may also reject the parcel or the delivery fee may be calculated by Volumetric Weight.
5. Prohibited Goods
Please read "Prohibited Items Catalog" before shopping. If you have doubts or unclear products, you can always send us the product link on Facebook, Instagram, or start a webchat on the site to confirm if we'll allow your item. It's better to be safe and sure, above all.
6. Follow Buyandship on Social Media and Subscribe to Our Newsletter for the Best Black Friday Deals
Other than our Website, Newsletters, Facebook Page, and Instagram. We have a community in our FB group where we post all of the latest deals and updates regarding Buyandship. You can also share with our members your shopping experience and concerns regarding Buyandship or overseas shopping in general. Join us if you wanted a community to relate to or share great tips and deals with; we'll be waiting for you!
7. Buyandship's Payment Options
Buyandship's Delivery fee is purely based on the weight of your shipment. We currently have 2 pricing options—Delivered Duty Unpaid (DDU) and Delivered Duty Paid (DDP). Click here to learn about DDU and DDP.
For DDU, your shipment will pass through the Philippines Customs. Please note if above Php 10k combined value at the time of assessment by PH customs, there are PH customs clearance fees separate from our shipping fee. That is paid to local courier COD and sent to your home. But if it's below the PHP10k combined value, just our shipping fee then which costs Php 620 1st LB, succeeding LBs Php 380/lb.
For DDP, Buyandship will pay for the duty and tax of your order as long as there's no false declaration of your shipment. However, we will charge you back if you have misdeclared the parcel value according to the PH Customs assessment. This option is PHP620/lb.
8. Consolidation & FREE Storage in Hong Kong Warehouse
All shipments are sent to HK and you checkout in HK before PH. The idea is you shop around the world and it goes to HK before PH, once each shipment arrives in HK you have free consolidation services and up to 42 days FREE storage.
You cannot separate items you can consolidate (combine shipments) as we treat each shipment per tracking number. You can also choose to checkout separately as well if it is sent into our warehouse separately (ie. different delivery addresses)
For example, you have three shipments which are tracking number 1 from USA, tracking number 2 from UK, and tracking number 3 from South Korea. The final chargeable weight:
Shipment 1 (1.2 lb) + Shipment 2 (1.2 lb) + Shipment 3 (1.2 lb) = 4 (3.6) lb
Learn More About Consolidation HERE
---
Additional Notes to Keep in Mind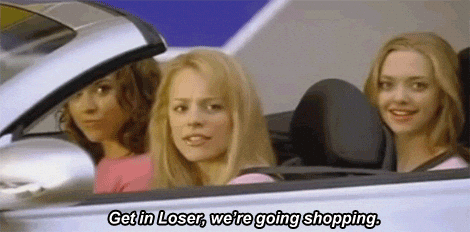 1. Due to supply chain delays, labor shortages, and Holiday Discount season abroad, Buyandship Warehouse Addresses may require additional time to arrange storage. So, please bear with us and be patient!
2. Remember to declare the shipment on time and correctly. It may not be possible to issue the "Notice of Undeclared Shipment" immediately and delay the arrival of the shipment.
3. Please be patient! If the flight is delayed or the space is full during the discount period, the shipment may take longer than usual to arrive at the Hong Kong warehouse.
Thank you so much for trusting Buyandship. Happy Shopping, Everyone!