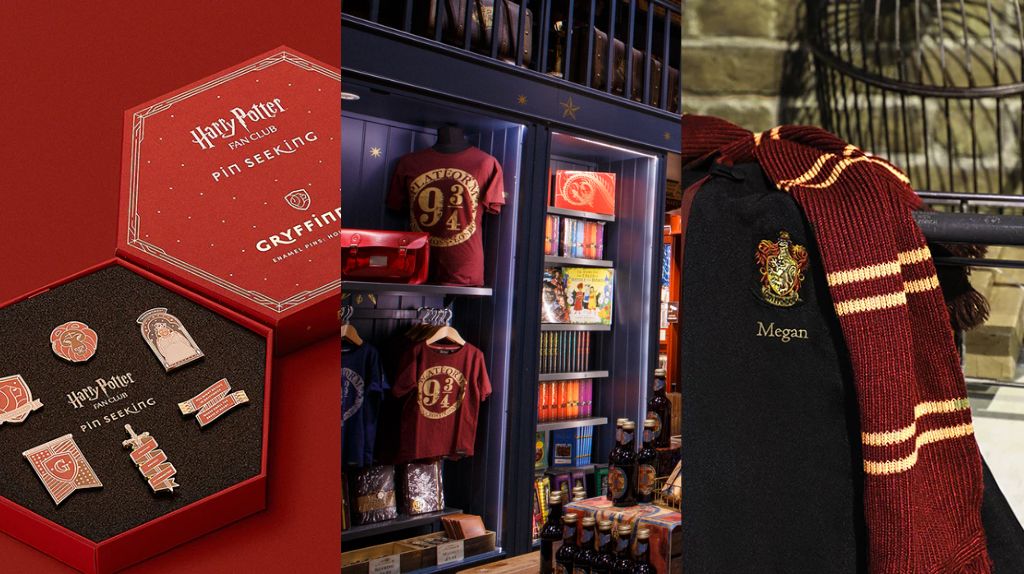 Calling all Potterheads! Want to get your hands on Harry Potter merchandise but don't know where to find them? From the Hogwarts Wizard's robes, character wands, house scarves, and exclusive t-shirts to Bertie Bott's Every Flavour Beans, you can shop a wide range of official Harry Potter products in its official UK store for the best prices!
Shop online from the official website of Harry Potter UK for authentic and exclusive product options that are not locally available, and enjoy additional savings on selected items from the outlet page! Now, you can conveniently shop from the UK and have your purchases shipped to the Philippines at a lower international shipping fee with the help of Buyandship. Scroll down to discover how to start shopping!
Table of Contents:

► Best Harry Potter Merch to Shop
► Harry Potter Shop – Personalisation
► Harry Potter Shop – Sale
► How to Shop Harry Potter Merch from UK & Ship to the Philippines?
Best Harry Potter Merch to Shop
Faux Leather Gryffindor Crest Notebook
Any proud Gryffindor would be pleased to have this vintage-look faux-leather notebook! This burgundy red journal features an impressive metal Gryffindor house crest on the front cover, and gold foiled detailing near the border's edge.
UK Price: PHP 1,071.76(GBP15)
Distressed Platform 9 3/4 T-Shirt
All aboard the Hogwarts Express! Show off your love for one of the most iconic scenes in the Harry Potter films with this classic Platform 9 3/4 t-shirt in burgundy color!
UK Price: PHP 714.51(GBP10)
Bertie Bott's Every Flavour Beans
These gourmet jellybeans come in up to 20 flavors that range from delicious to disgusting, wrapped in the authentic Bertie Bott's Every Flavor Beans box. Flavors include marshmallows, tutti-frutti, grass, soap, and earwax.
UK Price: PHP 639.48(GBP8.95)
Harry Potter Shop – Personalisation
Personalized Hogwarts Acceptance Letter
A must-buy for fans! This set includes a custom Hogwarts acceptance letter, custom envelope, admissions checklist, sticky seal wax, and award sleeve with your name on it, signed by Hogwarts Professor and Dean of Grayson College!
UK Price: PHP 1,071.76(GBP15)
Personalized Gryffindor Robe
Celebrate your pride in Hogwarts College by wearing this Glorious Wizard's robe as if you were in the story!
The gown features a contrasting burgundy lining, a hidden pocket for your wand, and an embroidered Gryffindor badge with your name embroidered underneath!
UK Price: PHP 5,355.22(GBP74.95)
The Harry Potter official store is also offering last-chance specials for fans to shop for a wide range of gadgets, clothing, and accessories at up to 50% off!
💡 Note: Product prices, quantities, etc. may change due to sales. All are subject to change. We do not own any of the pictures above nor affiliated with the brands mentioned. All credits are due to all of the brands featured in the article unless otherwise specified.
How to Shop Harry Potter Merch from UK & Ship to the Philippines?
Step 1:Go to Buyandship website to log in or register as a member.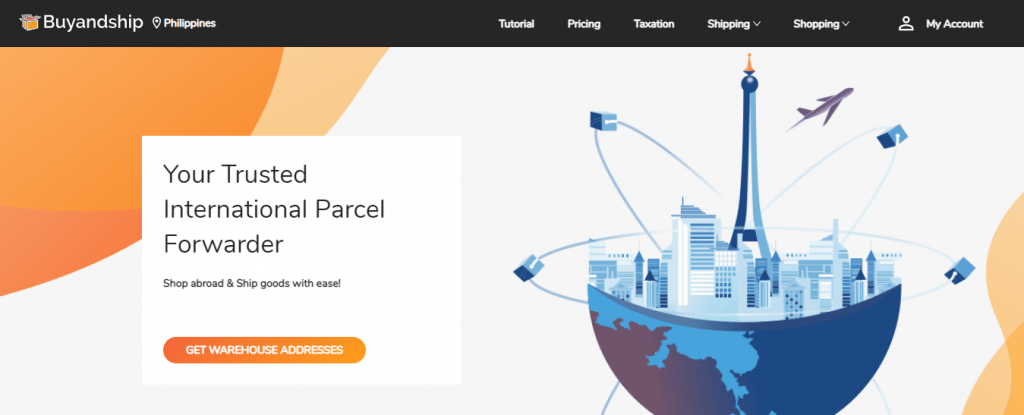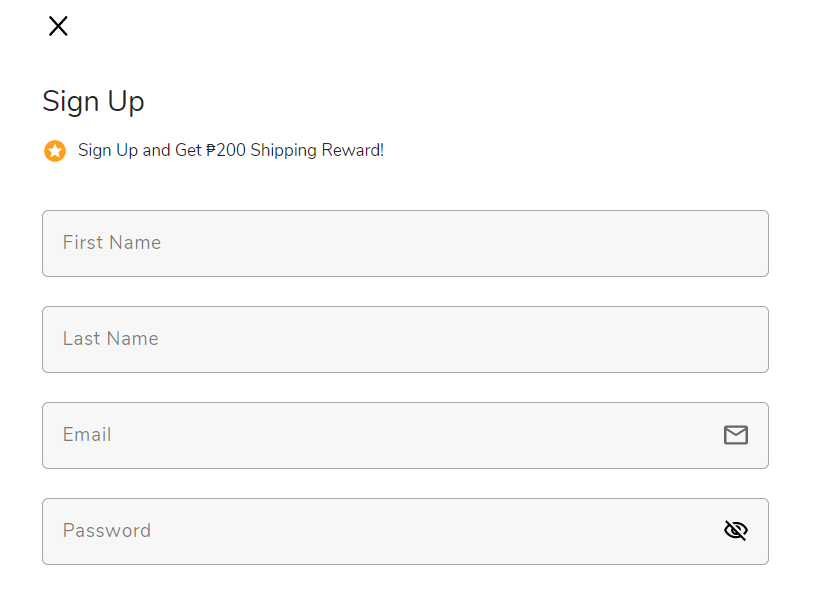 Step 2:Fill in your first and last name, and email address and set your account password. Click "Sign Up" once the details are completed.
You can start browsing by categories, or search for a particular product on the search bar!
Step 4:If you wish to add an item to the cart, select your size and click "Add to Cart".
Step 5:When you're ready to checkout, go to your cart by clicking the top right corner as shown.
Step 6:Double check the items you've added and click "Checkout Now".
Step 7:Fill in your email address, apply any promo codes you may have on the right hand side.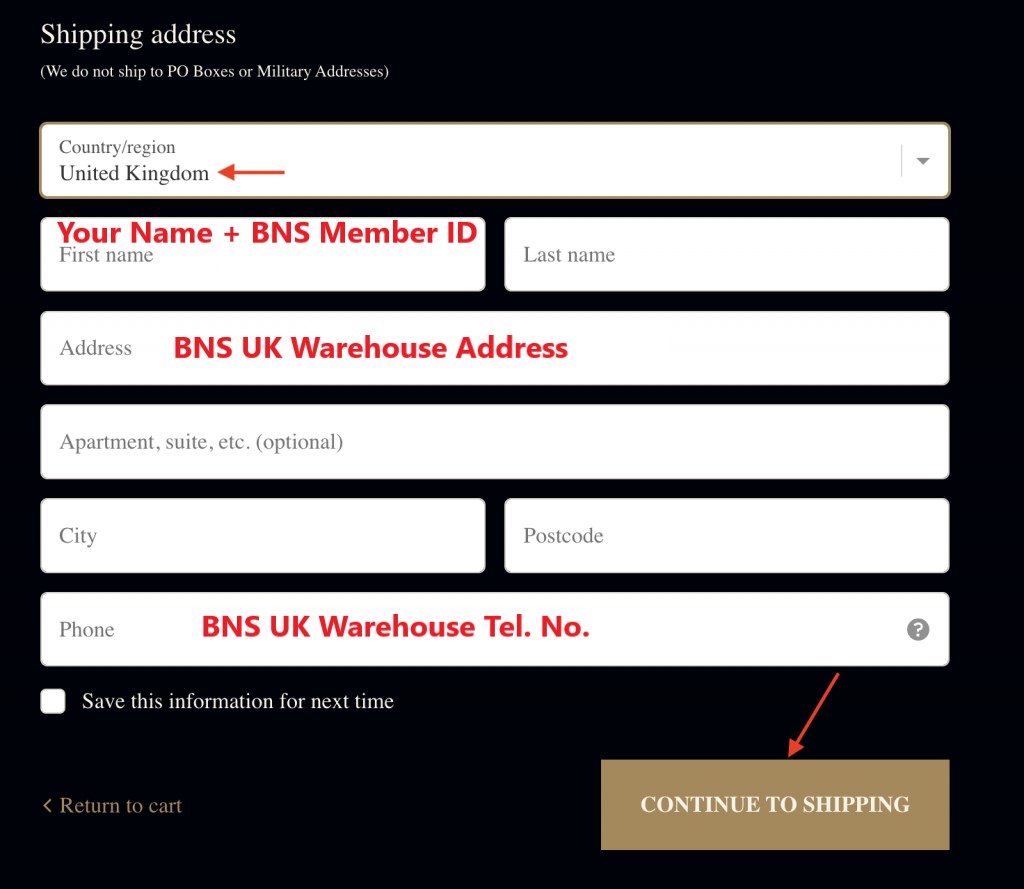 Step 8:Fill in your name with BNS member ID, BNS UK warehouse address, and contact number.
For warehouse address details, go to "Overseas Warehouse Address" on your Buyandship member centre and view the information on Buyandship's UK warehouse.
Click "Continue" once completed.
Step 9:Select delivery method, then click "Continue to Payment".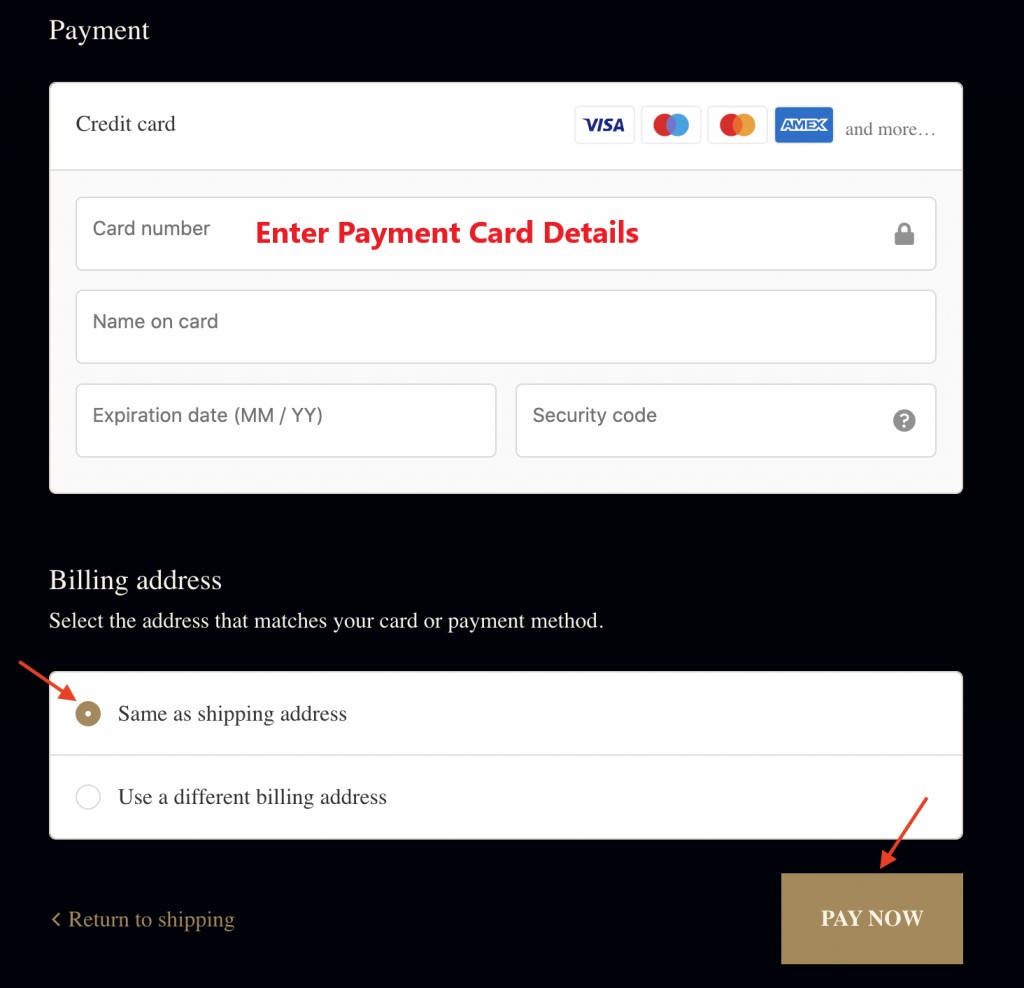 Step 10:Choose your payment method of either credit card or PayPal.
Enter your payment card details and click "Make Payment" to complete your checkout.
Ta-da! You'll receive a confirmation email shortly!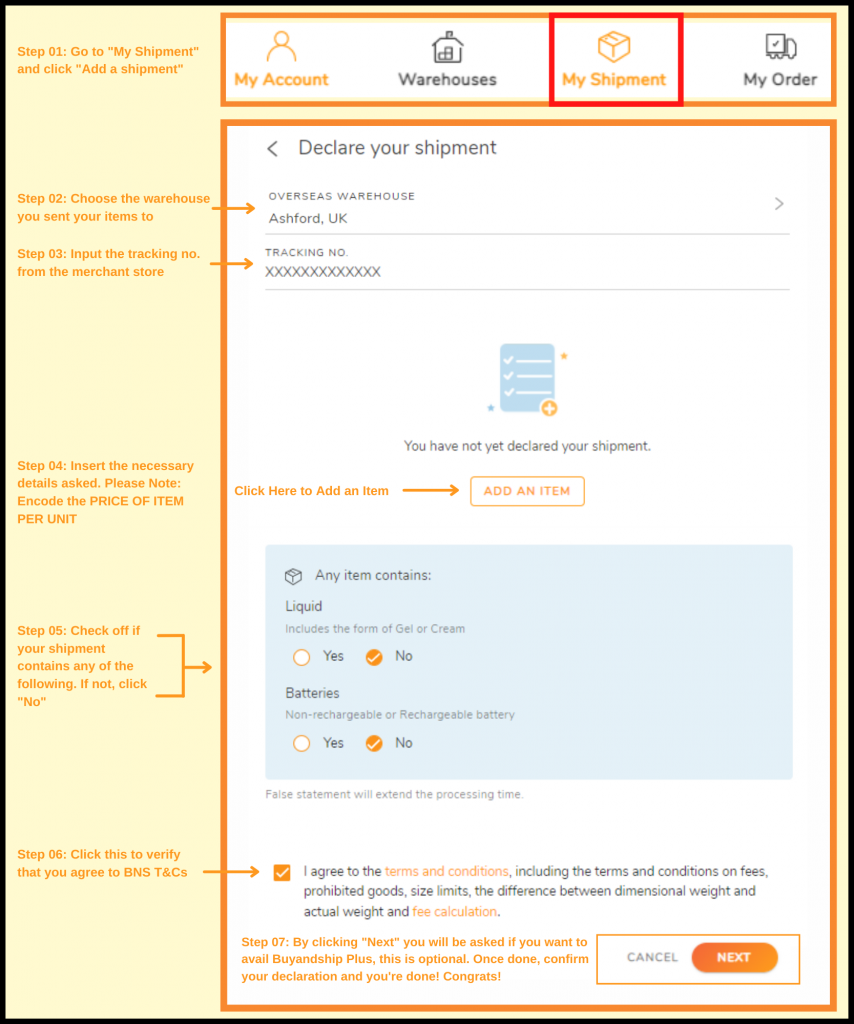 ---